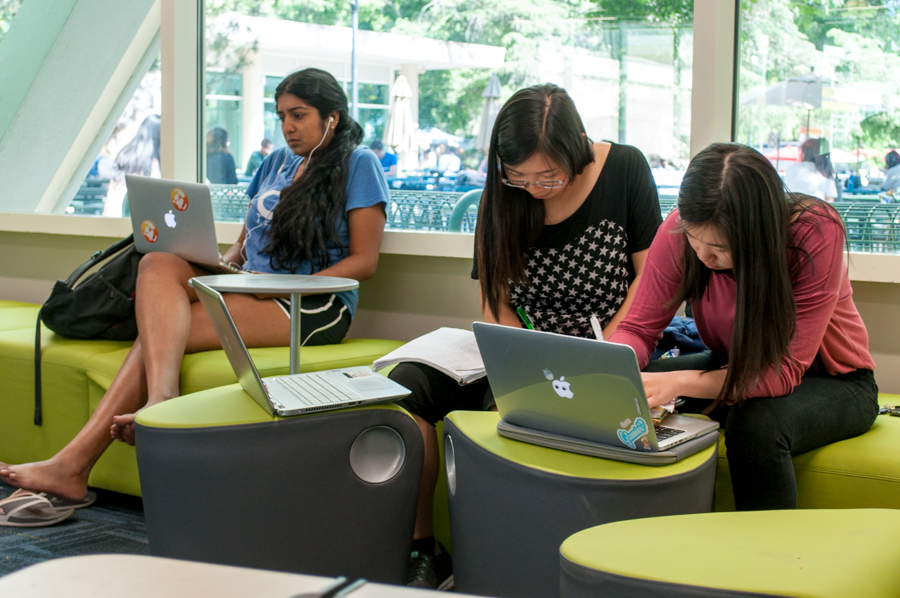 Students share opinions on newly renovated Memorial Union
The Memorial Union (MU) Renewal Project is finally nearing completion after nearly three years of construction. Located next to the CoHo in the heart of campus, the newly renovated MU was reopened to the public on May 1, with the official ribbon-cutting ceremony on Thursday, May 18. Many students have already been inside the new location, and have formed their first impressions of the new study and lounge spaces now available to the campus population.
Emily Jones, a first-year political science and classics double major, was excited to finally be able to experience the MU, and has found it to be worth the wait.
"It was annoying that they were doing construction for so long, [but] it's nice to see that it paid off," Jones said. "This is really cool. I was definitely impressed."
Kimberly Ruiz, a first-year psychology major, was very pleased by The Market, located on the west side of the MU's main floor.
"I know [we] have Trudy's [in Tercero], but I was thinking, 'Oh my god, where am I gonna go next year?'" Ruiz said. "I really like that they have a convenience store here."
Andrea Damian, a fourth-year neurobiology, physiology and behavior major, also welcomed The Market as a new addition.
"Oh, the food, that's good," Damian said. "I think that's cool — with the organic food and the Peet's coffee and all that."
Ruiz appreciates that the new air conditioning system keeps the MU very cool and that the re-opening of the building has created more lounge space. Since the MU was under construction, many students felt that the CoHo had become too crowded for studying and relaxing with a cup of coffee.
"It took a long time, but looks pretty good," said Emily Gould, a fifth-year clinical nutrition major and MU employee. "People seem to like it. My only complaint is that there is no post office here. People seem to miss that."
Keri Pflieger, a fourth-year English and international relations double major, reflected upon the changes in the campus landscape made since she was a freshman, especially with graduation right around the corner.
"It's kind of surreal, because [the MU] is completely different than what it started out from," Pflieger said. "It's like I'm leaving a different campus."
Although Pflieger finds the MU's renovations to be a step in the right direction, she believes that a lot of open space was left unutilized.
"I just feel like there's a lot of open space with not much done," Pflieger said. "There should be more study-dedicated tables and a better utilization of the space. I feel like the MU is more dedicated right now towards socializing."
Damian offered a similar critique on the MU's utilization of space — or the lack thereof.
"It kind of seems like they didn't use the space correctly," Damian said. "There's not really enough room for a lot of people, [and] the [lack of] outlets are kind of an issue. Huge issue."
With concerns of adequate study locations for the amount of people who will be enjoying the newly-renovated space comes the topic of overall comfort for the visiting student under the stress of midterms.
"New furniture is great […], but it's kind of uncomfortable," Damian said. "The chairs downstairs are half-backs and it's really uncomfortable to sit in them for long periods of time. I think the overall study experience is not meant for you to stay in one place for too long."
Pflieger also critiqued the allocation of the school's resources and questioned where funds would be most impactful for student success.
"I just wish that maybe there was more noticeable work going into classrooms that don't have [proper desks] where you can't even fit your whole notebook on it, rather than one of the tour centered areas," Pflieger said.
Despite issues with the current state of study spaces, the MU games area just downstairs has excited the campus community. Brixton Layne, a first-year international relations major and avid fan of billiards, was ecstatic to find out the MU had new billiards tables.
"Billiards is probably one of my favorite games," Layne said. "I'm glad they put a lot of tables out. I expected more bowling lanes and maybe a little bit more outside of the bowling, but as far as the billards, yes, it met my expectations."
Jones was also particularly excited about the basement, which houses billiards tables, bowling lanes and a gaming area.
"I think it's really cool that this is an option now," Jones said. "I'm a fourth-generation Aggie. My parents went here 25 years ago, and they were always telling me how cool it was to have the bowling alley, and now I'm glad that I finally get to actually [enjoy it]."
Jones herself seemed satisfied with the bowling lanes, but noted that the fee to play bowling has stayed — $5 per game per person, and $2 for a pair of shoes.
"When I heard that you had to pay to use this stuff, I was kind of annoyed," Jones said. "I mean, what am I paying $14,000 in tuition for, if I can't even go to the bowling alley? But it is really cheap — so that's still really cool."
Written by: Sahiti Vemula — features@theaggie.org