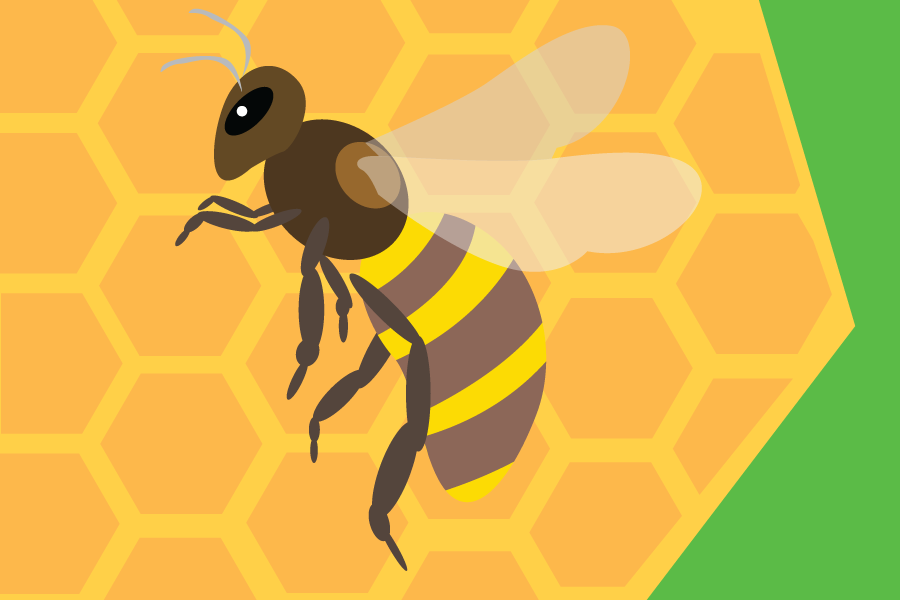 Robert Mondavi Institute partners with the Inaugural California Honey Festival
As the bee population slowly rebuilds after the disastrous colony collapse from a decade ago, honey farmers are searching for better ways to protect the species.  
A year ago, there seemed to be a decrease in the use of plants laced with pesticides harmful to bees, according to an article from the Los Angeles Times.
"About 65 retailers, including Whole Foods and BJ's Wholesale Club, have committed to phasing psyllids, that damage the plants," the article read.
In fact, there is an entire festival dedicated to the farming and eating of honey. On May 6, honey makers from across California brought their honey to an event in Downtown Woodland showing off the tastes of the state. At the California Honey Festival, the event showed pride in its honey lab, beekeeper stage, and honey competition, the event attracted onlookers to downtown Woodland. The event aimed to teach more about bees and pollination, as well as share in the unanonymous love for sweet things.
"The California Honey Festival's mission is to promote honey, honey bees and their products, and beekeeping through this unique educational platform, to the broader public," read the event's homepage. "Attendees will learn about the myriad of issues that confront honey bees including pesticide use, diseases and even the weather!"
UC Davis also took part in the event, as the Robert Mondavi Institute was one of this year's partners in supporting the Inaugural California Honey Festival.  
While it has been 10 years since the 2007 bee colony collapse, there is still more to be done by farmers, students and honey lovers everywhere to protect bees, and it can be as simple as planting bee friendly plants without the use of chemically laced pesticides.
While companies' preferences as to what products they sell are influential to encouraging healthier pesticide techniques, it seems to have at least slowed the amount of bee population decline.
"The USDA last year reported winter colony losses of about 23%, based on a survey of beekeepers.  A winter decline of about 19% is considered normal.  In May [2016], the USDA reported 17% loss of colonies from commercial beekeepers during the first quarter," according to the LA Times article.
The problem lays not just in the use of pesticides, but also in the type of pesticides being used.
"Neonicotinoids, which mimic nicotine insecticides produced naturally in leafy plants, have been linked to the decline of bee populations," the article read.
There are safer and more natural options for pesticide use, rather than the traditional use of man made chemical pesticides. These changes in farming techniques from chemical toxic to bee hives can be seen close to Davis. One such business, Henry's Bullfrog Bees, helps provide bees for farmers to help increase crop yield, as well as sell raw honey to local markets like the Davis Co-op, Davis Farmers Market and numerous other Southern California locations.  
According to its website, Henry's Bullfrog Bees works "hard to maintain healthy hives, which are not treated with any harsh chemicals, and keep our bees on land that will only benefit to their health."
Written By Madison Lyznick — city@theaggie.org