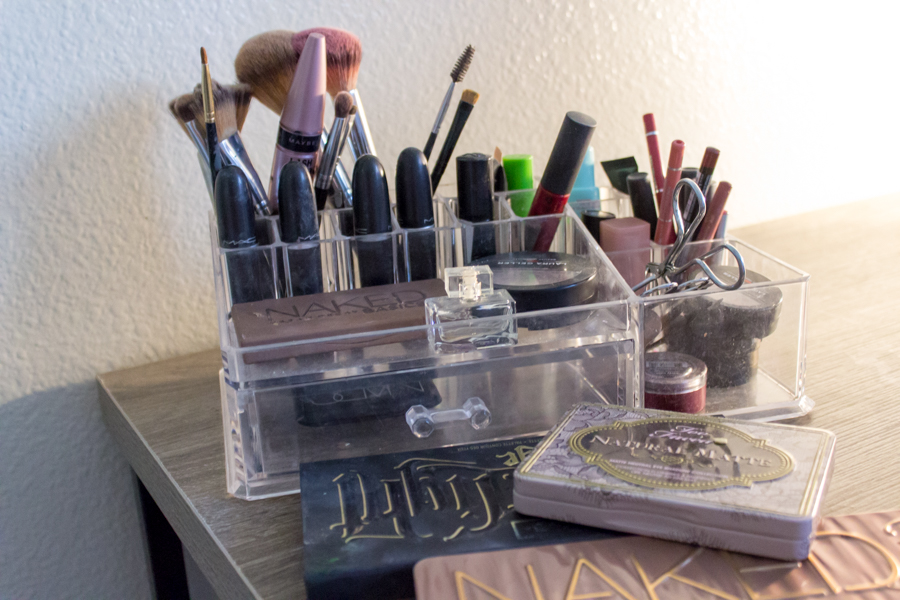 UC Davis students talk seasonal makeup, skincare routines
Despite common trends on Instagram or Youtube, makeup and skincare are very personalized routines — everyone does it a little differently. Much like decorating a laptop cover with assorted stickers or finding a special study method, makeup is also customized according to people's skin types, daily lives and personalities. It's a form of self-expression and oftentimes self-empowerment. The Aggie talked to a few UC Davis students about their personal makeup habits.
What is your cool weather to warm weather makeup and skincare transition?
Huong Nghiem, second-year managerial economics and design double major:
"In the winter I use a lot of moisturizer because my skin gets dry, and when it gets warmer, I use a lot of mattifying products. I also use a lot of sunscreen when it gets to warmer weather. With makeup, I try to look more matte during winter and dewier during summer, even though I'm using more moisturizers during winter and mattifying products for my skin during summer."
Alice Argueta, second-year human development major:
"I usually have to change my foundation depending on the weather. During winter, I need a formula that won't dry out my skin and for spring, I use this water foundation. I used to have this NARS foundation that would dry out my skin during the wintertime. I always try to exfoliate once a week and I always use sunscreen to avoid getting more freckles."
Isamar Ceja, first-year psychology major:
"I have to change my foundation during spring according to my skin tone. I also try to avoid using anything that makes me look too dewy during summer. I think for makeup, I use more browns and neutrals during winter and bright colors during spring and summer."
Ashley Maciel, third-year human development major:
"In winter, I use a lot of burgundies, cool browns, grays and taupes and during spring, I'll transition to pinks, corals and pops of color on my lips. For skincare, I think it's important to use products with sunscreen in them."
What are some products that you can't live without?
Nghiem: "A staple would probably be setting powder or powder foundation. It's good especially if you don't like wearing heavy face makeup."
Argueta: "My Jergens face cream. I have dry to normal skin, so especially during winter quarter I need to apply moisturizer right after I get out of the shower, or my face will get so tight and so dry. I also can't live without my sunscreen and chapstick."
Ceja: "There's this Lancome BB cream I use all the time and I always do my brows, so I need brow powder and brow gel."
Maciel: "I always like a bold lip and bold wing liner. I also like pops of color and just to have fun with my makeup."
What advice do you have for someone who is getting into makeup and skincare for the first time?
Nghiem: "I think that people starting with makeup should start small and simple. Once you get the hang of that, you can get into more complex makeup. For example, with eyeliner you can start with pencil and go into liquid later on."
Argueta: "I've always been the type of person to take care of my skin and body. If I haven't been taking care of that, I feel like I haven't been treating myself right. I think it's good to splurge on skincare because it's a good investment. I think it's really important to know your skin type before buying any product for your face, whether it's skincare or makeup. I also think it's not good to wear heavy makeup everyday so your skin can breathe."
Ceja: "I think that it's important to know that you don't need to do your makeup the way everyone else does it. While it's helpful to watch YouTube videos and tutorials to start off, it's good to just develop your own makeup routine that fits for you."
Maciel: "I would say watch Youtube beauty gurus and do your research to find your skin type first."
Which makeup trend do you think should die?
Nghiem: "I think people shouldn't use products that aren't meant to used for makeup purposes. For instance, people use lipstick for eyeshadow instead of just using actual eyeshadow."
Arguetta: "I think baking is an unnecessary trend because it looks overly matte and for me personally, it would be too drying."
Ceja: "I really don't like it when people layer their mascara and it ends up looking clumpy."
Maciel: "I think that overlined lips should go."
Written by: Becky Lee — arts@theaggie.org