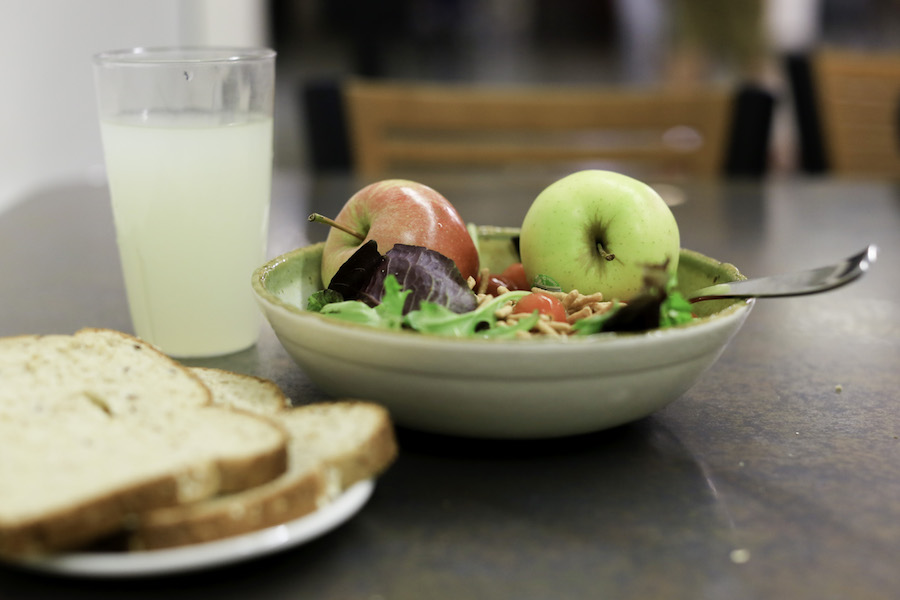 Director of sports nutrition develops meal plans with student-athletes
In addition to balancing academics and athletics, student-athletes also must balance their nutrition. Each UC Davis student-athlete has a nutrition plan that considers both caloric intake and also macronutrient intake, which includes carbohydrates, fats and proteins.
Because nutrition is such an important facet of an athlete's life, Dr. Liz Applegate, the director of sports nutrition at UC Davis, works directly with athletes to ensure that they are all eating what is best suited for their bodies and workouts.
Applegate is a nationally-renowned expert on nutrition and fitness. Along with being the director of sports nutrition, she is currently developing an online Nutrition 10 course for all University of California campuses. She also writes the popular "Fridge Wisdom" nutrition column for Runner's World Magazine.
Working with the athletes, Applegate educates and develops a wide range of nutrition and meal plans for athletes on all of UC Davis' 23 Division I teams. Some athletes consume upwards of 5,000 calories daily, while others cram their nutrients into a 1,800-calorie diet.
"Water polo players burn the most calories," Applegate said. "They're in the water a number of hours and it's very calorically demanding exercise […] The extreme is trying to keep up with the 5,000 calories they need to be consuming to support their body weight and calorie burning. That may seem like fun, […] but they have a really hard time doing it. They're very fatigued, they have to go to class, they need to eat five, six, seven times a day, so that's a huge challenge."
Spencer Galli, an attacher for UC Davis' men's water polo team, sticks to the nutrition plan Applegate designed for him and eats around 5,000 calories per day. Galli eats about five times a day and makes sure to follow Applegate's key advice: ensuring that all colors are represented on his plate and having healthy pre and post-workout meals.
"[For breakfast] I'll typically make like a yogurt parfait type of deal, with some yogurt, granola, maybe throw a little honey in there," Galli said. "Then I'll also have like a power bar that has high protein content. Then I'll go workout for three hours and hustle home after that and make some scrambled eggs, throw bell peppers, spinach, salami in there, sometimes turkey and tomatoes. [I also have a] smoothie with some banana and an assortment of fruits, and an English muffin. And then just kind of going in between classes, I'll stop somewhere on campus […] and I'll probably have another bar before weights in the afternoon. After weights, I'll go to the [Dining Commons] or somewhere for dinner and try to eat as much as I can again."
Following his nutrition plan can be challenging; Galli had to learn to grocery shop properly and to manage his time effectively.
"Honestly what it comes down to a lot of the time, is time," Galli said. "Like having enough time when I get back from practice and having an hour in between class to be able to make this meal for myself."
The nutrition plan on the opposite side of the caloric-intake spectrum is not any easier. Some athletes, like UC Davis' women's gymnasts, have to be meticulous about what they eat, according to Applegate.
"They're small individuals," Applegate said. "Their sport is very difficult, it's not as aerobically expensive as water polo or cross country or men's or women's soccer, so they need fewer calories because of their body size and they're not doing as much aerobic activity. So there, you have to compact everything into a much smaller number of calories."
Applegate's interns also work closely with athletes. Right now, Kaila Olson, a fifth-year clinical nutrition major, is working with UC Davis football players who want to gain five to 10 pounds of lean muscle mass.
"Each intern is assigned to players," Olson said. "They come in to us and text us their food and what they're eating. We send them back advice on what to do better. We use MyFitnessPal [an Under Armour nutrition tracking app] and they send us screenshots of everything […]. We have them all on certain diets and macros to gain weight and it's really tailored towards them."
If Applegate could have her athletes — or any athletes — strictly follow any one piece of her advice, it would be to understand the importance of pre and post-workout meals.
"The biggest thing I see is people start the day too light in calories," Applegate said. "They get up and they take a bite of banana or eat part of an energy bar. They workout two hours. They're starving. 'Ooh, I have a class!' so they grab something really quick. It's just not wise. They have a big calorie deficit. They're low on protein. Their body is trying to recover. […] it's putting your body in the worst situation, but you're expecting it perform well, you're expecting it to recover. And it just can't do that. So my biggest piece of advice is plan your eating around your workouts."
Written by: Liz Jacobson — features@theaggie.org