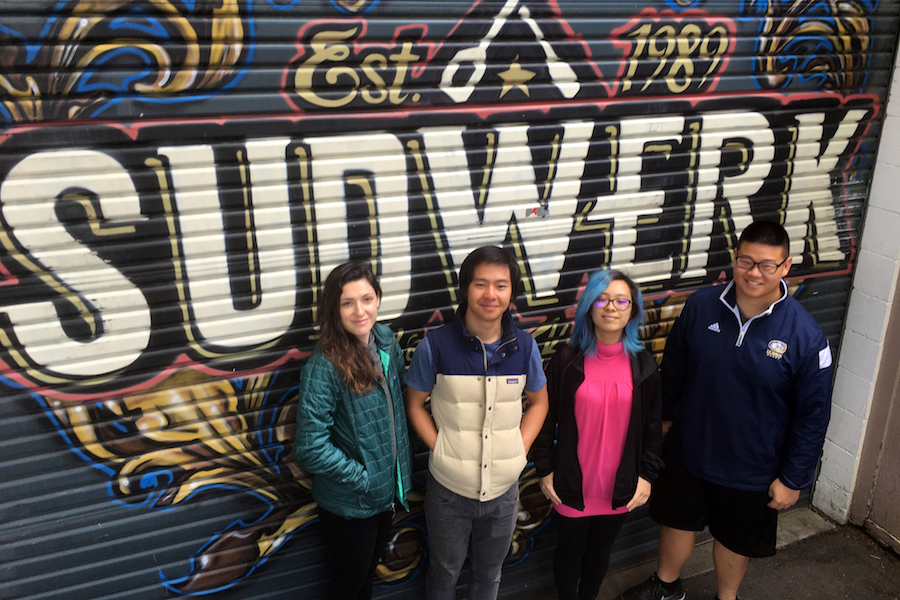 Underdog IPA released to public through Sudwerk Brewing Company
Four UC Davis students, who started brewing in a practical malting and brewing class, placed first in professor Charles W. Bamforth's annual Iron Brew competition and earned the chance to work with Sudwerk Brewing Company to manufacture their winning beer.
The four students, Nayvin Chew, a fourth-year biotechnology and music major; Caitlin Ellis, a recent viticulture and enology graduate; Calvin Hsu, a fourth-year food science and statistics double major; and Eva Tran, a fifth-year food science major, had never brewed before taking Bamforth's Food Science and Technology 102B class.
These underdogs, known as the Cracked Hops, made up for their lack of experience with dedication and tenacity. Despite the group's first few brewing flops — one of which Tran claims their teaching assistant had to spit out — their grit and teamwork contributed to the creation of a stellar final product.
The team perfected their India pale ale (IPA) over the course of four different batches, progressively tweaking their recipe and carefully monitoring temperature fluctuation. Their tireless brewing resulted in a hoppy and refreshing IPA.
Bamforth, affectionately known as "the Pope of Foam," is a distinguished professor of malting and brewing sciences at UC Davis and runs the annual Iron Brew competition. The competition tasks students with creating a recipe and then brewing and analyzing their beer before competing against classmates.
Bamforth aims to set students up for success. Competing students have the opportunity to interact with actual brewing professionals. As the winners of the competition, the Cracked Hops will get to work even more closely with noteworthy members of the brewing industry.
"They get to present their beer at the [Sudwerk Brewing Company] Dock Store on Friday and in various outlets across the city," Bamforth said via email. "They get to be glad about a job well done, to have the best beer among a roster of great beers."
Tran felt instilled with a passion for brewing because of Bamforth's encouragement.
"When I came into Davis I didn't really have a direction for myself," Tran said via email. "Taking [a food science and technology class] changed my outlook. Though the professor wasn't Charlie himself he managed to inspire something within me to pursue brewing."
Their beer beat out 10 other entries and was applauded by the panel of judges, all of whom were brewing professionals from the Northern California area. Among the prestigious panel was Dave Gull, founder of New Helvetica Brewing Company. Gull was impressed by the success of the team's IPA.
"The winning team executed a very clean brew, without any noticeable flaws — that's hard to do for some seasoned brewers," Gull said in a press release. "This beer is better than some professionally brewed beers I've tasted."
Since the competition, the winners have been working with Sudwerk and the company's head brewer, Thomas Stull, planning to transform their classroom IPA into one that will be produced professionally.
The Davis public had its first chance to experience the team's award-winning beer on May 12, when it was served at the Underdog IPA release party. In the future, the beer will also be served at a number of local venues, including Sudwerk's taproom.
Written by: Ally Russell — campus@theaggie.org