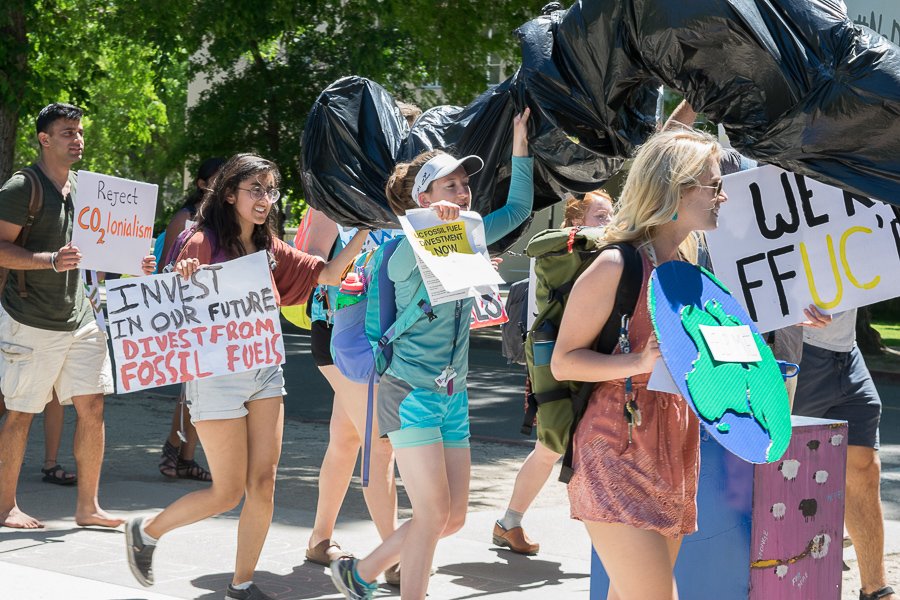 Third of four UC chancellors to call for UC's divestment from fossil fuels in one week
Interim Chancellor Ralph J. Hexter announced his support for fossil fuel divestment on May 15 following student protests at Mrak Hall. The movement is calling for the UC Regents to divest from the UC system's $2.5 billion investments in companies that support fossil fuels. Hexter joins UC Santa Cruz Chancellor George R. Blumenthal and UC Santa Barbara (UCSB) Chancellor Henry T. Yang, who was the first UC chancellor to call for UC divestment from fossil fuels.
Fossil Free UC Davis members began their protests at the Memorial Union and later held a sit-in at Mrak Hall. Students chose to continue protesting despite threats of possible Student Judicial Affairs action and police confrontation. Sarah Risher, a third-year environmental policy and planning major, said that the organization contacted members of the UC Davis administration who said they would assist with efforts to speak with UC Regents members. Students were unable to gain support from UC Regent Richard Sherman.
"Hexter finally supporting the fossil fuel divestment movement is important because it sends a message that this is not something just the students want but something that UC Davis as a whole wants," Risher said via email. "This puts more pressure on the Regents to act in the interests of the UC campuses rather than their own."
Fossil Free UC Davis is a chapter of Fossil Free UC (FFUC), a UC-wide campaign calling for UC system divestment from the top 200 fossil fuel companies.
"The greater goal of FFUC is to divest fully from the fossil fuel industry," said Evan Steel, a fourth-year environmental policy and planning major. "This sends a clear message that there are viable clean energy paths forward and that the UC system does not support the oppressive and destructive regime of the fossil fuel industry. Our goals align with efforts to hold the UC accountable to its students, workers, faculty and the public. Ultimately, we want to see the democratization of our education system in a way that centers the voices of those who have been historically and socially marginalized and oppressed."
Global studies Ph.D. student Theo LeQuesne, the campaign coordinator for Fossil Free UCSB, said that Fossil Free UC Davis has played a crucial role in solidifying the support of chancellors around the issue. LeQuesne stressed the importance of every UC carrying out action similar to the sit-in.
"Interim Chancellor Hexter's public endorsement of fossil fuel divestment is a testament to the momentum and support that students across the UC have built around severing ties with the fossil fuel industry," LeQuesne said via email. "As the third of four chancellors to endorse fossil fuel divestment in the six days since UCSB's 400 person sit, Chancellor Hexter is helping to solidify the kind of leadership that chancellors across the UCs must show in addressing the climate crisis and delegitimizing the fossil fuel industry. Meanwhile, the UC Regents, and particularly Regent Sherman, continue to reject any such leadership and instead choose to side with fossil fuel interests over UC students, faculty, staff and chancellors. We need bold leadership from Regent Sherman, and we need it now."
FFUC receives additional support from partner organizations like 350.org, an international environmental organization building a global grassroots movement to take on the fossil fuel industry and combat climate change. 350.org gets its name from the belief that the atmospheric concentration of 350 parts per million of carbon dioxide is a safe upper limit.
Katie McChesney, the U.S. divestment campaign manager at 350.org, said that UC students and staff have been at the forefront of the divestment movement since its beginnings in 2012.
"In [the] last month alone, hundreds of students and four UC Chancellors have taken bold action on fossil fuel divestment," McChesney said via email. "It is time that Sherman and the UC Regents heed the generational mission and divest from the rouge, destructive fossil fuel industry. In the era of Trump, it is up to every institution to pick a side, the side of a bright future lit by 100% renewable energy or one wrecked by climate and political chaos. Incremental divestment policies clearly show Sherman and the Regents have taken preliminary moral and financial warning signs, but it is time to divest the rest."
Benjamin Houlton, the director of the UC Davis John Muir Institute of the Environment, believes the future risks of climate change for people and the planet will be greatly reduced by rerouting the energy economy toward carbon neutral resources. Divesting from fossil fuels is a critical part of this transition.
"UC Davis has a key role to play in the research and scholarship of climate change, and divestment sends a signal to the world that we are taking care of our own carbon pollution too," Houlton said via email.  
Houlton explained that the path to reducing major threats of climate change will require all countries to adhere to rapid global emissions reductions and cut global carbon pollution in half each decade moving forward to reach climate neutral emissions by no later than 2050.
"The fossil fuel sector is subsidized by governments at [approximately] $400 to $600 billion annually," Houlton said. "This subsidy slows the free market enterprise from unleashing the power of solar, wind and other forms of renewable energy sources that don't emit carbon pollution. Divestment is a critical aspect of allowing the renewable energy industry to reach its full potential as quickly as possible."
Following Hexter, UC San Diego Chancellor Pradeep Khosla also released a statement in support of fossil fuel divestment on May 17.
Written by: Jayashri Padmanabhan — campus@theaggie.org