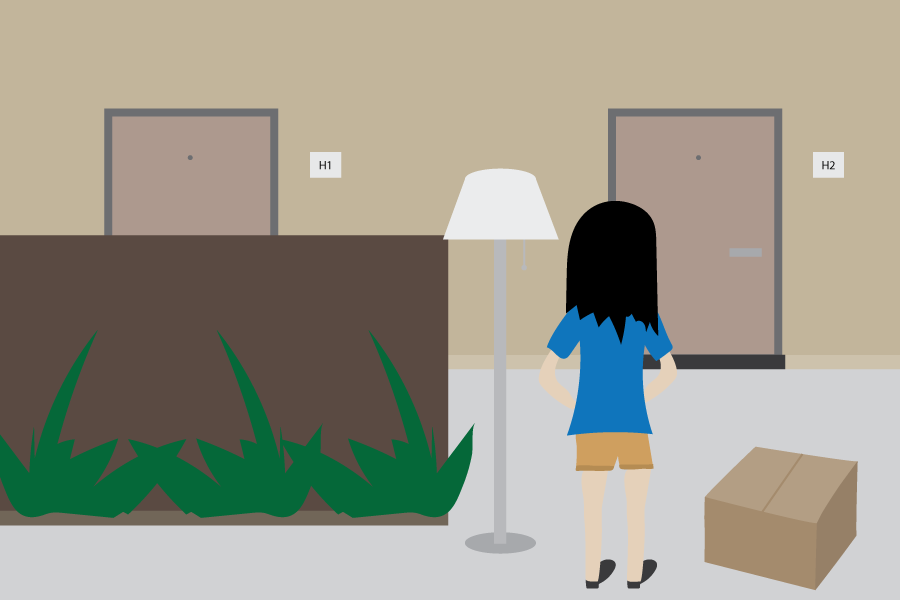 Students share experiences of time spent in between leases
It's 5 p.m. on the sweltering last day of August, and fourth-year animal science major Kyra van der Zalm has exactly 24 hours to move all of her belongings into a new apartment. Her apartment lease for the year is up, and her new one doesn't start until 5 p.m. the next day. With nowhere to go, van der Zalm is left to her own devices to find shelter for herself and her possessions.
Van der Zalm is not the only UC Davis student who has experienced this dilemma when moving from one place to another. Because of the way that leases work in Davis, many students find themselves with a gap day between the end date of their old lease and the start date of their new one. For example, some leases may end at the end of August, while others may not start until the a few days into September.
"It was a bit of a nightmare," van der Zalm said. "I wish there was a way for students in Davis to [avoid] the whole 24-hour turnover. "
As a solution to the gap day problem, van der Zalm and her father rented out a U-Haul to move her belongings. However, for van der Zalm, the experience of moving from one apartment to another was particularly challenging because she not only had 24 hours between leases, but also 24 hours with the truck.
"While my dad went to go get the U-Haul, I was moving all my stuff out of the apartment complex," van der Zalm said. "Luckily, there was a patio outside of my apartment, so I could put everything outside on the patio, because we were worried […] he wasn't going to get back with the U-Haul until after 5 [p.m.], which was when I already had to have the keys handed in."
Once they packed up the U-Haul truck, van der Zalm and her father found shelter at a Motel 6, where they spent the night. At the motel were various other moving vans, indicating that van ver Zalm was not the only victim of the gap day dilemma.
The next day, van der Zalm once again had to coordinate her timing. The U-Haul, rented from a company in Sacramento because rental places in Davis were booked, had to be returned by 4 p.m., so van der Zalm unloaded her possessions onto the grass area around her new complex.
"I waited with my stuff while my dad brought the U-Haul back [to Sacramento]," van der Zalm said. "I had to just sit out here for a few hours, until I got my key at 5 p.m. The office had literally closed the door and put a sign up that said, 'We're not going to be issuing keys until 5 p.m.'"
Van der Zalm was especially irritated that her new apartment was so strict on the timing of her move-in.
"It was pretty annoying," van der Zalm said. "I saw [the managers] walking around when I was waiting [on the grass]. I mean, the room was ready. The reason that I guess we had to wait was to be fair to everyone."
Like van der Zalm, Rachel Preeg, a fourth-year viticulture and enology major, experienced a similar situation when moving from one apartment to another.
"Our lease ended on the 31 [of August]," Preeg said. "We couldn't move in till September 1. Basically, we took all of our furniture [and] packed it all into a U-Haul. We slept on my buddy's couch for the night."
According to Preeg, she was lucky to find a friend who was not moving and who had a place with garage space to store her belongings overnight.
"[It's like] Being Homeless 101," Preeg said. "There's kind of that gap day. Everyone is kind of on their own terms, trying to figure out what to do that day in between [leases]."
For both Preeg and van der Zalm, the process of moving out of one apartment and into a U-Haul, and then out of the U-Haul and into the new apartment was especially difficult given the time frame of the transition.
"It's just a nightmare in the summer when it's 95 degrees and you have to move couches and all of your belongings upstairs, downstairs," Preeg said. "Who likes moving? No one. It's never fun. I don't really know what the solution would be, unless you were able to arrange ahead of time [with] the place you were moving out of and the place you were moving into."
This solution that Preeg mentioned, however, is exactly what Noah Ekstrom and Kenneth Gath, both fourth-year chemical engineering majors, were able to do when it came time for them to move.
"I was looking at overnight storage places, but […] there was not a single place available," Gath said. "They were all full [in Davis], so we were going to have to go all the way to Sac[ramento]. We were like, 'Screw that.' We could just get a U-Haul overnight, but then we were like, 'Screw that also.' We asked [our new apartment], 'Yo guys, we're screwed, there's no where to put all our furniture for the night. Is it okay if we move in early?' And they were like, 'Yeah.'"
After talking with staff at their new complex, La Salle, Ekstrom and Gath were able to complete the usually laborious move-in process within the span of a day.
"For us, it ended up being really painless, because we were able to just move out and move in," Ekstrom said. "[La Salle] was really nice. They gave us extra days that were not included in the lease."
In the moving process, however, not all students get as lucky as Ekstrom and Gath, or even as lucky as Preeg and van der Zelm, for that matter.
"I've heard of people saying that they've literally slept in their U-Haul," Preeg said. "That was just their home overnight, I guess. Everyone just has to fend for themselves. You just deal with it [and] couch surf for a night."
For students facing the gap day dilemma in the future, Gath gave advice from his own experience.
"Figure it out early, at least like a month in advance," Gath said. "When we tried to figure it all out when our lease was ending, everything was full. It was way too late. It's a pretty common issue."
Written by: Allyson Tsuji — features@theaggie.org