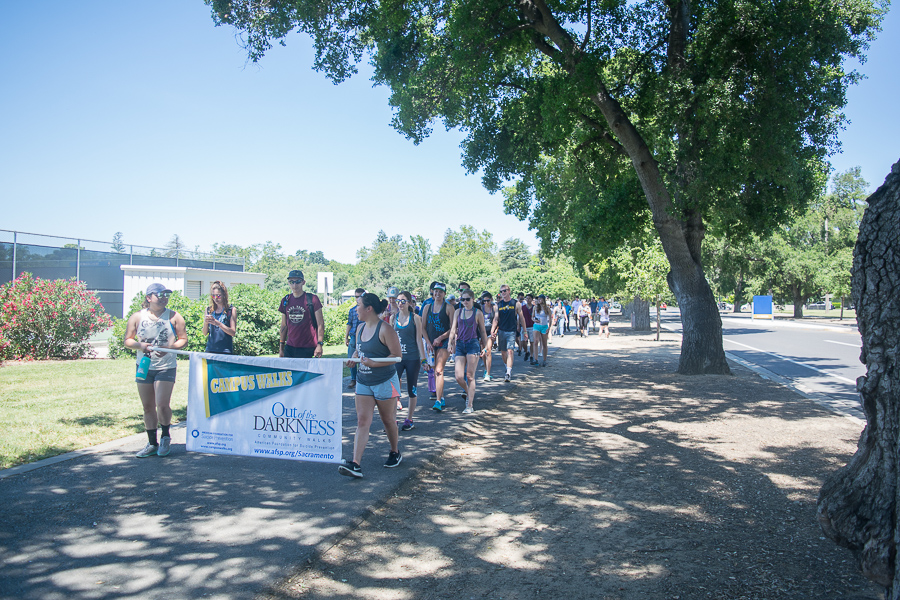 Walk seeks to raise awareness about suicide, suicide prevention, mental illness
The third annual UC Davis Out of the Darkness Campus Walk to raise money and awareness for suicide prevention was held at Russell Field on May 20.
Students Against Suicide, a student organization on campus that works with the American Foundation for Suicide Prevention (AFSP), hosted the walk. The AFSP was founded in 1987 and is the leading national non-profit organization dedicated to preventing suicide and reaching out to those with mental disorders and those impacted by suicide.
In her opening speech to the participants of the walk, Christine Gutierrez, a fourth-year human development major and the ambassador of Students Against Suicide, said more than eight million people in America seriously considered suicide this year, while one million acted on the thought and made an attempt.
The latest data from 2015 shows that 45 thousand people died by suicide that year in the United States, which translates to one death by suicide every 11.9 minutes. 90 percent of these people had diagnosable and treatable mental disorders at the time of their death. These suicides take a serious toll on family, friends, coworkers and the community as a whole.
The participants started off on Russell field and embarked on a five-kilometer walk through campus, looping around the Arboretum where they took part in creating an art project. Participants were able to write supportive statements for themselves as well as other people and pin them on clothespins.
"It's just nice to see a lot of positive affirmations everywhere and it creates more of an uplifting vibe," Gutierrez said.
Before and after the walk, participants took part in various activities such as art projects and games. There were also raffle prizes and a group T-shirt design competition.
The AFSP has been holding these walks for decades all over the country, according to Gutierrez. It also hosts a variety of other events such as Survivor Day events to show support for those who suffered from depression, stomp out the stigma relating to mental illness and hold workshops for suicide prevention.
Several other organizations on campus were there to support the walk including National Alliance on Mental Illness at UC Davis and MindSpa, a division of the Student Health and Wellness Center.
Eori Tokunaga, a third-year human development major, is a wellness ambassador from the Mind Spa. According to Tokunaga, the Mind Spa helps improve the mental health of students by providing a variety of de-stressing services such as massage chairs, relaxation podcasts and Cognitive Behavioral Therapy for insomnia.
The event was also made possible through the efforts of many student volunteers.
"I'm doing this because I think suicide is a really deep topic that needs to be addressed, and doing the walk will help bring attention to the topic," said Louie Shi, a second-year computer science major and volunteer at the walk.
Last year's walk raised about $5,000. Donations from this year will go toward the AFSP for new research, educational programs, advocacy for public policy and support for survivors of suicide loss.
Written by: Clara Zhao — campus@theaggie.org