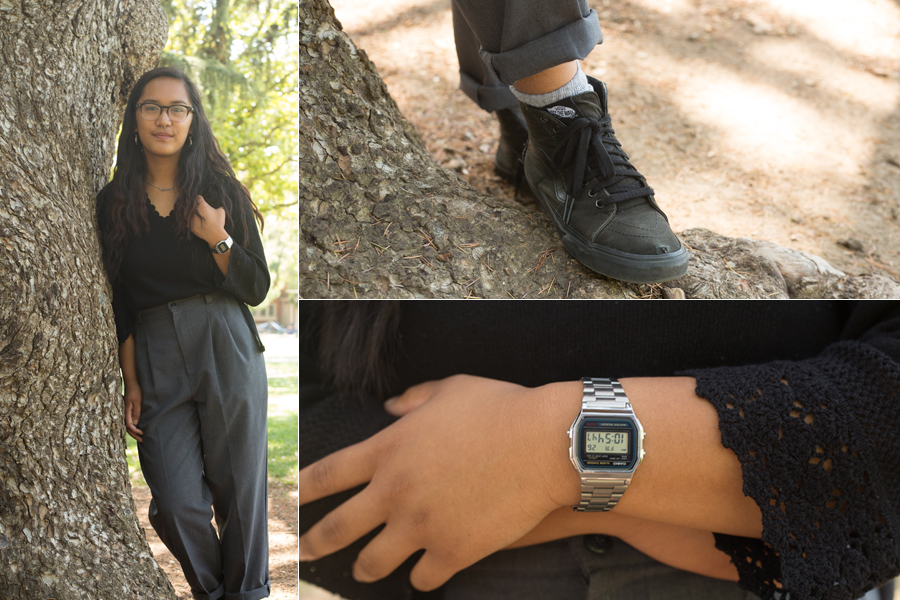 Dressing for fluctuating weather
Amihan Redondiez, a first-year gender, sexuality, and women's studies major, values the art of thrifting and especially layering for the strange spring-to-summer weather transitions. With 50-degree mornings and 90-degree afternoons, it's impossible to wear one outfit the entire day. Redondiez has the answer to this dilemma.
ASW: What is your style inspiration?
Redondiez: I watch a lot of fashion Youtubers for some inspiration, but the main goal is to stay comfy for class.
ASW: Where do you get your clothes?
Redondiez: I mostly thrift my clothes because I like how it's more unique and cheaper, too.
ASW: With the weather changing throughout the day, how do you stay versatile with your clothes?
Redondiez: I still try to layer. For example, I knew it would be cold so I have this sweater but also a short sleeve underneath. My pants right now are long enough to keep me warm but still breathable. I'll keep a cardigan or jacket in my car, just in case.
ASW: What summer hack would you like for others to know?
Redondiez: I keep a pair of pants in my bag. If I'm wearing a romper or shorts, I'll keep a pair of long pants in my bag because I'll usually be out until night when it gets colder. Just make sure it matches with your outfit and put it on when you need it.
Written by: Becky Lee — arts@theaggie.org