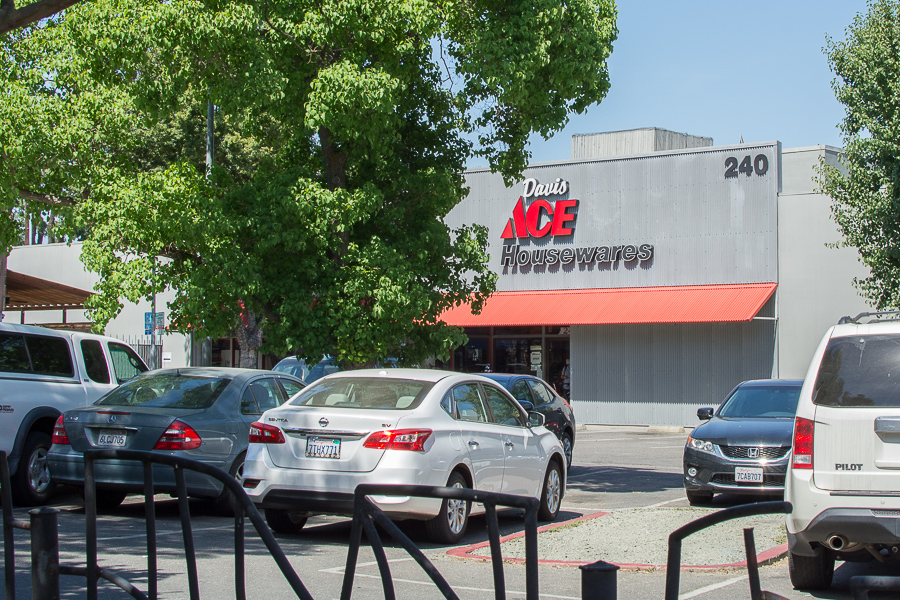 Renovation to include customer parking spots, handicap access
Although Davis may be considered a small town, it is always bustling with people strolling around and checking out downtown; parking does pose an issue during Davis' "rush hours" around lunch and in the evening. Like many downtown businesses, Ace Hardware struggles with a lack of parking, causing customers to park farther away or take their business elsewhere. Subsequently, Davis Ace Hardware has decided to renovate their parking lot to provide more customer parking spots, including handicap access.
Original plans for extra parking included demolishing several small warehouse sheds and building a new two-story commercial building to provide more office space. However, this plan was deemed unfeasible, as it was financially unstable.
The revised plans call for a 2,000-square-foot overhead parking lot structure. This would also include solar panels, which would be a much more environmentally friendly way of harvesting energy, not to mention much more cost efficient in the long run.
This new parking lot structure would also allow for easier access for suppliers to unload and transport inside, seeing as the facility lacks a back entrance to the alley.
"It's really important to have accessible parking for unloading; it provides flexibility for our customers," said Ace Hardware owner Jennifer Anderson.
In addition, it would be very beneficial to customers, who would no longer have to struggle to find parking.
"We came up with a solution –– we have a lot in this open space, and we're just trying to make it open to the public and handicap accessible," Anderson said.
Anderson went on to explain that Davis doesn't have enough parking downtown, so adding to existing parking would solve some of the issues. One new parking lot structure is now on 4th Street, a location that doesn't have a large curb and therefore allows handicap access.
"I think a lot of customers would be really happy [with the new parking lot]," said Brittney McClain, an employee of Davis Ace Hardware for the last five years. "The thing I hear every time is 'Oh my gosh, I was driving around for 20 minutes looking for parking.'"
With the addition of this parking lot structure, Ace is hoping to appeal to more customers and provide them with quicker service, while also benefiting suppliers. The current, narrow lot would be transformed into a bigger covered area, which would also help protect from weathering. Products transported into the building would be protected from the rain, as to ensure the best possible quality for their customers.
"We don't have enough parking downtown," said Ryan Hatmaker, a first-year neurobiology, physiology and behavior student at UC Davis. "I think it'd be beneficial to have more [parking]."
Written by: Kaelyn Tuermer-Lee — city@theaggie.org