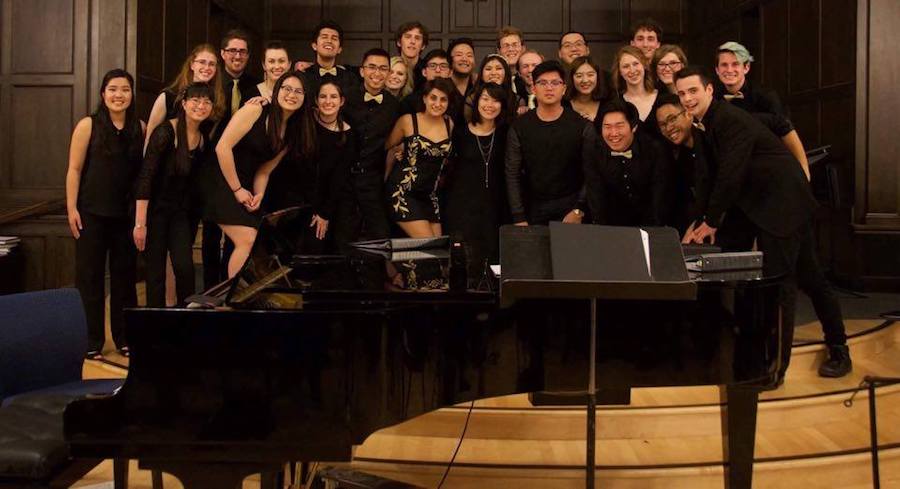 A fusion of classical and pop
The Davis Chamber Choir (DCC) Spring Concert will be the choir's third major concert this year. They will sing both a cappella and to musical accompaniment as both a full group and in smaller group combinations. Their music ranges from classical and choral works to arrangements of pop and jazz songs.
Bailey Cooke, a second-year music major and the choir's musical director, is responsible for teaching music, leading rehearsals and performances, organizing concerts and conducting the choir.
"The planning process is usually similar in each concert," Cooke said. "The repertoire is selected about two weeks before the quarter starts and we rehearse twice a week for two hours each."
According to Cooke, some of the highlights of the concert include "A Boy and a Girl" by Eric Whitacre, "Alleluia" by Jake Runestad, "The Heart's Reflection" by Daniel Elder and Chanticleer's "Cells Planets."
There are 29 singers in the choir this quarter, and their board consists of six singers elected by the ensemble. Positions include the treasurer, administrative director and music coordinator.
Lisa Bell, a fourth-year exercise biology major, is a current member of the choir and former administrative director and treasurer.
"There are a variety of pieces. They have this shimmer effect because they have chords built on top of each other with 8 part harmonies," Bell said.  "We finally have everything memorized for this concert."
Nicole Daghighian, a third-year global disease biology major, is an alto in the choir.
"It's a fun mix of songs and we are a pretty big group and we have a few really great soloists and good small groups that are fun because they sing pop songs," Daghighian said.
The choir performs a variety of songs that fuse choir and pop, and audience members can look forward to hearing such arrangements at their spring concert.
DCC has grown a lot each quarter, so at each performance there is a larger concert and audience. The group really focuses on musicality and methods of sight-reading, setting it apart from other choirs.
The show will be held on Saturday, June 3 from 8 to 9:30 p.m. at the Davis Community Church at 412 C St. There is no entry fee, but a $5 donation is suggested.
Written By: CaraJoy Kleinrock — arts@theaggie.org