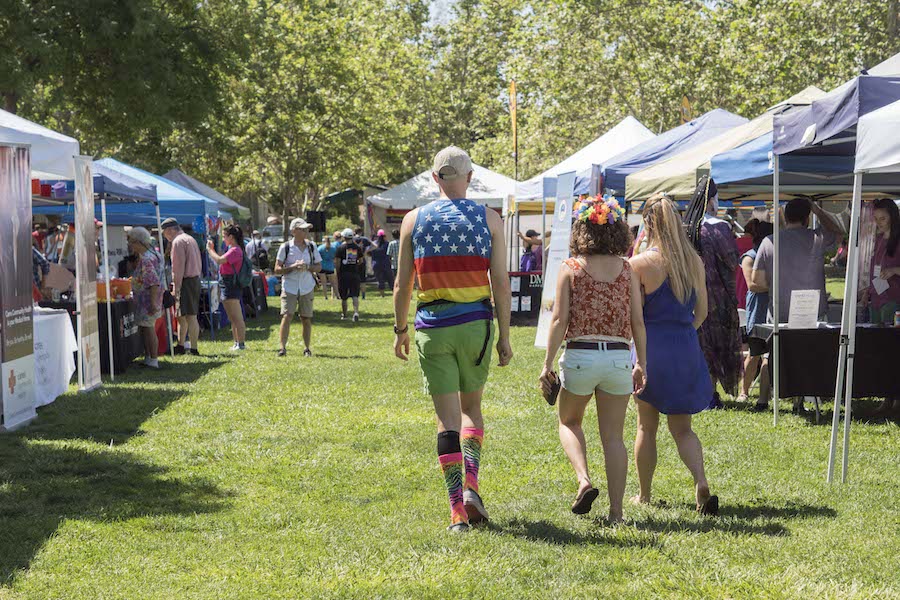 Month celebrates messages of strength, community, empathy
For many in Davis' LGBTQIA community, feelings of safety and acceptance can be hard to come by. This May, UC Davis' Pride Month and festivities in the city of Davis showcased the community's vibrant resilience to the adversity it faces while recognizing folks' unique identities. Pride events speak volumes to the strength and courage of a community that often lives in fear of others' intolerance for their identities.
"I have a lot of friends who have experienced hate crimes just walking in Davis and there's a lot of people that feel that other people don't deserve to exist." said Rosie Romick, a fourth-year plant biology major and co-president of Lambda Delta Lambda.
Pride in the City of Davis was born out of such violence committed upon a Davis resident. In 2013, Lawrence "Mikey" Partida's neighbor brutally attacked him for his sexual orientation — to the extent that he could not walk. After the incident, Partida's mother formed the Davis Phoenix Coalition to combat intolerance with programs and events such as the annual Davis Pride Festival and Run for Equality. No Pride events existed in Davis prior to the Davis Phoenix; the coalition united previously disjointed efforts of Davis' different queer organizations.
"When I was staying here [in Davis], I was looking for some other queer establishments and I didn't see much here," said Johnathan Celestin, a recording artist headlining Davis Pride as the first stop in his world tour. "The fact that [Gloria Partida] was able to create [Davis Pride] amidst an absence of [queer establishments] — she filled a vacuum."
Partida's work has also focused on promoting the visibility of the LGBTQIA community so that individuals and their loved ones supporting them do not feel alone.
"We started this coalition because we wanted to work against bullying and try to promote an inclusive community," Partida said. "When families find out that their child is gay or questioning, they often don't know where to go or what groups are out there and that's really hard, especially because they're trying to do that quietly. It's good to be very visible so that people can find you."
UC Davis' active LGBTQIA community has also made itself more apparent over the years via 16 queer-focused student organizations, a LGBTQIA resource center, queer dormitory housing in the Rainbow House, support groups and counseling.
"I went to a workshop yesterday actually and a couple people came up to me," said Jade Lounds, a second-year environmental horticulture and urban forestry major and a resident advisor for Rainbow House. "They were like, 'It's really cool that you have this space because I didn't know that there were other queer people out there.' I think it's great to just have that sense of community. I wish we could have more queer-focused events."
Though students have noted the program has room for expansion, UC Davis has continually provided support to its LGBTQIA students through the LGBTQIA Resource Center, which is a hub for all of UC Davis' queer-inclusive efforts. According to Bee Curiel, a fifth-year Chicano studies major and one of the Pride Month community coordinators, Pride Month and the community have grown concurrently since the center's move to the Student Community Center. By 2015, the center had extended Pride at UC Davis from a week to an entire month.
"Different political events that have happened called for unification of the community here," Curiel said. "[With] the theme for this year, 'Rest and Resist,' we wanted to highlight ways of resistance in the current political environment that we face and ways of healing."
UC Davis' Pride Month programming included Movie Mondays, Workshop Wednesdays, a pool party sponsored by the Recreation Pool, handing out snow cones on the Quad to support visibility and the grand opening of a gender-affirming clothing closet for trans and nonbinary individuals. These events are particularly important in the current political environment.
"It has gotten a little more hostile in different situations," Curiel said. "As a transperson, I've been a little bit more scared to be open and vocal about my own needs […] because it's been polarized now. It's very clear what people think and it can be kind of scary."
Spaces like the LGBTQIA resource center and Pride events can make queer students feel safe. For example, a wide variety of performances reflected the diversity of the identities at the Davis Pride Festival in Central Park on May 21. Drag queens, a cheer team, a choir, UC Davis' alumni band, a fashion show and an international recording artist all made the stage for a multi-generational event only Davis could offer.
"It's been a phenomenal thing," said Sandre Nelson, the director of Davis Pride. "The community of Davis has really supported this idea that we had three years ago to make it go from this little, little pride to a great success."
Nelson said the hometown event has grown from 500 attendees to an estimated 20,000 this year.
"The kiosks here, they're all different businesses and they all have a different goal with somehow supporting marginalized voices," Celestin said. "To see how people are trying to amplify marginalized voices in a unique way to Davis, I think that's one of the things part of this experience that I just think is really cool."
Davis Pride and UC Davis Pride Month events invite the general community to understand, recognize and uplift folks.
"The queer community at Davis is super active — especially the QTPOC [queer, trans people of color] community," Lounds said. "It's a lot of emotional and physical work to be an activist and when you're constantly fighting, you can […] feel really worn out. I think that that is where the allies can step up. You can't just call yourself an ally […] without actually actively fighting for the rest of all people. [But] if they're not personally invested in it, then they don't show up."
For many, Pride events provide a start to building bridges of empathy.
"I've traveled around the world and it's so funny [because] people think that they are so different but when you go to a lot of these prides, you see that people have so much more […] in common," Celestin said. "If people just take the time to experience the commonalities that we have, you see that life is a lot more beautiful and less complicated than we like to make of it."
Written by: Kristen Leung — features@theaggie.org