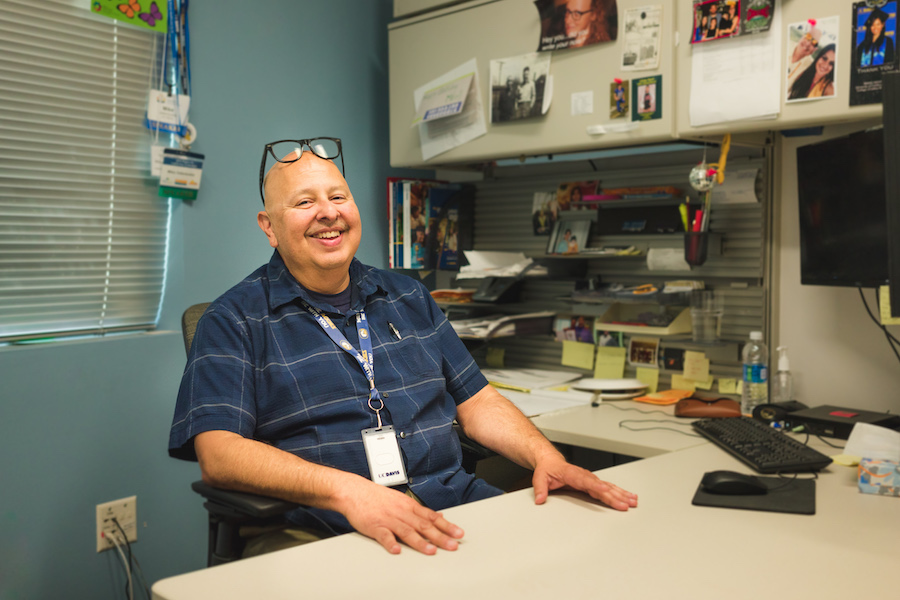 From Los Angeles to Davis, from mentee to mentor
Michael Valenzuela, an advisor at the UC Davis College of Letters and Science Dean's Office, has an undying passion for college and loves his family and life in Davis more than words can describe. However, Valenzuela did not always have the luxuries he now has today.  
Valenzuela describes Davis as the "photo negative" of the environment in which he grew up. Raised on the edge of what most people would call East Los Angeles proper in the San Gabriel Valley, Valenzuela refers to his hometown as, for lack of a better description, "the hood."
"I must have been wearing a hard look on my face for a lot of my formative years and thereafter when I was in L.A.," Valenzuela said. "It actually wasn't until I got to Davis that I started feeling more comfortable and I started letting my guard down. It was not until […] deep into my life I had realized I am way goofier than I had even realized. I am just one big dork, and I love the fact that Davis has allowed me to find myself in that way."
Born into a Chicano family that had a long history of serving in the United States Coast Guard, there was no room for dorkiness growing up amidst the unfriendliness of the valley. As a high schooler, Valenzuela's father told him not to concern himself with talk of college because on the day he was to graduate high school, he would walk into the recruitment office and sign up for the Army. Just as he was beginning to write off college for good, his father passed away, which allowed him to pursue higher education.
"I was the first male in my family to not go into a uniform service either straight out of high school or before high school graduation," Valenzuela said. "College, for me and for my family, provided that blessing which is why in some part I am so passionate about college. I challenge you to find somebody who loves the idea of college more than I do."
After graduating from a high school where less than 5 percent of its graduating class went on to college, Valenzuela attended community college for two years and then went on to California State University, Long Beach (CSULB). Valenzuela vividly recalls his registration day at CSULB, as well as the fear and pressure he felt of college before it had even begun.
"I was so scared," Valenzuela said. "I was afraid to ask anybody about the process because I really didn't want to embarrass myself, and I didn't want anybody to know I was way out of my element. I stumbled around that auditorium for the better part of about two or three hours and then finally I remember pausing for a moment [saying] to myself: 'You can't figure out in two hours what most people figured out in 20 minutes, you are in way over your head, you just don't belong here.'"
As he packed up his materials and headed for the exit, he noticed somebody off in the distance staring at him. He looked back, and saw someone standing — looking out of place, just like himself — but also looking like somebody from back home.
"I saw a veteran Chicano who was sitting behind a table, you know, with tats and [more] tats," Valenzuela said. "He gave me [a head nod] and where I come from, when you get one of those you have to return that or it's just disrespectful."
The man, who Valenzuela later learned was a Chicano studies professor at the university, approached the young Valenzuela, inquiring why he was leaving so soon. He then sat him down and went over the registration process. In 30 minutes he had Valenzuela convinced that he in fact did belong in college.
"That's the day that I kind of abandoned all my thoughts of my being in complete control of my reality," Valenzuela said. "[I thought] destiny was in my hands. When I had a moment thereafter to process what happened, I realized this man in 60 seconds changed the course and direction of the rest of my life."
He explained that this man seemed to be almost waiting and expecting him to be there on that day.
"This man did some things he shouldn't have in his younger days, but he recreated himself from the ground up and was probably the best professor I had ever had and one of the best friends ever," Valenzuela said. "He really was my savior. I promised him that I would spend the rest of my career paying back what he did for me, so I'm just trying to save one soul at a time, one student at a time. So here I am, decades later, still trying. I hope I'm making him proud, I really do."
Valenzuela is doing much more than just making his mentor proud. Every day, he advises students on classes, study habits, life skills and how to pursue their individual passions and dreams. Anyone who is lucky enough to have a conversation with Valenzuela will see that he gives his undivided attention to whomever is sitting on the other side of his desk, whether he has known the person for years or if he is meeting them for the very first time.
"I would love to believe that my colleagues on this campus and other campuses are as passionate about working with undergraduates as I am," Valenzuela said. "It's no secret [that] I'm not getting rich working for the state here at UC Davis […] but college is my passion. This is where I belong. There is nothing more rewarding than somebody looking you in the eye when it's all said and done and saying you made a difference — it's almost magical."
Taking more of a tough-love approach, he also pushes anyone he meets to work exceptionally hard because he expects great things out of the students at UC Davis.
"I want to believe in one way shape or form I'm emulating [my mentor's] lessons and allowing people to find their own path," Valenzuela said. "I got three big passions in my life: First and foremost is family, secondly college, thirdly I love emergency response and first-responder activity. I guess I always am attracted to some kind of soul-saving activity of some sort, academic or otherwise."
Perhaps Valenzuela's passion for emergency response stems from growing up surrounded by family members who had all served in the Coast Guard. He speculates that all the years of the drilling and programming planted a sort of patriotic calling in the back of his mind to do his part and serve in uniform.
"Everybody asks about that! It looks cool, right?" Valenzuela said when asked about the framed certificate from the United States government that hangs on his office wall.
"I was in an arm of the U.S. Coast guard when 9/11 occurred, and so it was the result of all that when the Department of Homeland Security was created," Valenzuela said. "They swept a number of agencies into the newly-formed Homeland Security and all of us who were in these agencies became literally founding members and so they recognize us as such."
Proud to have served his country for a decade before coming to Davis and to have been involved in this monumental part of history, Valenzuela brings his involvement in the armed forces back to his inherent passion for helping people, even those he does not know.
"It stands among one of the greatest feelings I've ever experienced to put on a uniform of your country, but for me it's a little bit more than that — I love helping people and if given the opportunity, I would love saving lives," Valenzuela said.
Valenzuela is also on one of the training teams for the UC Davis Police Department, specifically the community response to active shooter team. His team teaches people how to respond in the event of an active shooter.
A college enthusiast, patriot and altruist, Valenzuela consistently makes a point to ask students how they want to be remembered, reminding them to listen to their inner voices and chase after their passion with everything that they have. His journey to the life he lives now was not an easy one, but he believes that if people are able to look in the mirror each day and confidently say that they gave their best effort, then they will reach even seemingly impossible heights.
"It's going to sound corny, but I just want to be remembered for making a difference and I want to be remembered or embracing life," Valenzuela said.  "I really believe in living in the moment — it didn't always used to be that way. I now just love life — as people can probably tell I'm a big dork and I know it, but I just love life."
Written by: Gillian Allen — features@theaggie.org