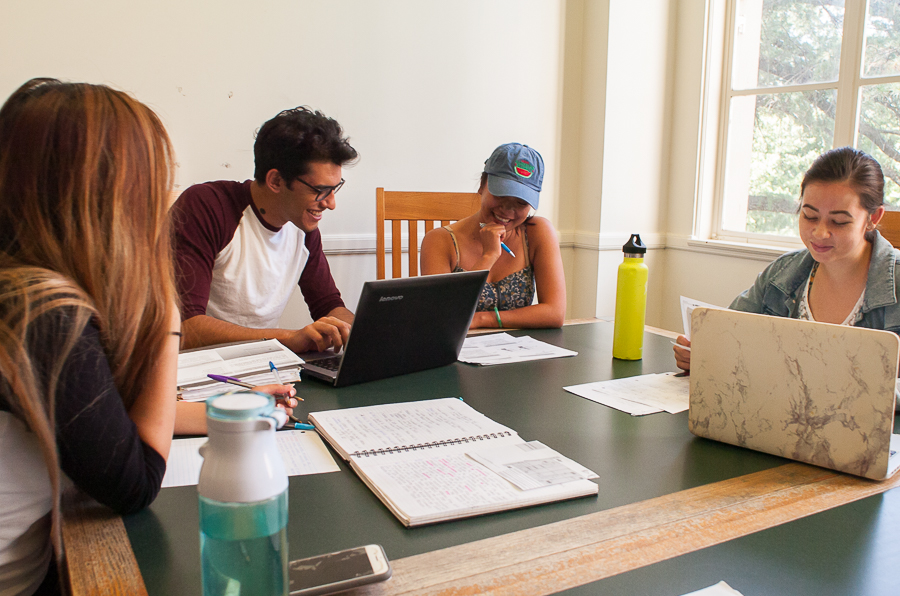 Student Affairs no longer able to cover costs to Conference and Event Services due to budget constraints
On May 16, registered student organizations (RSOs) were notified via an email newsletter that they will be charged to reserve on-campus meeting spaces starting on July 1. Previously, the Division of Student Affairs made a financial commitment to RSOs for the 2016-17 school year so that organizations could continue to receive the previous year's free allotment of spaces. RSOs are currently allowed four hours of meeting reservations per week and three special events per quarter in general assignment and classroom spaces. UC Davis Conference and Event Services also charges fees of $45 for paid spaces and $10 for general assignment spaces exceeding the allotment.
Third-year geology and history double major Minda Moe is the president of Quiz Bowl at UC Davis. Moe is worried about the policy because their organization does not have enough money to pay for reserved spaces.
"They haven't told us how expensive it will be," Moe said. "I'm worried that we'll either have to limit the number of meetings or wander around the building looking for open rooms."
Moe is concerned that there will be not enough spaces or that organizations may have to share rooms. They explained that meeting off campus is not always feasible because it is difficult to get everyone to the meetings.
"I know a lot of organizations that book rooms every week," Moe said. "All I see is a bunch of organizations wandering around and trying to get room space."
Third-year genetics major Mahitha Murali is similarly concerned about being able to get together and afford spaces.
"It poses a great risk for student-led organizations, especially those that focus on philanthropic efforts to continue building their organizations," Murali said via email. "Visions at UC Davis is solely run by a team of students who are focusing on raising funds for education in different parts of the world, and this policy may affect how often we meet and whether our team will be able to continue our fundraising initiatives to support the education of youth in Ethiopia, India, Nicaragua and Sri Lanka."
IGNITE at UC Davis is hosting a Facebook event encouraging student organizations to send emails to petition for the removal of rental fees for the next year. Second-year sustainable agriculture and food systems major Abigail Edwards, the secretary of IGNITE at UC Davis, received the email notification, immediately updated the club officers and spoke to Center for Student Involvement Director Kristin Dees about possible actions. Edwards then began to formulate plans to involve the more than 800 clubs on campus that could be affected by the new rule.
"I discussed these ideas with our officer team and we decided we needed to mobilize the UCD community, specifically RSOs, not only for the survival of our own [organization], but for the survival of all the UCD club programming which support students' well-rounded education," Edwards said via email.
IGNITE also drafted an email template that organizations can send to Dees, who is acting as a liaison between the students and the administrators at Student Affairs responsible for the fees.
"The email template is intended as a way for student [organizations] to voice their concern without having to draft a whole new email — we are all students and it's week nine so we're trying to make this as accessible as possible," Edwards said. "The more feedback they receive, the better."
Edwards said the response from students has been very positive and that many students were unaware about the increase or concerned about how the fee would impact their clubs.
"This year, they are $10 to $45 per hour (depending on whether you are collecting money or not) which is a lot for student [organizations] working with a tight budget," Edwards said.
Edwards believes that the fee increase has the potential to decrease the number of student organizations or deter new organizations from being created because of the lack of accessibility and ability to be involved.
"To be honest, I don't think there would be so many clubs on campus without access to free spaces to organize," Edwards said. "Student organizations utilize these spaces to connect with other students with similar interests, which is such an important part of the Aggie experience."
Written by: Jayashri Padmanabhan — campus@theaggie.org