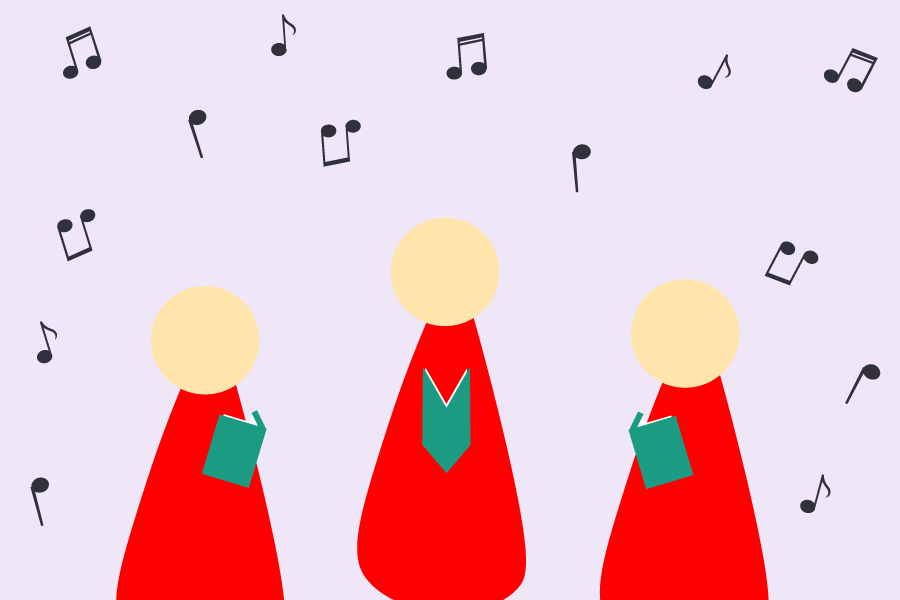 Local a capella group brings community wellness to Yolo County
The Vocal Art Ensemble (VAE) brings together people from different backgrounds and with various talents to express themselves on a platform where all communities can enjoy a genuine, unique experience.
Founded in 2008, VAE aims to "blend musical artistry, passion and camaraderie," encourage growth via the human experience and present unique performances for any and all music lovers.
"I began the group […] when I called up a dozen singing friends, [and] with a little word of mouth that first season grew to 15 singers. After just a few seasons, we were 20 to 24, as we are now," said Tracia Barbieri, the director of the group. "Musically, the group has grown and finessed by leaps and bounds."
Over the years, VAE has become a family that has grown through the group's progress. Their dedication continues to take music and make it their own with an united, undying spirit.
"I love singing with VAE. The group is like a family. Some of the members have been singing together for almost 10 years," said Rachel Hartsough, the arts and culture manager for the City of Davis and a member of the group. "When I first moved to Davis, […] I was working in my yard and heard this amazing music that appeared to be coming out of nowhere. I peeked over the fence and saw this group of people singing the most beautiful music."
As this group encourages the art of music through community wellness, there are many members who are in some way affiliated with the university and contribute to the overall art experience.
"The music is fun and challenging, and there's a tremendous variety," said Lori Leong, the manager of the Foundation Plant Services disease testing lab at UC Davis and one of the group's original members. "Our group is made up of people of a wide age range […] with different ethnic, religious and professional backgrounds, […] but the music brings us all together; […] it's really good for a community to come together simply to celebrate something beautiful."
Barbieri shared that the group is truly her family, as her own family also performs in the group.
"My husband, daughter and son are all performing this season, [and] the singers are also very dear to my heart and have helped me grow into a leader, teacher, performer and person in more ways than I can count," Barbieri said. "It's been such a gift to have such a support system and circle of lasting, loving relationships."
Through the art of music and community, the group has created a vibrant foundation of flourishing collaborative expression.  
"Tracia Barbieri […] is able to pick pieces that fit our group well and craft well-rounded programs around them, using the strengths not only of the whole group but also the particular strengths of each of its members," said Isabelle Henry, a plant genetics researcher at UC Davis and a relatively new member. "VAE often collaborates with local groups; […] we always learn a lot from those collaborations and performing together strengthens both groups."
In the past, VAE has collaborated with Sacramento-based recorder group "Baroque and Beyond"; Rene Jenkins, a sound-healing professional musician; and the UC Davis Viol Consort, led by UC Davis musicology graduate student Melita Denny.
This a capella group continues to grow as members of the community, both from Davis and from around the world, continue to dedicate their time, effort and talent to becoming a part of something much greater.
"I started singing in choir in Belgium when I was 12, and have been singing on and off most of the time since then," Henry said. "I have lived in several countries over the course of my […] studies, and I have always found that joining a local choir was an excellent way to integrate into a community."
Although not all people are professional musicians or feel as if they can contribute, Leong advised students to engage and explore, even after college.
"Group singing just makes you feel good," Leong said. "We have bonded over our mutual joy of singing, and over the years VAE has become like family to me, [as] Tracia takes the music and uses it to tell a story or paint a picture [and makes] it into something far greater than the sum of the individual parts."
Members bring their own personal touches and cultures as creating music becomes a healing activity for the group and audience alike.
"Everyone in our choir has many other parts to their lives. This is where we all come together and share our love of music and singing," Hartsough said. "We sing music from all over the world."
The role of the conductor is clearly significant and rewarding, but the unique voice and talents of each member transforms the act of singing into something much more powerful that embraces everyone.
"We bring a unique blend of music and theatrical expression that embodies a full spectrum of performance," Barbieri said. "Music can reach across barriers of culture, age, experience, upbringing, time and space."
Recent free concerts included performances from June 2 to 4 at Trinity Episcopal Cathedral in Sacramento as well as at the Unitarian Universalist and United Methodist Churches in Davis.
Upcoming performances include Davis' "Make Music Day" on June 21 and a concert in Auburn on July 2. More information and a calendar of VAE events can be found at the group's online schedule.
Written by: Ray Ruano — city@theaggie.org