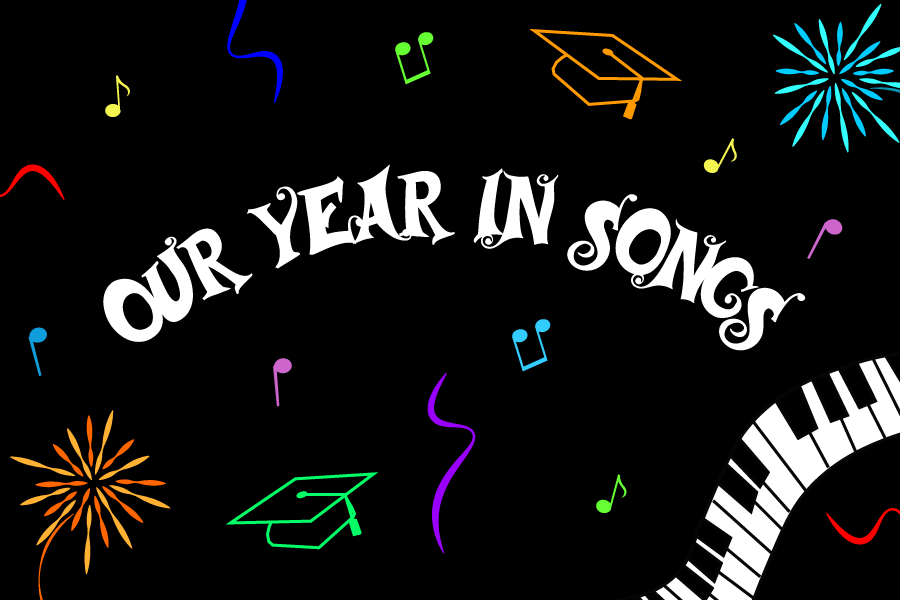 The arts desk reflects on the academic year
Oftentimes, listening to a song can take you back to a very specific moment — you can remember how the right song captured just exactly how you felt when you were cramming for a midterm, when you were out dancing with friends, when you were preparing to walk across a stage and receive a diploma. Here, the arts desk shares the songs that defined our year.
Ally Overbay — "Suede" by NxWorries, Anderson.Paak
I hold no lyrical connection to this song. It's loud, crude, too explicit to be quoted from — almost reckless in its composition. But choosing something melodic would simply be inaccurate; encapsulating my year with tracks like Shakey Graves' "Tomorrow" or Bon Iver's "9 #Strafford APTS" would simplify my experiences — and my junior year was anything but casual chord progressions or haunting harmonies.
Funky basslines, jazzy rhythms, Anderson.Paak's raspy vocals — these are my experience. "Suede" is an anthem for chaos; for waking up at 6 a.m. to finish a paper due at 9 a.m.; for napping in a car, Blaze pizza box as a pillow. This song is silliness and thrills, grinning and dancing, fully intended for staring fear and discomfort straight in the eyes and crooning, "Yes, lawd!"
Myah Daniels — "Humble" by Kendrick Lamar
Not only is this politically-driven track a banger, but it also reminds listeners to take a step back and look at the greater social picture. Oftentimes, students get caught up in the spectacle of parties, midterms and internships. However, Lamar reminds his audience to keep one's family, culture and self-identity at the forefront of their thoughts, not losing sight of who they are among a crowd. Sometimes, we college students need to do exactly what the chorus says: "sit down, be humble."
CaraJoy Kleinrock — "Trees" by Twenty One Pilots
When choosing a song that defined my year, I knew I had to pick a Twenty One Pilots song. Ever since I went to their concert on assignment for The Aggie — which was the best live performance I have ever seen — I have been obsessed with the band. Their music doesn't fit into any genre, but somehow all their songs make me feel calm. The song "Trees," specifically, helps me put all my worries at ease and ends up putting a smile on my face. This was a song that I needed this year to help me deal with the stress of junior year, and knowing that these lyrics come from someone's own experiences only give it a deeper meaning.
Akaylah Ellison — "River" by Leon Bridges
          The beginning of the school year was surrounded with doubt, anxiety and, more importantly, fear. This year, Davis was overwhelmingly wet, so it seems fitting that the song that sums up this academic year encompasses the water and what water means. Water has a purifying aspect: it is redemptive, forgiving and transparent. The school year started with the guilt of all past failures, and I worked through the rain, which cleansed me and gave me hope — it gave me a future.
Sydney Odman — "Brand New" by Ben Rector
          I discovered this song the summer going into freshman year. It was upbeat, fun and full of all promises and expectations for the coming months. My first year of college has undoubtedly been one of my best yet, and it's all due to the wonderful people I've met along the way. I feel as if this song perfectly encapsulates the excitement and positivity I've experienced this year, and listening it to it fosters a bittersweet feeling.
Caroline Rutten — "A Change is Gonna Come" by Sam Cooke
         I am indeed a sucker for any older song; call me an old soul if you please. But in all actuality — and I say this with the least intention to sound cliched — starting my freshman year here at UC Davis has inevitably been a change in my routine and setting, sparking a correlating change in myself and my interests. Moreover, the most poignant of changes have been the most unexpected, achieved with an enchanting wonder along with a grit and determination. I have found an interest in human rights, have solidified my intention to change social and racial dynamics in the future. So as much as this song can merely describe the change I have witnessed in myself, it is also the song I listen to as I plan to foster equality in my community and abroad. That initial belting note gives me the chills every time.
Becky Lee — "Entropy" by Bleachers ft. Grimes
"Entropy" describes the common loss of joy in pursuing a passion for success, which is essentially what school felt like many of these days. Through immense stress and hard efforts, I'd oftentimes question my abilities and the quality of my work. However, these moments of doubt were actually reminders of my strengths and accomplishments in the end. It's ironic that the singer seems to question the originality of their music while being immersed in the industry, while the song itself is deviant from mainstream sound. "Entropy" has a cool tune but also describes my inner monologues flawlessly.
Abigail Wang — "I Try" by Macy Gray
This song is special to me because my mentor Claire introduced it to me, and it reminds me of our amazing friendship that developed over the year. I also resonate with it a lot because I wear my heart on my sleeve, and the person in the song is not good at hiding their emotions either. It is a great song to sing or yell along to and get your frustrations out. It's a classic and a song I will always remember my first year by, and the wonderful people I had the opportunity to meet in that time.
Pari Sagafi — "Another Day of Sun" from La La Land
This song perfectly sums up the school year for me: filled with anxious excitement to leave one place for another, hoping that although there may be some inevitable post-graduation disappointments, there'll always be "another day of sun" and great things to look forward to. Unbelievably cheesy, yes, but the film's opening number is so catchy and fun that I've been replaying it nonstop since its release.
Amanda Ong — "This Year" by The Mountain Goats
It seems almost too obvious and straightforward, picking a song titled "This Year" to sum up this year. But after a year that was anything but easy, a song with the line "I'm going to make it through this year if it kills me" felt like the best way to sum things up. This song comes from the album The Sunset Tree, which revolves around lead singer John Darnielle's experience growing up in Southern California and dealing with his abusive stepfather. The lyrics are sometimes dark, sometimes full of youthful spirit and ultimately hopeful — something much needed this year.
Written by: The California Aggie Arts Desk — arts@theaggie.org