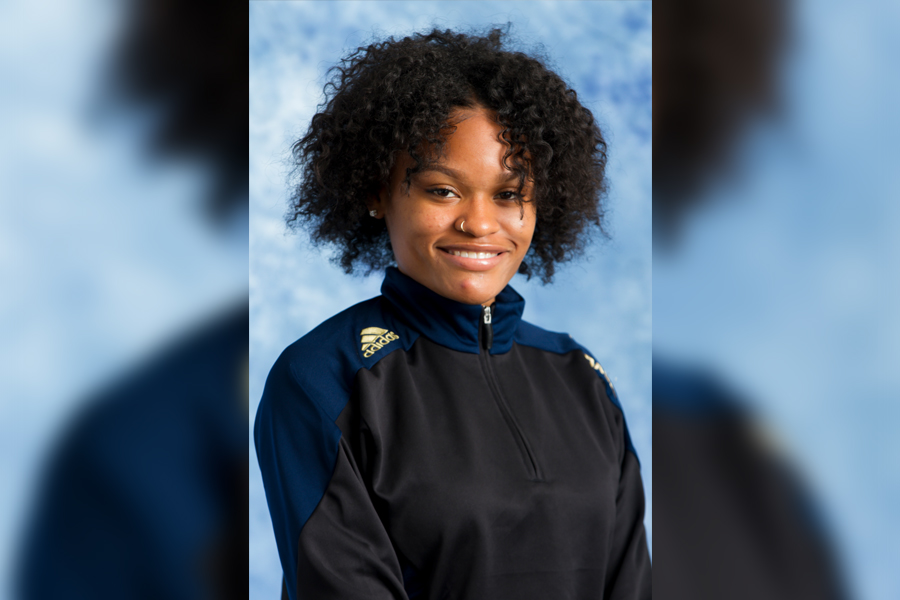 Track and Field sprinter Kierra Davis has a standout year, earns multiple honors
In an overall impressive year from the UC Davis track and field team, earning second place at the Big West Championships, one sprinter in particular has caught the eye of many. Track and field sprinter Kierra Davis earned Big West Women's Freshman of the Year, the first Aggie to earn this award since 2014. Davis also took home the Female Newcomer of the Year Award at the Gunrock Gala, an awards banquet put on by UC Davis to recognize and award student athletes for their amazing performances.
Davis finished fourth in the 200-meter dash and seventh in the 100-meter sprint at the Big West Championships. Her 100 meter preliminary heat time of 11.70 seconds ranks fourth in UC Davis outdoor history, and her 23.84 time at the University of Nevada Las Vegas Invitational earned her third in the school record books. She joined the No. 2 relays that helped win the Big West Conference title. She was named Big West Women's Track Athlete of the Week on March 21, an honor which was attributed to her personal record of 11.86 in the 100-meter and 24.46 in the 200-meter sprint. At New Mexico's Don Kirby Invitational, she ran a 24.46 in the 200, which now ranks second in UC Davis annuals.
The California Aggie had the chance to sit down with Kierra Davis to talk about her success on the track.
How long have you been running track and field, specifically sprints? What got you into the sport?
I started really running track my freshman year of high school. I always was kind of fast, but I always told myself that I was going to run track in high school. My dad really pushed me to try and do track, so that is what really got me to do it. Freshman year is when I started, but sophomore year is when I started to really get serious.
How does it feel when you were given the Big West Women's Freshman of the Year Award?
It is honestly surreal. I have been going through the motions and everything, but if you step back and see that this is real, it is a great experience and I am just very grateful for it. It is an honor because everybody is talented, but for this to actually happen, I am just really grateful.
How did the team react to you winning this award?
They have been really supportive. Our sprint squad specifically is a big family, so they have been very supportive and at the Gunrock Gala they were yelling and voting for me, so I really appreciate all of that.
What is the ultimate goal for you to achieve athletically at UC Davis during your next few years?
I want to make it to Nationals. I already know our relay team can make it in the next few years, but I really want to do it individually. I told myself that after college I was going to be done, but it would be the Olympic year [2020], so we will see what happens. I am not saying anything for sure, but whatever happens, I am just going to go with the flow.
Director of Cross Country and Track and Field and sprints coach Rahn Sheffield, the coach of numerous Olympic track and field athletes, added comments about Davis and where he sees her future in the track and field world.
Did anything stand out about Kierra that you don't normally see in other athletes?
Her strength to deal with adversity. We are talking about a lot of pressure. She delivers in that environment, which is hard to do, especially for a freshman. Usually, you see a freshman have a bad day or a bad year, but she doesn't have that. She can deal with all the nerves and the pressure of not just her family, but the invisible weight of UC Davis that you cannot see, and go out and deliver.
Why do you feel that Kierra was chosen to receive this award?
There are people that wait for greatness and there are others that go for greatness, strive for greatness, and Kierra is one of those athletes. Whatever is going to be, she is a strong enough athlete and knows that she is in charge of her own destiny, and if it comes with the awards then so be it.
As the coach, what do you feel needs to be implemented in order for Kierra to continue to have the success she has been having?
I believe that she needs to continue to listen, and be a student of her sport, and she will continue to get better and better. I don't feel that the Olympic Games are far off for this young lady. To represent the United States of America, you represent all nationalities. You may not know their names, but they will be shouting yours, and I believe that she is headed in the right direction. I also believe that she is the best recruit we have had in the last 10 years.  
Written by: Ryan Bugsch — sports@theaggie.org