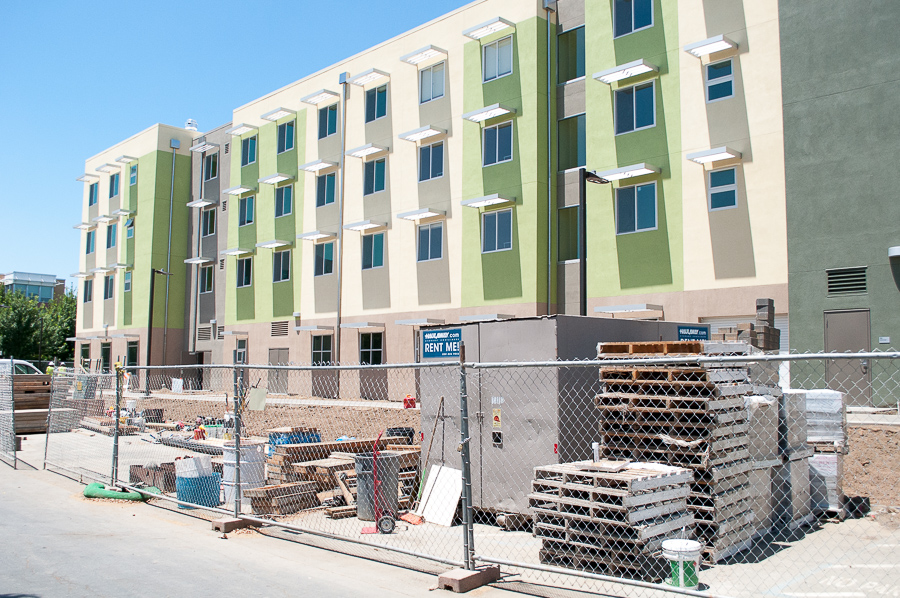 New dining options, lecture hall, housing on campus
With the number of admitted undergraduates increased by 1,100 students in 2016, UC Davis has worked to accommodate the influx and improve student life by updating the campus' offerings. In addition to the Memorial Union, which was reopened in the spring, students can look forward to changes in campus dining options, new residence halls and the construction of a large lecture hall.
Many of the changes revolve around the Silo, the newly-renovated campus food hub where most businesses are about to be replaced with new ones. Starbucks, Carl's Jr., Taco Bell and Pizza Hut, which were previously contracted by the third-party food management company Sodexo, will be replaced by Peet's Coffee, a University-run burger venue called Spokes, an expanded La Crepe and additional seating. The change in businesses is related to the university's switch from third-party to university-run food management, which allows UC Davis to better respond to students' preferences.
Many students, such as Maggie He, a first-year design major, felt that the Silo's previous fast-food options did not match many students' tastes.
"I mainly went toward the food trucks rather than what was inside the Silo," He said. "I don't really like fast food restaurants or support [them]."
Anticipating the switch to university-run food management as an opportunity to better cater to students' palates, UC Davis conducted focus groups last year to determine which food businesses students would prefer in the Silo.
"What we heard from students is that they had an appreciation for local sources and food venues," said Emily Galindo, the executive director of UC Davis Dining Services. "We've expanded our food trucks from two to four and they'll be rotating in the Silo area."
According to Galindo, the food trucks that come to campus will rotate in response to student feedback. Other current local venues, like Gunrock Pub, will receive updates to their building exteriors and menus to increase student appeal.
"What we heard is that a lot of students didn't even know [Gunrock Pub] was a place they could eat at," Galindo said. "We want to give our students as many options as possible as they move around the campus on a day-to-day basis."
Scrubs Cafe, located in the veterinary medicine area of campus and newly opened in April, expanded options for students attending classes in the underserviced area. The restaurant and coffee bar features affordable breakfasts with a menu that rotates on a daily basis. Next month, the new Silo Market will open to further broaden grab-and-go food options for busy students. Its products will include fresh pizza, sandwiches and salads.
Meanwhile, meal plans for the University Dining Commons will also see changes in order to accommodate students' schedules. Starting this fall, the Dining Commons will stay open from opening to closing time and offer only unlimited meal plans.
"I'm just really interested […] to see how that dining plan change is going to affect the freshmen," said Julia Lemak, a first-year biological sciences major. "Are they going to like it because it makes everything simpler, or is it going to be more expensive for students on average because you aren't able to choose a lower meal option?"
Though students on meal plans would have less latitude in choosing where they want to eat, some appreciate the university's efforts to make dining more accessible to busy schedules.
"I think having these new food options […] will make it easier for students to get food in between classes," He said. "[The DC] gives a bigger chance for people to get breakfast, lunch and dinner in between classes because sometimes the only time that they're free is when the DC is closed and they have to find other options and they're more limited."
Students often are forced to forego meals in the rush of a packed school day.
"More than anything, with a growing student body, we want to be sure that we're also increasing the food venues for our students," Galindo said.
New building construction is also underway in an effort to accommodate a larger student population. Three new Tercero residence halls will open this fall, adding 506 beds for incoming freshmen and housing a large community pavilion, music room, recreation room for gaming, wellness/meditation room, community kitchen and meeting/study rooms for the use of the entire Tercero community.
Meanwhile, students may notice the construction site of a new 600-seat lecture hall between Hutchinson Hall and California Avenue, expected to be completed in January 2018. This will be the first new lecture hall built in over a decade at UC Davis and will feature large skylights, projection screens with anti-glare coatings and study spaces.
"I think it'd be nice to put study spaces near a lecture hall because sometimes you have classes where you only have an hour break between classes and if you're coming right out of lecture you can just go straight to the study hall," Lemak said.
All these exciting changes await students' return to campus in the fall, thanks to the university's ever-increasing population. However, some are wary of the growth, as many improvements have yet to be made for the current student body.
"There are issues that […] are probably still going to be there when more students come in," He said. "As much as they're spending time to expand to accommodate more students, they should also spend time accommodating more of the students that they already have."
Written by: Kristen Leung — features@theaggie.org