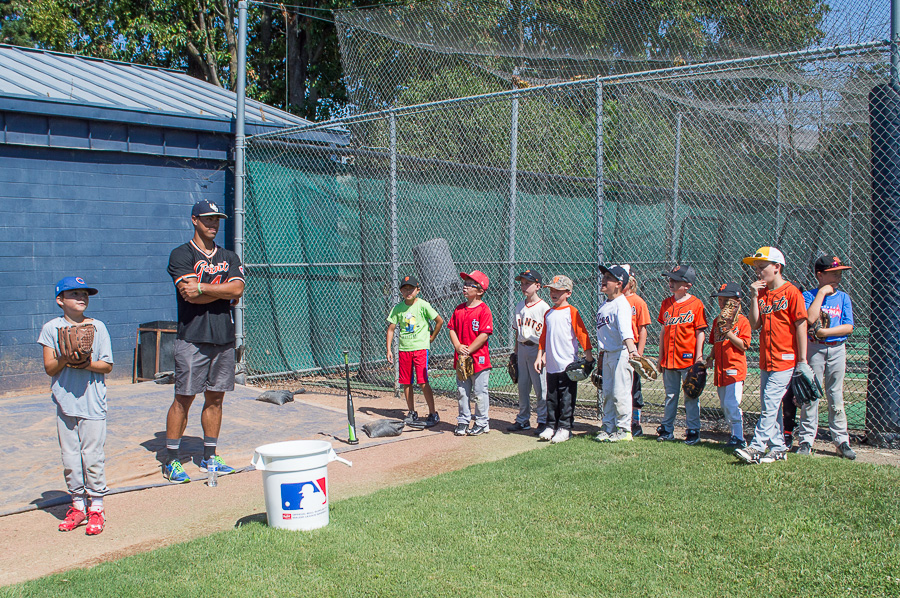 Local campers receive guidance from former, current UC Davis athletes
With the majority of Davis' 35,415 students currently on summer break, the sprawling 5,300-acre campus appears remarkably calm. That is, until you come across one of the many UC Davis sports camps taking place at the university. Cries of excitement from local kids replace the churning of bike gears and the banter of undergraduates.
However, the campus is deceivingly empty. The city of Davis and its residents remain intertwined with the university during the summer.
"I know that a lot of kids that come here are from Davis. I know that a couple of them, their parents are professors here at the university," said UC Davis alumnus and catcher Elijah Ontiveros. "It definitely brings the campus, the baseball team and the community as a whole together."
UC Davis volunteer assistant baseball coach and baseball camps director Ben Cordy was quick to point out that the sports camps aim to impact all of the northern California community.
"We get kids from all over," Cordy said. "They just like being out and learning the game, playing a little extra baseball after the little league season."
The baseball camp, which takes place at the Aggies home field, Dobbins Stadium, offers five one-week sessions for campers between the ages of 6 and 15.
"[With] the younger kids, the biggest thing we're trying to teach them is not to be afraid of the ball," Cordy said. "Whereas the older kids it's really more teaching them the unique skills of the game."
The UC Davis sports camps represent 12 of the university's 22 Division I teams. The camps consist of gymnastics, baseball, softball, volleyball, basketball, lacrosse, soccer and more.
Many of the coaches interacting with and teaching the kids on a daily basis are current or former UC Davis athletes. Ontiveros is in the midst of his third summer coaching at the sports camps.
"I think the coolest thing is I that I get to share my same love and passion for the game," Ontiveros said. "I enjoyed it when I was a little kid, so I want them to enjoy it just as much."
Given UC Davis' athletic success this past year and the recent recruiting of two UC Davis pitchers in June's Major League Baseball draft, current campers are dreaming big about their own athletic futures. But for now they will focus on battling the Davis heat while making summer memories.
Written By: Rowan O'Connell-Gates — sports@theaggie.org