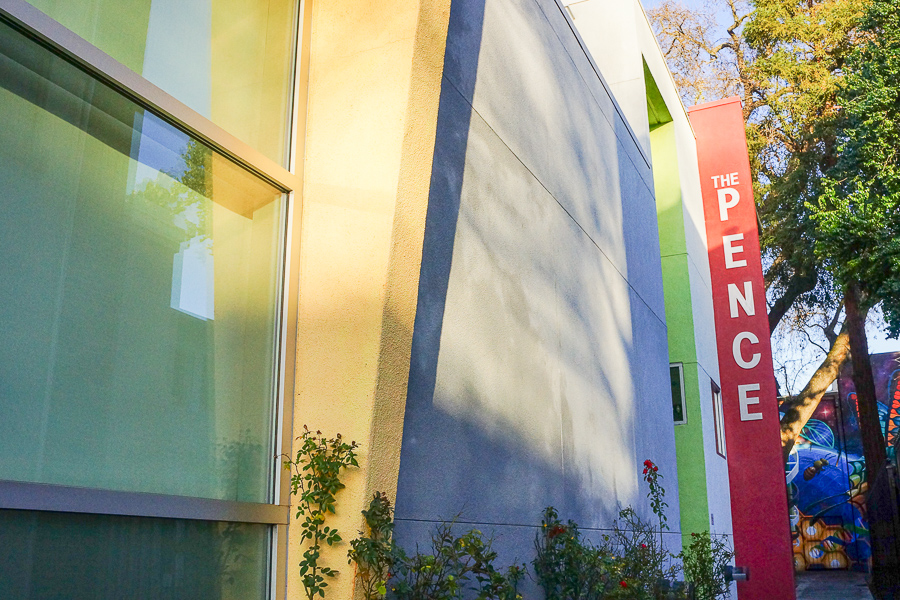 Kicking off this month with art, live music, honey tasting, drinks
Summer in Davis is undoubtedly my least favorite time of year, solely due to its intolerable heat; it would be a miracle if I ever left my room. Although I might personally be reluctant to embrace the scorching sun of mid-July, Davis always puts its best foot forward, hosting myriad summer events for the locals. In an effort to create a positive spin on the excruciating heat, the Pence Gallery's monthly Art After Dark series took on the theme of "honey." With honey tasting from a local honey vendor, live music by Big Sticky Mess, a visit from Explorit Science Center and honey-themed cocktails, the event made July a little bit sweeter.
"We do have a lot of warmth and heat in our quilt show, so we came up with honey; it went with the vein of the artwork and also was something we could use to have the community together by bringing our local honey vendor and the band Big Sticky Mess, which is our little honey pun," said Stephanie Kocsik, the special events and digital marketing coordinator at the Pence Gallery.
Local band Big Sticky Mess set a euphoric atmosphere with their fresh sounds and quick humor in between songs and, most importantly, united members of the Davis community with their live music. The event was meticulously arranged to fit its theme, with a minibar serving an array of cocktails called the redheaded entomologist and the bee sting and even showcased some bee-related artwork in addition to its quilt exhibit.
Each month, Pence Gallery creates a theme for Art After Dark, inspired by its rotating artwork. This month, Pence joined the Studio Art Quilt Associates for the biennial quilt exhibit, presenting a collection of eclectic textile art submissions, each one painstakingly stitched by its artist.
This month's theme of "honey" and its connection to the quilt exhibit may seem subtle, but the connection is clever. The idea was to create a theme in tandem with the summer art quilts, and the concept of melty, golden honey was a surprisingly perfect match.
"The theme of honey is just something that, while we were spitting ideas to each other, the art director and myself got to the word 'honey' and thought, 'It's hot, it's summer, it's Davis, and we can be local,' so we just ran with it," Kocsik said. "We got a preview catalog of all the quilts that will be here as well, and we saw that there was a huge summer theme around them and a warm, cultural vein running through everything with all the deconstructed dress and shirts. There are people in the area that are really good with textiles and fiber art, so they put their work to show that it's more that the quilt your grandma made you; it can be fine art and something incredibly difficult to produce."
The gallery invited Explorit Science Center to merge art and science together — an unlikely but harmonious match. This partnership revealed the beauty in science, while also raising awareness for the protection of bees.
"We've been collaborating with Explorit this whole time, and it's always great when we can give them almost a pure science to bank off of because we have a lot of families and a lot of kids that come in," Kosik said. "We really love that they can do something hands-on for the people. We're also both kind of underappreciated. I mean, we're not on E Street or a nightclub or anything, and neither is Explorit, so it's great to just get in here by way of working together."
The best part about the event was that everything was local and quintessentially Davis. While triple-digit temperatures may be a hindrance to have fun in the sun, you can always count on events like Art After Dark to get you out of the comfort of your cool, air-conditioned apartment.
Written by: Becky Lee — arts@theaggie.org