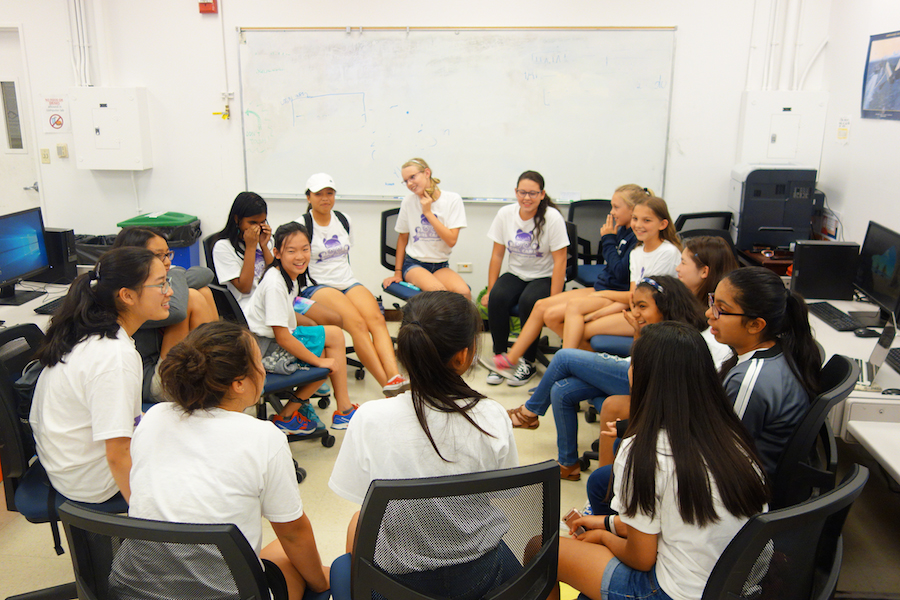 Camp designed to educate girls, motivate them to pursue STEM fields
The UC Davis C-STEM Center recently hosted a Girls in Robotics Leadership (GIRL) Camp from July 10 to July 14. C-STEM GIRL Camps are focused on motivating girls in middle school to learn science, technology, engineering and math concepts through robotics, principles of engineering and computer programming.
The camps run in multiple locations through other GIRL Camp affiliates. The GIRL Camps took place in five locations this year, including one in Cincinnati, Ohio. This the fifth year that the camp was held at UC Davis.  
The students of the program are girls going into seventh and eighth grade who are peer-mentored by two high school students, two college students and one female teacher who serves as a mentor and coordinator.
Michaela Byrd, a third-year international relations major, was the coordinator of this year's program alongside the C-STEM director. Byrd works with UC Davis' C-STEM center year-round.
"Planning started last December since — especially with the other camps — we have a total of 140 campers," Byrd said. "The curriculum is updated every year to maximize the value to students."
Applicants are chosen first and foremost by their experience and progress in school. The program looks for students who have less experience and have an interest in robotics or coding but have not been given an opportunity to pursue that interest. Students can be accepted from all over Northern California.
"The camp is simply designed for girls with an interest in technology and leadership," Byrd said. "We are trying to equip girls with an interest in technology with leadership skills."
Students who attended the July 10 to 14 camp took several classes throughout the week on various topics while also working on a group project.
"The biggest project the girls work on during the week is [creating] videos — they need to identify a problem that they see in the world and propose a solution using robotics," Byrd said. "They demonstrate their solutions in the videos."
Elsie Luisetti, a seventh-grader from Nevada City, Calif., had a sister who attended the camp last year and wanted to come herself after seeing how much her sister enjoyed the experience. Luisetti attended a Girls Who Code camp locally and became interested in coding.
"I liked that we got to learn C++ — which I haven't learned before — and I really enjoyed it," Luisetti said. "I really like the project that we do at the end of the week. Ours is on firefighters. We're having the robots go in instead of firefighters because a ton of firefighters risk their lives each year trying to put out fires."
Naomi Baba, a seventh-grader from San Jose, became interested in programming robots after seeing her father code. Baba also attended camps about coding with Java and Python.
"My mom's friend recommended this program to her," Baba said. "I said, 'Sure,' because I wanted to try new things."
Baba said her prior programming experience made the classes easier, although she had never used program codes for robots.
"I like the classes. They're interesting, and they teach us a lot of stuff in one day [such as] coding [and] playing games to help our presentation skills," Baba said. "Now I feel like I know so much about […] coding."
Written by: Jayashri Padmanabhan — campus@theaggie.org