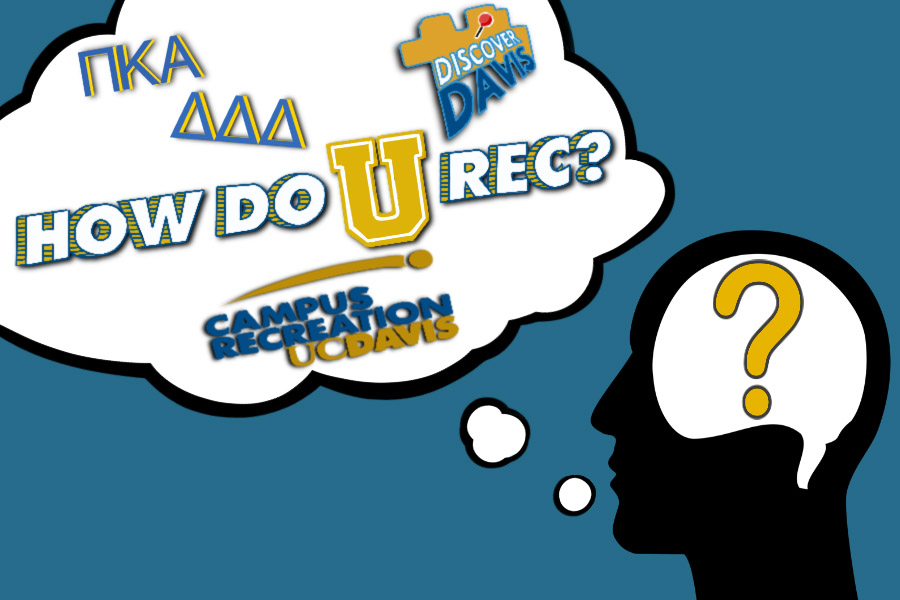 Fall events, activities for students to get to know campus, community
Fall Quarter has finally arrived, and with that comes a variety of new events and activities for students. Freshman, transfer students and even returning seniors will have plenty of ways to get involved in and connect to the UC Davis community and develop a new level of Aggie pride.
Some events have even been happening for over a hundred years. One such event, considered a principal UC Davis tradition, is none other than Pajamarino.
"Pajamarino, even though it has kind of an odd name, was started 105 years ago when alumni were returning back to campus for homecoming," said Carrie Wright, the associate executive director of the Cal Aggie Alumni Association. "They came in on the train and it was in the middle of the night, and students snuck out of their dorms in their pajamas to greet the alumni. So that's why 105 years later, people wear their pajamas and we celebrate at the Amtrak train station the night before homecoming"
The homecoming football game this year is a can't-miss event all on its own, especially because UC Davis will face off against its longtime rival Cal Poly San Luis Obispo on Oct. 28. Pajamarino, which occurs the evening before on Oct. 27, serves as the pep rally for the game, an inclusive event for the entire Davis community from all generations.
"Anyone can walk in the parade," Wright said. "So everyone can meet up at Central Park at 4:30 and we sign up and parade through downtown Davis toward the Amtrak station. Then our pep rally starts at 5:30, [where] we'll have guest speakers and lots of Aggie pride and spirit, student performers, food and vendors. It's a great way for new students to celebrate UC Davis."
Another fun event students can enjoy this fall will take place on Oct. 10 in downtown Davis. Called Discover Davis, the event is hosted by the Davis Chamber of Commerce and is another way for students — new and returning alike — to get familiar with the Davis community.
"The last few years we had worked with the Farmer's Market, which were great partners, but this year we're moving it to the E Street Plaza," said Christina Blackman, the CEO of the Davis Chamber of Commerce. "We'll have about six food vendors, about thirty-four businesses tabling that will have giveaways, prizes, and interactive things to do, and we're also planning on having some live music and entertainment."
For those interested, volunteering at Discover Davis can be another sure way to become involved, but students don't have to wait until the event date to get connected. The Chamber of Commerce also puts on a scavenger hunt, where students can have the chance to enter a raffle for free meals at various Davis establishments.
"[We hope] this is just the start of a really long relationship with the students that are here," Blackman said. "Whether they're here for four years or they stay forever, we want to really welcome them and showcase what the community has to offer."
For a more lasting route to get involved in new things this year, students also have the option of joining one of UC Davis's sixty-eight Greek organizations across six councils. These councils include the Asian Sorority and Fraternity Council, the Davis Collegiate Panhellenic Association, the Inter-Fraternity Council, the National Panhellenic Council, the Professional Sorority and Fraternity Council, and the United Sorority and Fraternity Council. Each organization offers a fun and dynamic experience to a student's time in college, catering to different interests and often leading the way to lasting relationships with other students as well as the community.
"I think there's a multitude of reasons to join a sorority or fraternity community," said Valerie Lamarre-Laurent, the coordinator for Sorority and Fraternity Life at UC Davis. "I would say [this makes] the campus feel smaller [because] you are on a campus of about 30,000 students [and] you want to find your niche and your home base."
Not all Greek organizations at Davis are social, and many of them have academic, cultural and community service focuses. There are other reasons to get involved with Greek life too, including the opportunity to gain leadership experience, get involved with a philanthropic organization and make academics a priority.
"For the 2015 to 2016 year, our [Greek] community raised over $200,000 in philanthropy so [joining a Greek organization is] really a way to get connected, get involved and get engaged on campus," Lamarre-Laurent said. "We also collect GPA reports for our students and we know that for the past 5 or 6 years our Greek-affiliated student GPA is higher than a non-Greek student GPA."
Whether it's participating a tradition or embracing a new event, students have countless ways to get involved with UC Davis and the community.
"I think that UC Davis has very few treasured traditions and a lot of times students are so busy with their academics that they don't always take the time to enjoy what it means to be an Aggie," Wright said. "I think that by attending Pajamarino [and other events], it's one of the best opportunities to really understand what it means to be an Aggie."
Written by: Marlys Jeane — features@theaggie.org