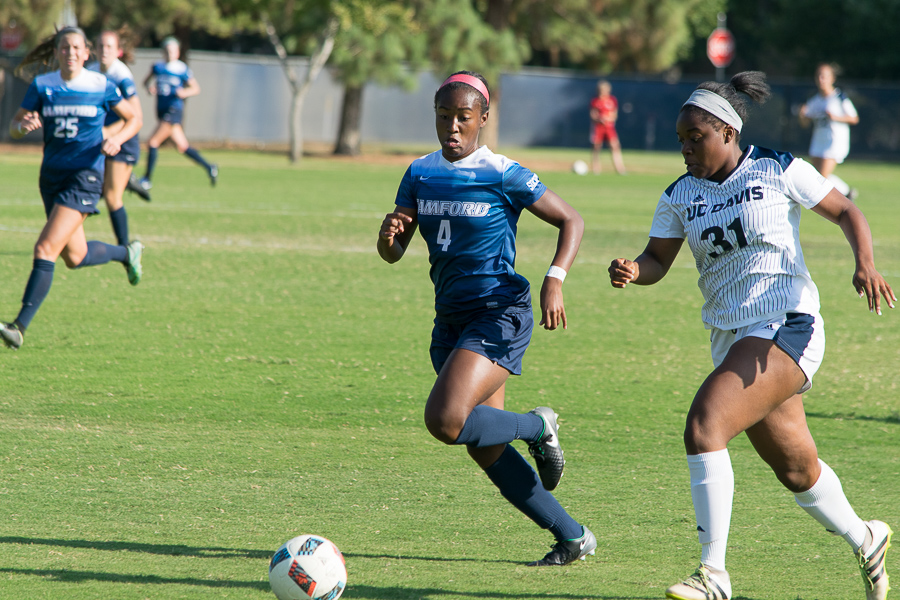 The Aggies look to build off hard-fought loss
When the UC Davis women's soccer team took the field on Friday, Sept. 15, it was hoping to put an end to its frustrations. Coming in with a 1-7 record, the Aggies hoped to gain some momentum before conference matches begin. Unfortunately, the Samford Bulldogs made the long trip west on an upswing, winning three of their last five games, along with one tie. Despite the loss, however, the game was far from a lost cause.
It was a defense-laden match, with neither team scoring until 59 minutes into the match. This put the game in the hands of the goalies, and freshman goalie Jessica Lima, starting her second game in place of junior Alexis Smith, did everything in her power to make things difficult and to protect the Aggie goal, accumulating five saves in the process. According to head coach Twila Kaufman, it took a "world class" shot to get by Lima, and that shot was the difference in the game.
Freshman forward Lauren Bouvia led the Aggies with two shots on goal, with four other Aggies getting one shot a piece. According to Kaufman, the problem didn't lie with quality of the team's shots. She's actually quite pleased with that aspect. She just wants more.
"You saw three as-perfect-as-they-come opportunities," Kaufman said. "We happened not to finish them, but, hey, we're creating those opportunities. What I want to see in the off-part, is that we don't have to be perfect here, but how do we create more of these opportunities, so that we can actually get this win?"
Kaufman was proud of her team's effort, citing their non-stop effort and positive attitude through adversity as a strong suit for the team, and while she likes the strides the team is making, she would like to see that effort rewarded with some wins.
"I think winning is part of the process and this is a game I felt we actually deserved to win for ourselves," Kaufman said. "As far as play, I do think we're getting better […] I'm excited about the direction we're going, but obviously winning is a part of that."
Although the Aggies' season is off to a slower start than they would like, nothing is set in stone, as conference play is on the horizon. The team would have a an eight-day break before its next game, followed by their first conference game against Hawaii on Friday, Sept. 28. There, if the upswing can continue, the turnaround can begin. This is what Kaufman is aiming for.
"The goal is to get into postseason play with the Big West Conference," Kaufman said.
The women's soccer team took the home field again after a long week off on Saturday, Sept. 23, falling to Saint Mary's Gaels, but look to turn the losing streak around in today's doubleheader at 1:30 p.m.
Written by: Bradley Geiser — sports@theaggie.org