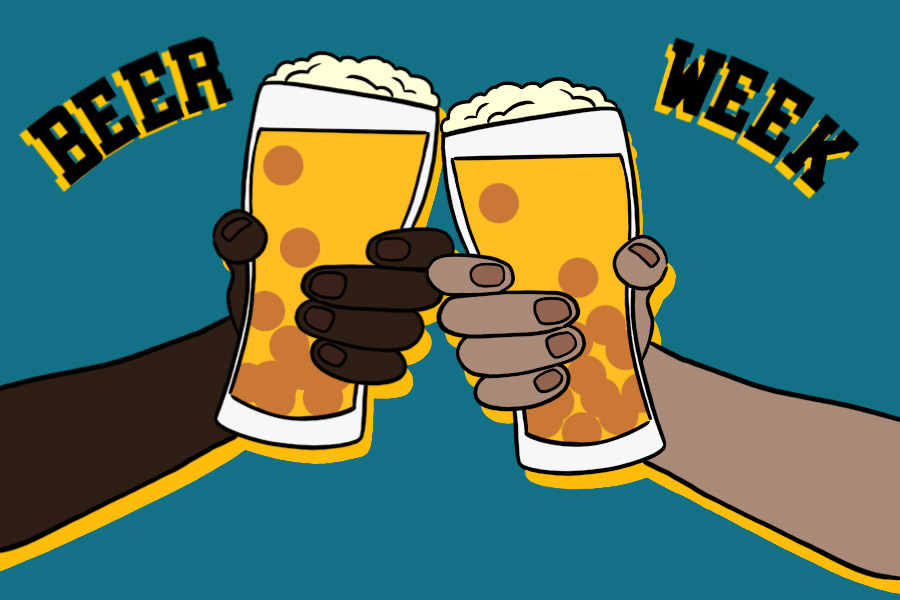 With greater support, Davis Beer Week is taking off
Four years ago, de Vere's Irish Pub and Sudwerk Brewing Co. joined forces to create a Beer Week in the city of Davis. Given the city and the university's background in agriculture and food science, it's surprising that a Beer Week has only recently been established. Henry de Vere White, the owner and namesake of de Vere's Irish pub, is making up for lost time by pushing the Beer Week to new heights, even in its infancy.
"Up to this point, it's just been Sudwerk and my family covering the cost of it all," de Vere White said. "Now Davis Beer Week has moved under CHEF, where we can help promote it, help it grow and get sponsors."
Chefs Harvesting Educational Foundation (CHEF) makes all the difference in this year's festivities. As a non profit 501(c)(3), CHEF utilizes the support of local Sacramento and Davis foodies, most notably Josh Nelson of The Kitchen and Selland Family restaurants — all while focusing on the farm-to-table movement.
"The idea is that we want to generate events and support the farm-to-fork movement throughout our region," de Vere White said.
In the past, de Vere White was unable to attain any support for the Davis Beer Week. Now, CHEF is stimulating immediate growth by unifying the Davis Beer Week organizers and the restaurateurs with beer aficionados in downtown Davis.
This year, de Vere White and his CHEF and Beer Week partners are using their newfound platform to raise money for a potential scholarship for the UC Davis brewing school.
"We give back to brewers by helping future brewers" de Vere White said.
One of the highlights of Beer Week is a distinctive flight of beers that de Vere's Irish Pub has put together and will sell all week long. The flight consists of four beers that have either been brewed or directly impacted by UC Davis graduates. True to his word, de Vere White will be donating $2 from each $10 flight sold to the UC Davis brewing school scholarship.
Nicholas Drake, a third-year food science major at UC Davis, recognizes the impact of Beer Week and its scholarship fund.
"It's cool that the community is getting together and giving an opportunity to someone for higher education who might not necessarily have the means," Drake said. "Our school is really good for this type of thing."
The Davis Beer Shoppe, owned by Taylor Ramos, is one of the event's sponsors. Ramos sees the Davis Beer Week as an exciting opportunity for both beer enthusiasts and novices alike.
"It's a good week for people who are just kind of getting into beer," Ramos said. "And then for people who are already into beer, there are some pretty extreme events that you won't find most of the other parts of the year."
The current schedule consists of the previously mentioned week-long fundraising flight for the UC Davis brew school, as well as tap takeovers and varying events at the likes of Bistro 33, Sudwerk Brewing, The Davis Beer Shoppe and many more locations.
Thanks to the pairing of the eighth annual UC Davis Athletics Brewfest and the Beer Week Blowout, the week will end with a bang. The Brewfest will take place outside of Aggie Stadium from 3 p.m. to 5:30 p.m., leading up to the football game against Eastern Washington.
"Maybe on Monday you really wanted to go out and try this fantastic IPA, but you had to study for a test or maybe you're a parent and you live in Davis and you just couldn't go on a Wednesday night," de Vere White said. "Well, [Davis Beer Week sponsors] are going to showcase all of [their] beers until they're gone on Saturday."
Davis Beer Week 2017 began on Monday Oct. 2 and runs until Sunday, Oct. 8. Be sure to check out the Davis Beer Week website for more information concerning events, sponsors and times.
Cheers!
Written by: Rowan O'Connell-Gates — arts@theaggie.org