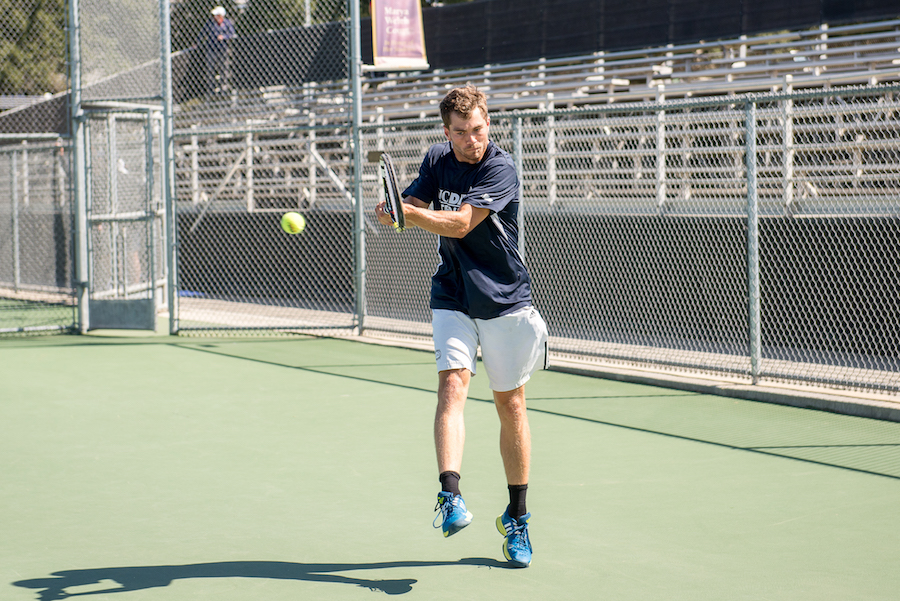 Aggie tennis hosts Aggie Invitational, looks ahead to Northwest Regionals
The Aggie Invitational took place the weekend of Sept. 29, 2017 and had the UC Davis men's tennis team hard at work. During a midday practice prior to the tournament at the Marya Welch Tennis Center, head coach Eric Steidlmayer was heard reminding his players to stay aggressive and complimenting them on their serves.
The Aggie Invitational, the first competition of the season for UC Davis men's tennis, hosts 72 players from 10 universities. All Northern California Division I teams, Gonzaga University, Portland University and the University of Nevada, Reno will be represented.
"It's a great event to jump start our season," Steidlmayer said. "It's just going to be great tennis all weekend."
With five new players on the roster, as well as a new assistant coach, Nathan Robinson, this is the first opportunity for the Aggies to compete as a new team. Senior Tommy Lam, who played both singles and doubles in the tournament, is looking forward to his last season on the team.
"I'm feeling excited," Lam said. "This is my last season and I want to do my best in it. My goal right now is to just try to stay healthy. I can't really hit my two-handed backhand, which is one of my best shots, so I'm just trying to recover from [my wrist injury]."
On day one of the tournament, senior Everett Maltby and sophomore Mitchell Iwahiro won their first singles tournaments, with Maltby advancing to the Flight "A" round of 16 singles and Iwahiro the Flight "B" round of 16 singles. Doubles team sophomore transfer Jonathan Star and freshman Ivan Thamma qualified for the Flight "A" semifinals after defeating both Sacramento State and St. Mary's University. Despite a loss to Portland University, doubles duo Maltby and sophomore David Goulak came back with an 8-2 win against Gonzaga University, advancing to the semifinals.
Saturday saw the Aggies kick it into gear, with Maltby qualifying for the Flight "A" main draw semifinals after winning his matches against Nevada and Santa Clara. Goulak, Thamma and Star all won their matches in the first round of singles consolation play. Despite his injury, Lam and freshman Arjith Jayaraman were victorious in their singles matches against Saint Mary's. Doubles team Goulak and Maltby continued to sweep the competition with a win against Santa Clara in the consolation draw. Duo Star and Thamma fell to Nevada in the main draw.
For Flight "B," Iwahiro won his match against Gonzaga, but fell short in his quarterfinal match against Cal. In the first round of singles consolation play, Jayaraman, freshman Chethan Swanson and freshman Dariush Jalali all won their respective matches. Swanson also won his quarterfinals match against St. Mary's. In the doubles consolations matches, the Aggies were victorious, with Iwahiro and Jayaraman winning their match against Santa Clara and duo Lam and Swanson defeating Stanford.
On the third and final day of the Aggie Invitational, Aggies Lam, Goulak, Thamma, Swanson, Jayaraman and Jalali earned victories in their consolation play matches. Maltby fell to Cal's freshman Paul Barreto in the singles Flight "A" semifinals.
Following the Aggie Invitational, the Aggies will travel to Pacific University for the ITA Northwest Regional Championships at the end of October. The competition will include Top-20 teams.
"Every tournament in the fall is something to learn from," Steidlmayer said. "I expect our guys to compete at their best and then review, whether they win or lose, figure out how to get better."
Written by: Liz Jacobson — sports@theaggie.org