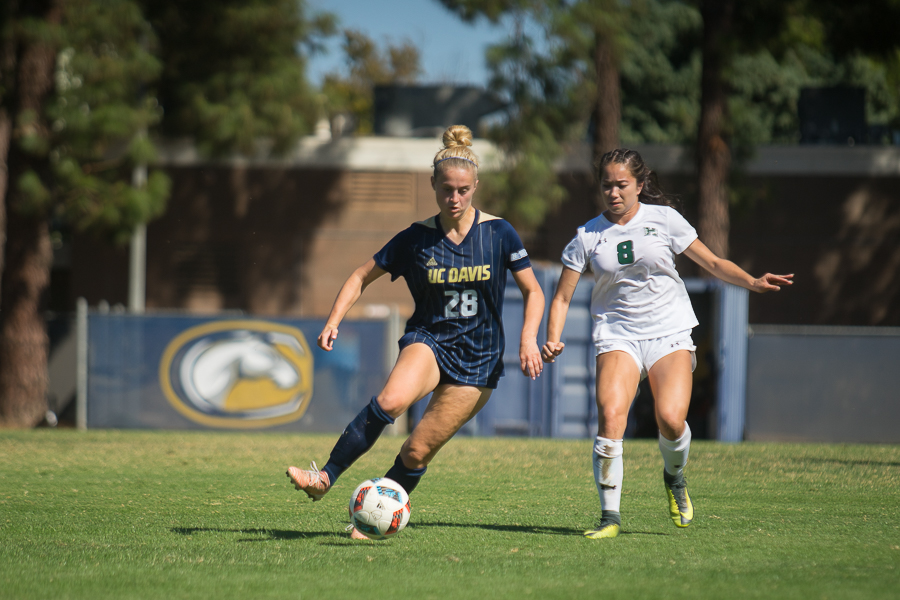 Women's soccer gets first conference win against Rainbow Wahine
The UC Davis women's soccer team took the field hours before the men's team to start off the doubleheader last Thursday, Sept. 28. The team saw some firsts, including its first Big West Conference win to start its record at 1-0 in conference play, 2-9 overall.
Initially, the Aggies struggled to keep the ball at their feet with the Rainbow Wahine dominating the field with clear passes, control and communication. A total of six ideal shots on goal by Hawaii resulted in junior goalkeeper Alexis Smith's first two saves of the game and set the pace for the rest of play. The Aggies fought hard to maintain possession long enough to get the ball close to the net, but luckily, one of the four shots on goal in the first half lead to the only goal of the game by sophomore midfielder McKenna Moriarty.
Moriarty's first goal of the season and second career goal was enough to secure the game for the Aggies.
The win put an end to the five-game losing streak the Aggies were facing and accomplished what head coach Twila Kaufman called a "fresh start."
Smith also proved vital to the Aggie's success in accomplishing her 17th career shutout, tying the school record. Smith's 11 saves were more than enough to stop the Rainbow Wahine's total of 19 attempts on goal.
The second half saw more Aggie possession, but still the ball remained at the feet of Hawai'i midfielders and forwards, creating an intense game not only for Smith, but for the Aggie defense as well. Junior defender Kristie Braken-Guelke was the glue to the strong Aggie defense and was there to recover a one-on-one loss on either side of the field. Braken-Guelke's speed matched that of Hawai'i's determined forward Sonest Furtado and midfielder Raisa Strom-Okimoto.
The Aggies will continue their conference play today at 4 p.m. on Aggie Soccer Field against Cal Poly, looking to gain momentum toward a winning conference season.
Written by: Veronica Vargo — sports@theaggie.org