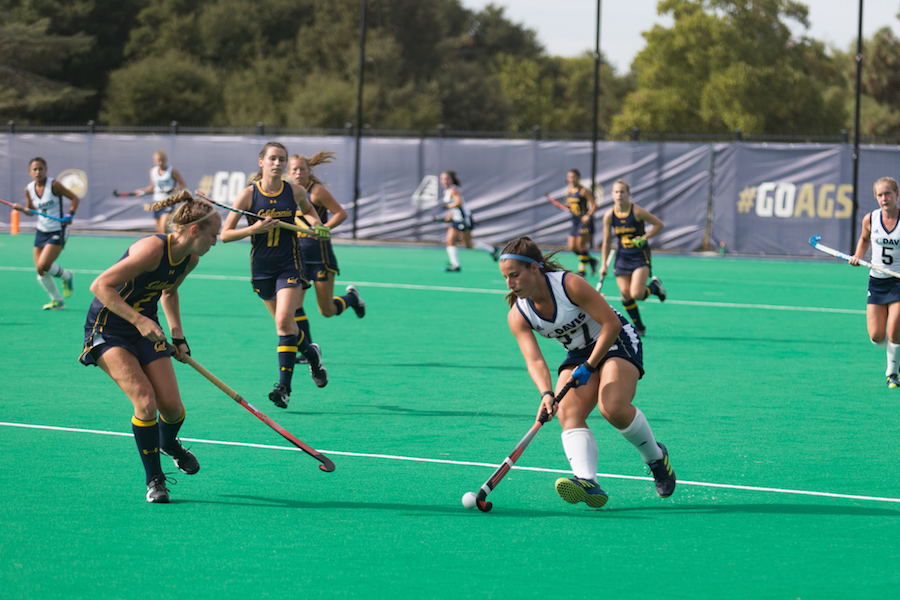 Aggies get wake-up call in tough loss
The UC Davis field hockey team went into its game against Cal on Friday, Sept. 29 sitting with a 1-7 record and looking for whatever boost it could. It has been an injury-plagued season for the Aggies, and Friday was no exception as the team took the field with only 14 available fielders and five fewer subs than it is used to. While UC Davis did not get the win, losing 3-2, the well-rounded Cal team was challenged by the Aggies in a strong effort.
After a rough start, including two goals from Cal forward Megan Rodgers in the first six minutes, the Aggies settled down and decided to let their play dictate the rest of the game. Sophomore goalkeeper Chelsea Bigelow had a full plate, amassing 10 saves and allowing three goals on 20 shots, enduring five corner penalty plays in the process.
On offense, the Aggies had two goals themselves, with sophomore forwards Lauren Gengarella and Tatiana Arias each getting goals in the second half. However, the two early goals proved too much to handle. It is these early game lapses which head coach Britt Broady is trying to address with her team.
"We have been discussing how to figuratively 'punch first,'" Broady said. "To attack first, rather than judging the game; judging, 'Are we going to be in this? How are we going to play?'"
While they did get the victory, Cal had to work hard for the three goals, amassing 20 shots throughout the game, and scoring only one after the initial onslaught. Bigelow did not let the team's early struggles get to her. She embraced the challenge.
"I kind of came out just trying to go full force," Bigelow said. "But goals get by and I just have to shake them off, and I think they just just make me stronger."
Broady expressed great joy with Bigelow's goalkeeping, crediting her for going out there every game with a great attitude and work ethic.
"I can't speak more highly of her maturity, and just her demeanor in the backfield is what we want," Broady said. "She's so unassuming and so level-headed in her communication, and is pulling these amazing saves out and really keeping us in the match throughout the game."
Broady also gave special praise to junior backfielder Kelly Kramer, crediting her defense throughout the game.
"Nobody that was standing around her had an easy day today, and the team had her back today," Broady said.
All in all, both Broady and Bigelow saw the game as a positive step toward their ultimate goal: a goal that is not only focused on the remaining games, but future seasons as well, as many of the team's players are first and second years.
"Going into the next practice we really need to prepare just like we did for this game," Bigelow said. "Just have confidence in ourselves, and I think we finally we got the confidence we need in order to go forward."
After losing to Ohio State Sunday 1-0 with the game on the verge of overtime, the Aggies will next take the field in Philadelphia at noon on Friday, Oct. 6, as they take on Saint Joseph's. They will return home Friday, Oct. 13 for a match against Stanford at 4 p.m.
Written by: Bradley Geiser — sports@theaggie.org