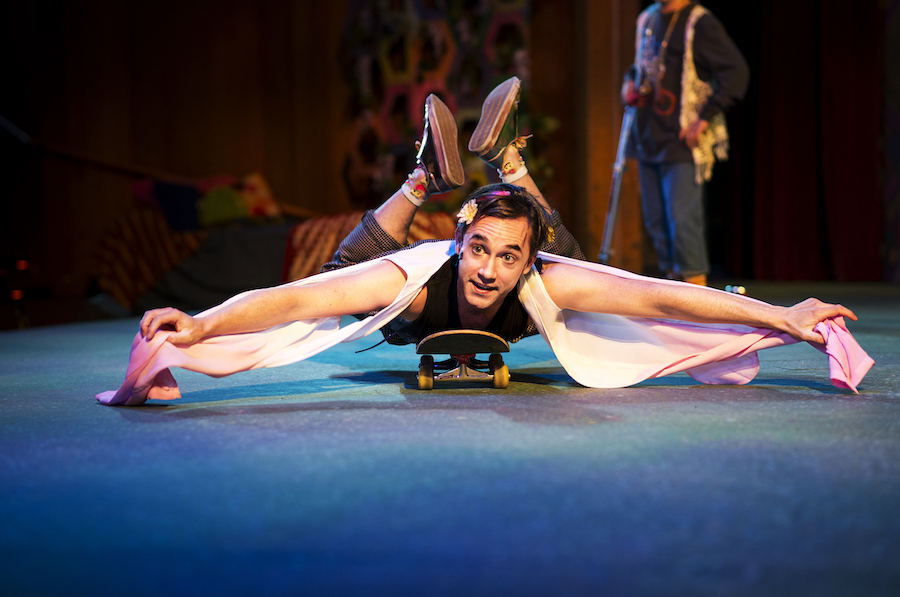 Davis Shakespeare Ensemble recreates classic play inspired by City of Davis' centennial
In celebration of Davis' 100th birthday, the Davis Shakespeare Ensemble is presenting "A Midsummer Night's Dream" using themes representative of Davis' small-town quaintness. Taking place in the present day, this play transforms its characters into everyday Davis citizens — bikes and all. The Davis Shakespeare Ensemble, established in 2010 with primarily UC Davis students, continues to grow annually, expanding its programs to neighboring cities such as Sacramento. In light of the city's big anniversary, Director Rob Sallas went all-out in the reproduction of this cherished play by appealing to the community while retaining the whimsical elements of the original story.
"To honor Davis, we were inspired by the city itself when coming up with the design of the show," Sallas said. "There's lots of Davis elements incorporated into it, and bringing in modern elements really brings the play to life. The mechanicals (sic) are working at different stores people may recognize from Davis and the lovers are inspired by UC Davis college students. We also wanted to capture the fun and quirky energy of Davis, and we show that distinctly through the bikes. Our fairy characters frequently ride unusual bikes throughout the play."
The unconventional use of strange vehicles on stage certainly makes the show amusing, albeit extremely challenging. Kyle Stoner, the actor playing Puck, learned how to maneuver several eccentric vehicles during play rehearsals.
"We have about 25 bikes and had to create parking spaces in the wings of the floor on stage," Stoner said. "It was a huge issue of figuring out the traffic patterns. We have one bike that's a tandem bike, and we had to think of how to turn it around. I'm riding about six or seven different vehicles in the show, so I had to have my own parking lot backstage where I have all my things lined up, and we have to make sure we're not parking anything in front of it. The bikes themselves are really fun and awesome, but the choreography of making everything fit and move in a tiny space in the dark with people running around was really difficult."
Another challenge was finding a unique way to perform a play that most people are familiar with. Stoner had to somehow play a newer version of Puck while still exhibiting the character's quintessentially mischievous traits.
"It was hard to figure out how to play Puck because I had to strip away all those notions I had of what people expect the character to be like," Stoner said. "One of the things that's great about Shakespeare in general is that he created characters that are relatable. In that way, playing Puck is not part of a time period […] In our version, since it's set in present-day Davis, the fairies are city pedestrians. I wanted to figure out which modern-day person will most closely relate to the traits that Puck has, because Puck isn't just a character. He's a collection of qualities."
Costume design was also an essential element in the making of this play. Fourth-year design major and assistant costume director Kaylee Pereyra believes that costumes are an essential component of a play like "A Midsummer Night's Dream" — it can either make or break a crucial character.
"I think each costume has its own little flare for the character and overall a very cohesive and visual display," Pereyra said. "Puck is actually one of my favorite characters in the show. He has one static costume, and the designer tried to make him David Bowie-esque. He has this shirt that has a cat eating pizza on it, and it's the perfect outfit for him. I'm a big advocate of costumes, and I don't think they're appreciated. The costumes for this show totally complement the world that the director created and add to the attributes of the characters."
Aside from the various bikes and set design in this rendition, A Midsummer Night's Dream's humor is what continues to make this play a crowd favorite. Using inside jokes relevant to Davis' culture, the audience should expect to laugh incessantly throughout the show.
"The most rewarding aspect of the play is the humor," Sallas said. "The play is consistently funny throughout, and we're lucky that we have really great comedians in our cast. Our actor playing Bottom in the show is a professional actor from the Bay Area that we brought out, and he is very funny himself, which inspired us to up our game. The humor's been the most enjoyable part."
The Davis Shakespeare Ensemble will be playing "A Midsummer Night's Dream" at the Veteran's Memorial Center Theater from Sept. 20 through Oct. 15 at 8 p.m. Tickets can be purchased at the Eventbrite page.
Written by: Becky Lee — arts@theaggie.org