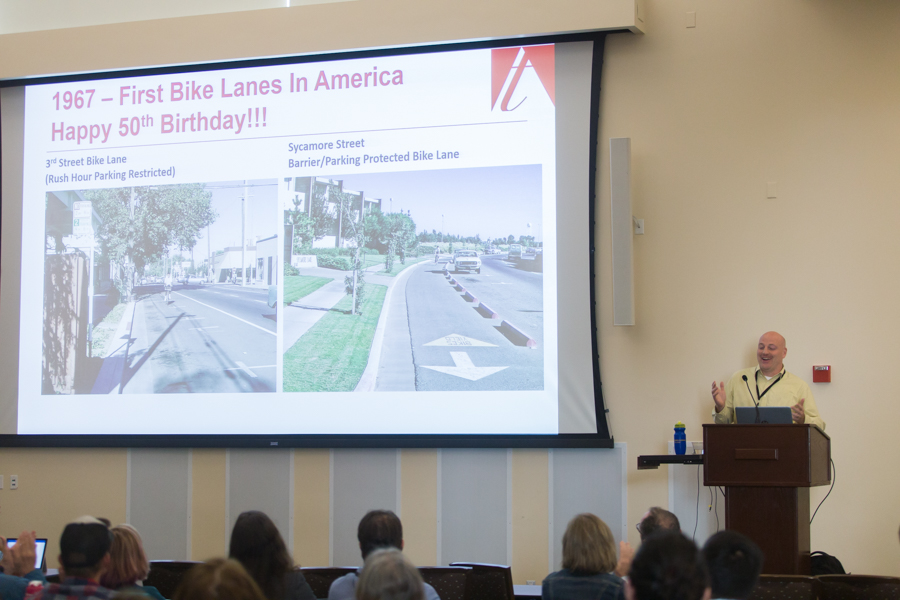 Researchers from around the world come to Davis to discuss bike safety
About 160 researchers, professionals and practitioners from around the world attended the International Cycling Safety Conference in Davis last week from Sept. 21 to 23. This year marked the sixth anniversary of the conference as well as the first time it was held in the United States. According to Professor Emeritus Mont Hubbard from the Department of Mechanical and Aerospace Engineering at UC Davis, one of the organizers of the conference, while the United States has a cycling rate of 1 percent, Davis has a cycling rate of 22 percent, making it a fitting host for the conference. This year also marks the 50th anniversary of the very first bike lane made in the United States, which is here in Davis. Participants in the conference came from 11 different countries, bringing together a variety of backgrounds and perspectives on the issue of cycling safety.
Professional academics shared their research in an effort to increase safety for cyclists, as well as promote awareness of the benefits of choosing cycling over other forms of transportation. The diversity of the researchers enabled different countries to learn from one another, particularly the United States being able to learn from European countries. Hubbard also explained that countries such as the Netherlands and Denmark have cycling rates as high as 30 percent nationally, forcing them to be more concerned about protecting the lives and safety of cyclists due to the much higher number of people cycling. Meanwhile, the significantly lower cycling rate in the United States has resulted in laws that are more concerned with drivers than with cyclists.
"The car has dominated our landscape," Hubbard said. "The last two keynote speakers talked about that idea of how our previous policies of accommodating the automobile have really made it much less safe for what we call vulnerable users, which are pedestrians and cyclists. When they get run into they're 85 percent likely to die. So they pointed out how much this vehicular cycling philosophy has distorted the guidelines and standards that exists in the U.S. for road constructions."
The topics that academics presented encompassed a wide variety of issues, while also maintaining unifying themes. Katie Wittmann, a cycling urban planner from Toronto, expressed her excitement about the research.
"The conference presentations struck a useful balance between common themes and variety," Wittmann said. "Some studies revealed complementary results, and others offered unique perspectives or newly explored topics. We learned about everything from driver behavior to helmet legislation and testing to intersection treatments."
While bringing together researchers is beneficial in sharing knowledge and furthering studies of cycling safety, being able to actually effect change has proven to be an entirely different issue. Practitioners attended the conference in an effort to encourage implementation of the research. Tara Goddard, a Ph.D. student at the School of Urban Studies and Planning at Portland State University and a former bicycle and pedestrian coordinator for the City of Davis, explained that the issue lies in translation between researchers and practitioners. However, efforts are being made to establish a stronger connection between the two.
"[We] as researchers are trying to be better at translating, and now there's more opportunities such as social media to better translate what we're finding to practitioners," Goddard said.
The conference being held in Davis was a huge honor for the city, as participants all enjoyed the local ambiance while being here.
"I appreciated that the event was held in Davis, where I felt very safe cycling all around the city," Wittmann said. "It wasn't the simple painted bike lanes on many streets that impressed me, but rather the off-road bikeways and key connections between blocks, schools and parks. Seeing the number of students biking to school and to campus each morning put a huge smile on my face."
Written By: Hadya Amin — city@theaggie.org