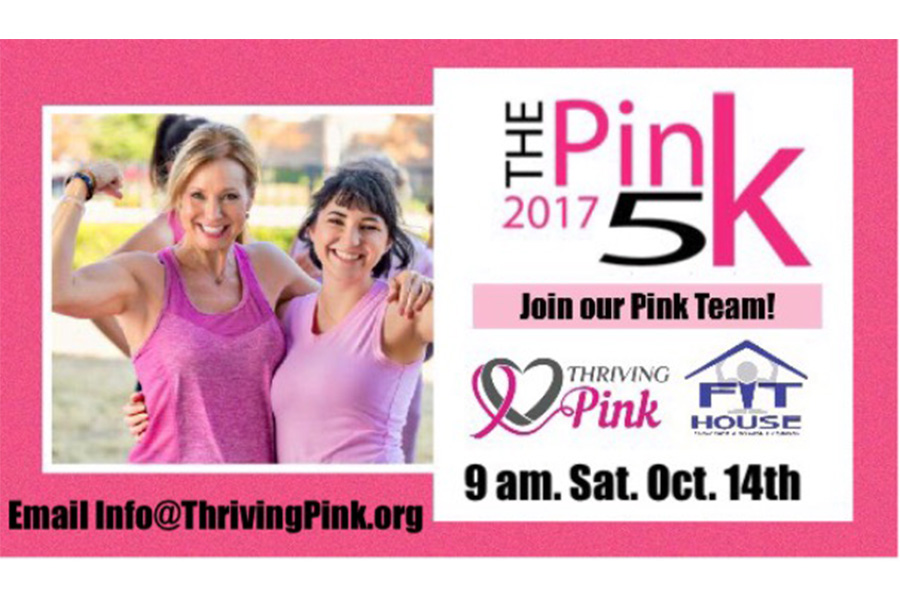 Local nonprofit organization provides grants for breast cancer patients
In an effort to ease both the physical and emotional pain of cancer, Thriving Pink, a local nonprofit in Davis, set out to help those fighting breast cancer through grants and other support.
During the month of October, Thriving Pink hosts what it calls "Pinktober," when the organization prompts the community to shop locally. Local stores in Davis, like the Davis Food Co-op, will be joining to contribute a portion of their sales toward these breast cancer grants.
Mary Liu, the executive director for Thriving Pink, expressed how much the organization means to her.
"Each of us has personal inspiration based on our relationships with others," Liu said. "In our community alone, over 4,000 women are diagnosed in their lifetimes. This is an eighth of women. For us, that's our mothers, sisters, our neighbors and our friends. For me, one of my very dear friends, Ann Murray Paige, […] passed away from breast cancer. She started a nonprofit, and I wanted to carry on her work and her spirit that she wanted to continue, which was so dear to her heart."
Liu described how she has grown along with the organization as time went by. She was initially motivated by her friend who had passed, but the organization has developed to become something more for her and the community.
"I learned throughout the process," Liu said. "For me, this has been a journey. It was devastating, not just for me, but for her and the whole community. For me, it was to honor and continue her nonprofit in a way I can do so. I started Thriving Pink to engage the community and other people so they can have the opportunity to give back as a thriving community in a direct way."
Not only is this organization involved with grants, but the board also tries to help ease breast cancer victims' suffering in whatever way they can.  
"This is actually our second year, and our mission is to help local breast cancer survivors thrive," Liu said. "Our vision is to make sure no one goes through a diagnosis of breast cancer alone. What we strive to do is to support local women in our Davis community."
The organization has grown so much already even though this startup is still rather new. So far, they have three core programs, one of which is the Granting Pink program.
"A highlighted program is Granting Pink, which provides individual grants to local women to help them and their families for up to $1,000," Liu said. "Last year we provided $20,000 to 18 women, and we would like to double that in a few years. All our programs are free on a monthly basis."
There will be room to grow as more people become involved by either helping through their local businesses or simply spreading the word and shopping locally.
"We try to be very visible, and we try to have a presence with a tangible and meaningful program," Liu said. "We need to come together and try to make a positive difference any way that we can. Until there is a cure, we will continue to work together to make a difference."
The grant has helped many people with breast cancer. One of the recipients was Chasity Balthazar, who recounted her experience with chemotherapy and her difficult times. While the worst has passed for her, Balthazar is still fighting her battle.
"I was diagnosed with breast cancer last year, and I applied [for the grant] because not all insurance covers all medical needs in regards to cancer treatments, aside from the fact that I was not working and my husband was not working because he took time off to take care of me," Balthazar said. "It was such a difficult and dark time in my life, and Thriving Pink helped me through that."
And the organization provided more than just the grant money. Balthazar, like other cancer patients, was going through emotional turmoil along with loved ones. Thriving Pink provided emotional relief by becoming more involved with each recipient.
"Not only did they just do the grants for me; Mary, the owner, then followed me. It was not like they just granted me to pay for medical expenses," Balthazar said. "It was the little things; she gave me a gift certificate for a facial. I went in to get the facial and she was there and she had bought me lunch. She goes above and beyond in such a dark time in my life."
Thriving Pink provided an intimate setting for Balthazar. This created a special bond between the recipient and the organization on a more personal level.
"Thriving Pink and [I] will always have a life long relationship because they made me feel so good during my darkest times," Balthazar said. "I will always be there for women to help them feel the love that I felt."
Her own diagnosis was not Balthazar's first experience with cancer.
"My battle was tough," Balthazar said. "My career was a pediatric oncology nurse. I knew what kids went through, and I saw how chemotherapy affected families. But being and going through it gives me a different perspective. It's much closer to my heart, and I understand what my patients and families go through."
Balthazar now has the drive to help others once her battle finishes. She is still facing treatments, but she now wants to help others experiencing the same fight.
"It was a double-edged sword," Balthazar said. "It was scary since I knew what was happening, but it gives me the fight and the voice to help others, not just women, but families and patients. It gave me that drive and force to help people in similar situations because I know what it feels like and I know how the children feel. Now I can pay it forward and help others in that way."
As a breast cancer survivor, Brelle Rohwer described her motivations for helping the organization.
"Being a breast cancer supporter and survivor myself, I love to be able to pay forward," Rohwer said. "I received a lot of support while going through treatment, and I'm trying to help in any way I can with women going through the same thing. They're all strong and incredibly impressive women. I feel privileged to be able to work with them."
Hospital bills can pile up, but Thriving Pink's grants help with so much more than just treatment bills.
"Thriving Pink allows others in the community to support these women through our programs and through their direct donation," Rohwer said. "That money can go towards anything they need like prescription medications, babysitting, groceries and anything at all. Last year, one of the recipient's mother traveled back and forth from Florida so the money went to airline tickets for her."
Thriving Pink works to lift a huge burden for those fighting breast cancer. Since October is here, there will soon be a number of activities for the community to join in and support the battle against cancer.
Written by: Stella Tran — city@theaggie.org