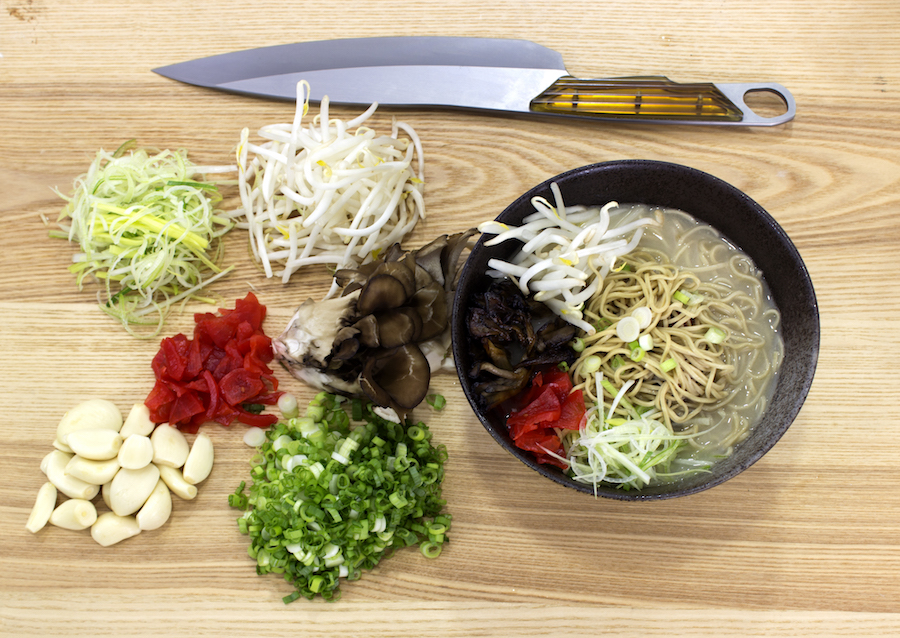 UC Davis alumni create Smart Ramen, a nutritional instant noodle meal
Instant ramen is a staple of almost every college student's pantry due to its low cost and quick preparation. However, these sodium-filled noodle cups are not nutritionally balanced, which was a huge concern for 25-year-old twins Tim and Tom Zheng, the creators of Smart Ramen and co-founders of Vite Kitchens. Tim, who worked in a Michelin-starred restaurant and other fine dining establishments, received his degree in economics, while Tom, a car detailer and an experienced graphic designer, received his degree in nutrition.
The product was conceived while the Zheng brothers were still attending college about two years ago. Both of them loved eating instant noodles, but never found a product that suited their tastes, especially from a health-conscious mindset.
"Instant noodles have a lot of calories, but they don't have a lot of nutrition," Tim said. "They're deep-fried and made with the cheapest kind of wheat you can get, so it's low fiber, protein, everything. It's just empty calories in every way. I kept complaining about needing to put eggs and vegetables and whatnot in, and drinking a lot of protein powder every time I wanted to eat noodles. Then I was like, 'I've looked all over. I can't find any kind of noodle that has protein and the other stuff in it'."
This predicament led to the idea of a healthy instant noodle product that would eventually become Smart Ramen.
However, not everything went according to plan. Smart Ramen wasn't the first project either brother set his sights on.
"Tim went to culinary school, and I tried to join the army," Tom said. "Then I tried to do graphic design, then I realized that I don't like graphic design. I got rejected from the army for back problems, then I went to community college […] It just so happened to line up that we both graduated at the same time and are living in the same house."
The original iteration of the Smart Ramen noodles was created when the twins travelled to the East Coast to visit family. Tim figured it out on the plane, and the two fine-tuned it in their hotel room. From there, the brothers continued to improve the product, using the same blend of flours from the first "rough draft," and changing the recipe as they saw fit.
With the slogan "nutritious, delicious, and fast," Smart Ramen is a nutrition-packed meal with 25 grams of complete protein and 25 percent of the daily value of vitamins and minerals. Additionally, Smart Ramen is prepared without MSG, preservatives or deep frying, which are common traits of most store-bought ramen.
"There's the idea that, if it tastes healthy, then it can't taste good," Tim said. "You get a lot of health products, you chew into it, and you're like, 'This tastes healthy,' and that's never a compliment. We don't want our noodles to taste 'healthy' — we want them to taste like delicious everyday noodles that you crave all the time."
Instant ramen has been a hot commodity around the world due to its flexibility, fast cooking time, and filling quantity of food. Smart Ramen will feature chicken, beef and vegan versions, all created with the same healthy-eating mindset.
"As far as the research and science that goes into our noodles, our noodles are built to have a good macronutrient blend," Tim said. "It has a balance of carbohydrates and good fats and protein. Our current target price is somewhere in the $2 range. We wish it could be cheaper, but we do not have the economy of scale that allows us to produce at $0.25 like giant factories do."
Joan S. Frank, a UC Davis nutrition lecturer and academic coordinator who gave advice to the brothers, noted the importance of ramen for college students.
"College students worldwide live on ramen," Frank said. "I think Smart Ramen is an excellent alternative to what's currently available. It is nutrient dense in the sense that it's not just carbs and calories. It actually can be a complete meal, which the other products out there are not."
Tim and Tom also work with a dynamic range of U.S.-based companies that provide ingredients like flour, vitamin, packaging and soup base. Though the consumer merely has to prepare it like any other instant ramen — they prep the ingredients by themselves. A large pasta machine does some mixing, sheeting and cutting, but the brothers still have to measure, mold and package everything by hand. To reduce the cooking time to a typical 3 to 4 minute range, they take the noodles and put them in a steamer that partially cooks it. They've also incorporated microencapsulation technology into their vitamin packet so the vitamins won't suffer from heat degradation. Small aspects of each step are important in ensuring that Smart Ramen is the full package that the Zheng brothers envisioned.
"It's going to be a round packet," Tim said. "It'll weigh about 110 to 115 grams, and will have 3 packets in it: the soup packet, which is going to be a paste, the Noodtrient™ packet, which is going to be spices and nutrients, and the dehydrated vegetable packet."
The Zheng twins' business mentality is to keep a living wage for the people who work with them, be transparent about their business practices and always have the consumer's interests at heart. Though they've done a lot of work up to this point, Tom states that there is always more research to be done and improvements to be made, something his professor echoed.
"They're still working on it, which attests to the fact that they want it right," Frank said. "It just shows you that just about any product can be made healthier when you think about what goes into it. Not just talking about the bottom line with what's the least expensive ingredient, but what is the best ingredient that will make it healthy and nutritious, yet be something that people like and have fond memories of. They're thinking about the end user, the flavors they want, what they are looking for."
Once the product is released, the brothers plan on adding an "Aggie Discount" for current students, faculty and alumni who are interested in purchasing their product. Though they are running a for-profit company, Tim and Tom have extended an offer to anyone who is struggling with food and money: since their product testing results in spare noodles, they're happy to give away whatever they can.
"It's almost hard to validate that we're doing something correctly," Tom said. "Nobody's written a manual."
As part of their transparency promise, the twins are also open to showing their workspace, sharing the recipe and contents of the Smart Ramen product as well as answering any other questions or concerns that possible consumers may have.
"We want to go to the Kickstarter route because we want to be able to be transparent," Tom said. "We want to avoid the kind of bureaucracy that might come with working with any larger companies. A big reason that we're making these noodles is because we want them ourselves. We want Smart Ramen to be something that we would enjoy eating."
Some of their future plans include a "crash course culinary school" series of videos, where Tim will teach proper cooking techniques in short clips, as well as plans to support Aggie Gaming and other UC Davis affiliated communities with free noodles and graphic design services.
"We want people to to understand that we're not a business looking to make money," Tim said. "We're just two twins who really like noodles and being healthy."
The two monetary aspects that they're interested in? To have a living wage, and to order all the side dishes, appetizers and desserts at restaurants they visit.
Their Kickstarter will launch this February and other updates will be posted on Smart Ramen's Facebook page. Additional information can be found at smartramen.com or by directly contacting Tim and Tom Zheng at Tim@ViteKitchens.com and Tom@ViteKitchens.com.
Written by: Jack Carrillo Concordia — science@theaggie.org
Note: Smart Ramen is a working name.