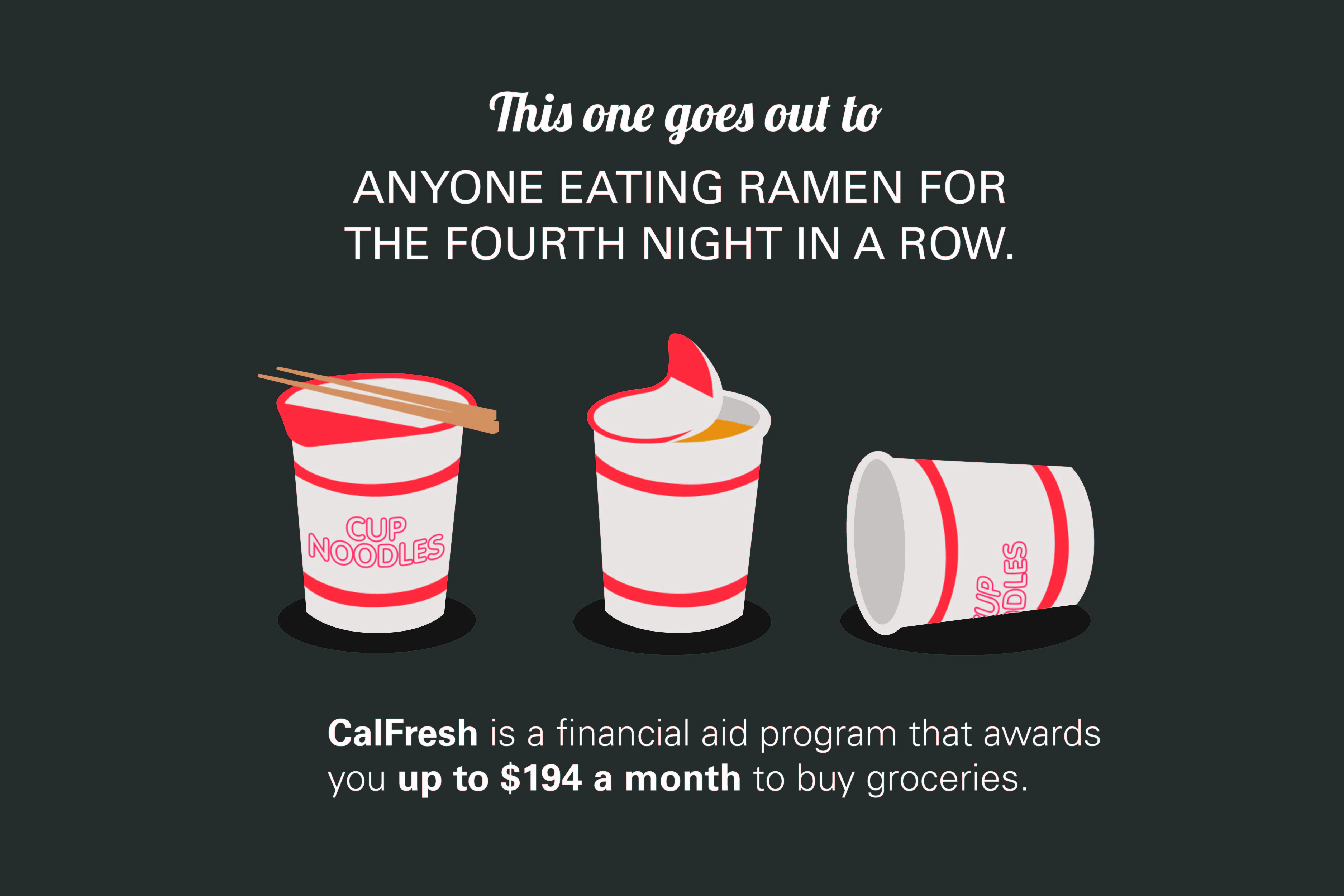 Yolo County, Code For America, GetCalFresh working to close hunger gap
Every year, a group called the California Food Policy Advocates looks into all 58 counties in California and compares consensus data on poverty information in each county. By studying food stamp rosters, the advocates are able to find and understand disparities between poverty and food stamp use. Five years ago, out of the 58 counties, Yolo County was rated 56th.
A wider variance between food stamps and poverty numbers indicates people going hungry, because this shows that people are not utilizing help to access food.
"Ideally, food stamps are based on poverty, so if your food stamps numbers match your poverty numbers, you are doing it right," said Nolan Sullivan, the branch director of service centers for Yolo County's Health and Human Services Department. "So the wider the variance supposedly the worse you're doing and the closer the variance the better you're doing."
Sullivan runs Yolo county's MediCal, CalFresh, CalWORKS and all of the county's employment programs. He explained that the board of supervisors commissioned a study to find out why Yolo County had such a high disparity. It found out that out of the four major cities in the county —Winters, West Sacramento, Davis and Woodland — Davis was doing the worst, with a 15 percent hunger rate. Upon further examination, they found that out of a population of about 62,000 people in Davis, 32,000 are students.
Realizing that UC Davis was supplying more than half of Davis' overall population, Yolo County launched major efforts to reach out to students and help them access government programs they may qualify for. Code for America has stepped in to further this effort.
"Code for America is a non-profit and network of people that helps make government work for the people, by the people, in the 21st century," said Maria Buczkowski, an associate at Vrge Strategies (and representative of CfA), via email. "Essentially [it's] helping make government services be more efficient."
In order to meet students where they are, Code for America has created an online platform called GetCalFresh, where students can apply for food assistance in about 10 minutes from their smartphones.
"There are about three million individuals who are eligible for CalFresh but are not receiving the benefit," said Caitlin Docker, the senior manager of public partnerships at Code for America. "We launched a service called GetCalFresh which helped folks navigate the process for applying, submitting their verification documents and having interviews with the county. It takes about [10] minutes for a student to apply and they can opt in to receive texts from the GetCalFresh team to get friendly reminders to upload verification documents. It's really a service to make sure that if a student has a question, they have somewhere to go to for the answers."
There are, however, more steps to this process. After the initial application, students must attend a half-hour interview with the county, either in person or over phone, for verification and a few other questions. In the final step, students must submit a handful of documents, including a class schedule, financial award documents and pay stubs (if applicable). They don't, however, have to submit their parent's tax information, which has been a misconception. Another myth to dispel is the idea that this food assistance program is like welfare or that it affects students' current financial aid — both of which are false.
"It's not welfare, it's a food program — it's how you eat," Sullivan said.
The county will get back to the applicant within 30 days of each step, meaning the maximum duration of the process is two months. However, if the student applicant finishes their end of the application as soon as they can, the process can be expedited. The final food award is an EBT card which functions much like a debit card, and can have a maximum award of up to $194 per month.
"You can use an EBT card at any major grocery store, and I know there are venues across UC Davis that do accept EBT cards as well," Docker said. "It's to buy any groceries. You can buy packaged snacks […] or things like milk or eggs, fresh produce and meat."
Yolo County has even sent one of their officials, Max Vaca, to be on campus five days a week in order to inform and assist students in accessing CalFresh.
"We've got about 400 applications since he's been on campus over the last two years," Sullivan said. "Basically what we are trying to do is target students who are working over twenty hours a week or that are on work study or that have kids because they are likely eligible to qualify."
Docker encourages all students to simply check if they are eligible to utilize CalFresh.
"Just think of it as another financial aid tool in their toolbox," Docker said. "We know as students enter the school year, budgets are already stretched and most aren't even aware that they may be eligible for food assistance."
Written by: Sahiti Vemula — features@theaggie.org