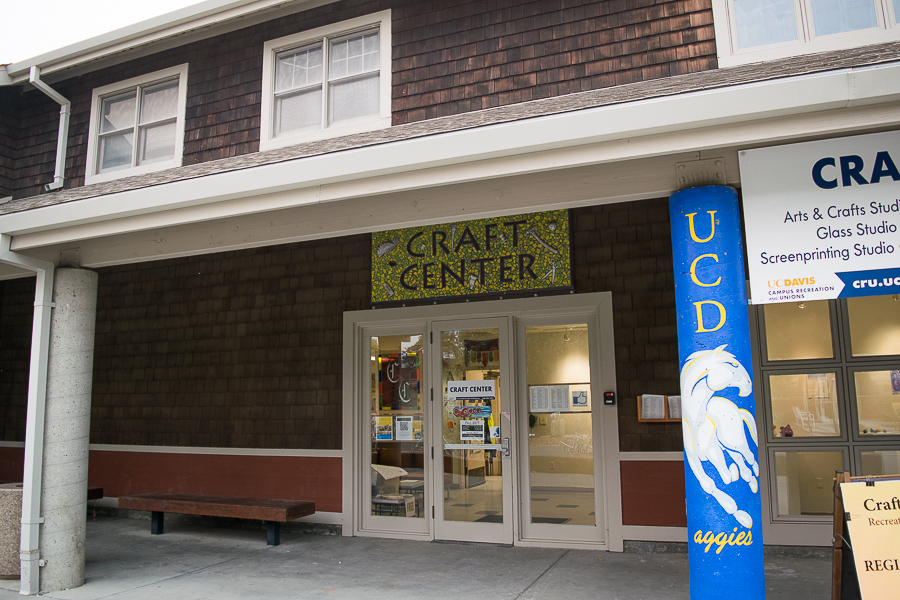 Davis Arts Center gives a behind the scenes tour of Davis-based artists' studios
Attending a gallery filled with vibrant paintings can be a mesmerizing experience. Sometimes, that's all you really see: a room full of captivating shapes and colors. More often than not, a painting simply looks like a painting; audiences are not usually given the entire context of the artwork, making it difficult to find meaning in something created by someone else. That's exactly what the Art Studio Tour does for its viewers: break the mystery. This year, the Davis Arts Center is hosting another studio tour, showcasing Davis artists' workspaces and revealing the steps involved in making their work.
Joanna Kidd, one of the event's featured artists, specializes in printmaking, sculpture and video installation, using various mediums and materials. She also teaches Studio Art and Art History at Yuba College, Woodland Community College and the UC Davis Craft Center.
"I've been participating [in the Art Studio Tour] for about four years," Kidd said. "The tour is more of a direct experience than a gallery because some artists do demonstrations, so you can actually see the process of how they make their work and ask them questions. There are sculptors, painters, printmakers and people who make jewelry. Whatever the artist specializes in is what you'll be seeing in their studio. When you see how something is made, sometimes it makes it more accessible and helps you understand. I think it's also nice to know what the artist was thinking while they were creating their piece. It gives you a different perspective."
While art's meaning is largely open to the audience's interpretation, the process behind an art piece is often personal to the artist. More importantly, there is greater depth to a finished art piece than meets the eye. Featured artist Christopher Dewees uses a unique medium to make his final products look like ordinary paintings. In actuality, though, they contain literal impressions of real fish.
Gyotaku, otherwise known as Japanese fish printing, is a traditional medium in which the artist uses a dead fish in a similar manner to block printing. Using real fish as the primary tool, there are opportunities for complexity through added shapes and textures.
"[Japanese fish printing] is an artform that's been around for 50 years, and I've been doing it for about 50 years," Dewees said. "People are usually kind of amazed by how I do it because it's an unusual artform. It's an awful lot of fun, and I do a lot of demonstrations during the tour and give examples of how I do my art. It's like block printing except instead of a wooden block you're using a real fish. It's round, it's wet and it can be slimy, so you just need to use your experience and little tricks to get it to turn out the way you want. Afterwards, I wash off the fish and eat it. I don't want to waste it."
Dewees didn't acquire an affinity for Gyotaku out of the blue. He attended graduate school and eventually pursued a career in fisheries, which fostered his love for fish and inspired him to use them in his artwork.
"A lot of times when people first see my work without knowing how it's done, they think it's a painting or drawing," Dewees said. "When I tell them I use an actual fish and describe the process, they are pretty amazed. I learned it when I was in graduate school. My career was in fisheries biology and ocean fish science. I've always been around fish, and I like fish. It's almost natural."
The Davis Art Studio Tour is a venue where artists can communicate and grab ideas and advice from one another. Moreover, it provides a different angle on visual arts to an audience that is only accustomed to seeing the finished results of artists' works. Deputy director Michael Azevedo thinks that's what makes the studio tour an enjoyable experience for artists in Davis and all members of the community.
"A gallery situation is totally different in that there often is no context of the artwork in a gallery," Azevedo said. "It's different when you go see where the work is created, the sketches behind it and having the opportunity to talk to the artist. We had someone come in to buy the tickets, and she was really excited. It's just a lot of fun. Even though you may be unaware of it, you're connecting a piece of artwork with an experience. You can buy a painting, hang it in your house, and talk about what it meant to the artist who made it and why you bought it. It's a more personal experience being able to see the work and know the context and process of it."
Art doesn't have to be a large, abstract concept. It can be interactive, direct and even more beautiful than initially perceived.
The community event is open to anyone who is interested. Tickets can be purchased on Eventbrite for $10 for ages 13 and up. The studio tour will take place on Oct. 14 and 15 from 10 a.m. to 5 p.m.
Written by: Becky Lee — arts@theaggie.org
Editor's note: The Eventbrite page has now closed, but tickets can still be purchased in person at the Davis Arts Center or the Hallmark Inn