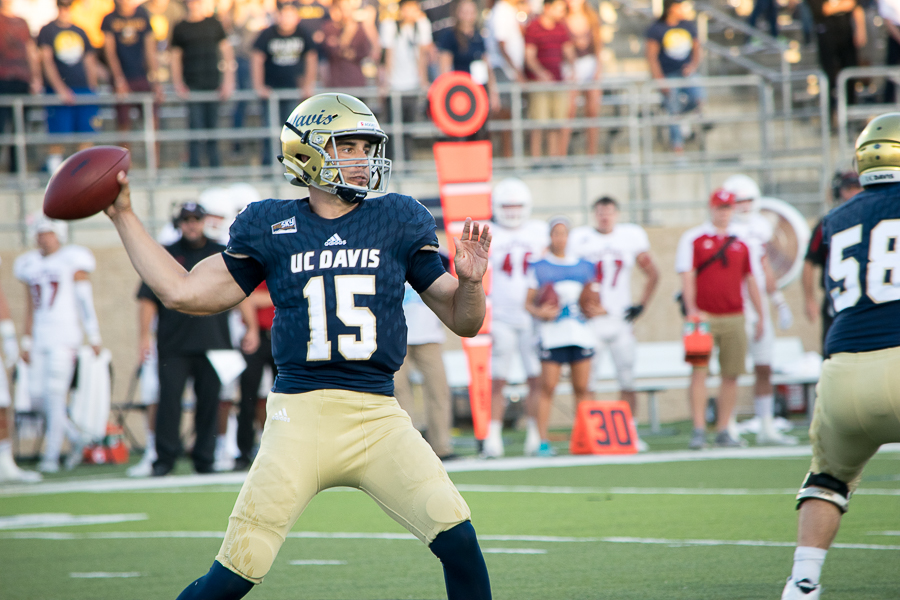 UC Davis football comes up just short against Eastern Washington
Saturday night's contest at Aggie Stadium featured a head-to-head collision of the Big Sky Conference's top passing Eastern Washington Eagles' offense and UC Davis' top-ranked passing defense. After a hotly-contested, back-and-forth ballgame, the Eagles attack gained the upper hand, handing the Aggies a 41-38 loss.
This highly-anticipated matchup drew sparks from the outset, in front of a crowd buzzing from the UC Davis Brewfest that took place in the hours before kickoff. Eastern Washington marched right down the field on its first possession, scoring on a 40-yard touchdown pass on the fourth play of the drive. The Eagles missed the extra point, putting them ahead 6-0 early. The Aggies, on the other hand, relied on the big play ability of junior receiver Keelan Doss to get things rolling offensively. Sophomore quarterback Jake Maier hooked up with Doss for a 26-yard completion to get things rolling. It was junior quarterback CJ Spencer, however, who found the end zone for the Aggies some 11 plays later, sneaking in from just a yard out. A successful extra point from sophomore kicker Max O'Rourke put the Aggies in front 7-6.
The scoring cooled down for the remainder of the half. UC Davis failed to score any points, despite being set up with optimal field position after senior defensive end Brandon Weaver tipped and intercepted a third down pass from Eastern Washington's quarterback Gage Gubrud. The teams traded touchdowns as the game rolled into the second quarter, but the scoring dried out, and the Aggies went into break with a 14-13 lead.
After a relatively low-scoring first half, UC Davis came out in the third quarter running the ball ten straight times — but it was a trick play that sprang its offense to life again. Maier threw a quick lateral to Spencer, who then opted to pass the ball downfield, completing his only pass attempt of the night to a triple-covered sophomore tight end Wesley Preece for a 24-yard gain. On the next play, it was Maier's turn to launch the ball downfield, completing a 16-yard touchdown pass to Doss, who sprawled out to make the catch. Doss' fifth touchdown in six games gave the Aggies a 21-13 lead.
Eastern Washington's Gubrud tossed his third touchdown on the ensuing Eagles drive, again putting his team within one. But just two plays later, Doss made what was most likely the catch of the year for UC Davis. With a defender draped all over him, Doss dove to make an electrifying one-handed grab for a 21-yard gain. Doss' impressive hands propelled the Aggies to a score just five plays after. Off a play-action fake, Maier delivered a pass in between defenders to freshman tight end Christian Skeptaris, who held on for his first career touchdown with time running out in third quarter.
UC Davis' momentum rolled on into the early part of the final frame. Junior defensive back Vincent White broke on a pass from Eastern Washington's Gubrud, intercepting the ball and nearly returning it for a touchdown. The game's second turnover was enough to set up a 26-yard field goal from O'Rourke, extending the Aggie lead, 31-20 with 11:38 to play.
Up two scores, UC Davis looked to have the upper hand, but there was still plenty of time on the clock — especially for the explosive Eagles offensive. Showing just how explosive it could be, Eastern Washington scored on the very first play of its next drive when Eagles speedster, Nsimba Webster, torched the Aggie defense for 71 yards on a pass from Gubrud. A failed two-point conversion following the touchdown made it a four-point contest, but Eastern Washington was only just beginning to mount its comeback. A three-and-out by the UC Davis offense gave the ball right back to Eastern Washington, which scored again just 57 seconds later, this time succeeding on the two-point conversion.
With their backs to the wall for the first time, the Aggies put together a resilient 11-play drive capped by Spencer's third rushing touchdown — a career-high. Spencer found a hole in the Eagles defense, stomping into the end zone from 10 yards out to pull UC Davis in front 38-34.
"Everybody on this team has a job," Spencer said. "Whether you're getting one play a game, or you're redshirting, or you're playing every single snap — everybody has a role. And [the coaches] came up to me and said, 'You need to run the ball, you need to score some touchdowns in the red zone.' So I accepted my role and I followed by o-line and Derek [Baljeu] and just did my job."
Even after this late score by UC Davis that injected life back into Aggie Stadium, the Eastern Washington offense did not waver. On the ensuing drive, the Eagles gained 23 yards on a key fourth down to move the chains and finally scored on Gubrud's sixth touchdown pass of the night — a beauty that floated high into the corner of the end zone. Now trailing by three points with 1:32 to play, UC Davis ran 12 plays to get itself in position for a 49-yard field goal attempt.
"The mindset [in that situation] was to take what [Eastern Washington was] giving us," Maier said. "Give ourselves a chance, get us in a situation where we could take it down to the last play. I know the mindset that our coaching staff has is we want to go for the win — we're very aggressive. Credit to [Eastern Washington], that's a great team. We have to work even harder from here on out. If we want to have success and if we want experience that glory again, we have to work even harder for it."
The Aggies hoped O'Rourke could send the game into overtime, but his kick came up well short of the goal, sealing UC Davis' fate. Head coach Dan Hawkins, although obviously disappointed with the result, remained level-headed and proud of how his team performed.
"When you play these kind of games, the margin of error is just real small," Hawkins said. "But our guys […] did not back down and were not phased at all by the moment or the score. We got beat by a pretty good football team, but it was a spectacle."
The loss was UC Davis' third this season, dropping the team's record back down to an even 3-3. There were, however, plenty of bright spots for UC Davis in the otherwise negative result. The Aggie offense racked up 551 yards of total offense, out-gaining their Eastern Washington counterparts by 50 yards. Doss recorded a career-high 208 yards receiving. His quarterback, Maier, had another stellar outing, throwing for over 300 yards for the fifth consecutive game — while adding in two touchdowns and no turnovers. Despite giving up 41 points, UC Davis also forced two interceptions on the evening, but could only muster just three points off these two turnovers. Hawkins was pleased with how his defense made plays against such a difficult opponent.
"[Eastern Washington] is hard to defend, just like we're hard to defend," Hawkins said. "It's hard to shut [Eastern Washington] down. We tried to keep them off balance, keep them off rhythm. You got to maximize your opportunities to force their hand, so I thought our defense did a great job."
Even after a heartbreaking loss, Hawkins had nothing but emotional, heartfelt words for his players, calling them "the real deal" and praising each player for accepting his role within the team. Saturday night was a legitimate chance for UC Davis to pick up a win against one of the best teams in the conference, but ultimately became an evening that just got away from the Aggies. The team will have a chance to return to its winning ways after a week of rest, when it travels to Northern Arizona on Saturday, Oct. 22.
Written by: Dominic Faria — sports@theaggie.org