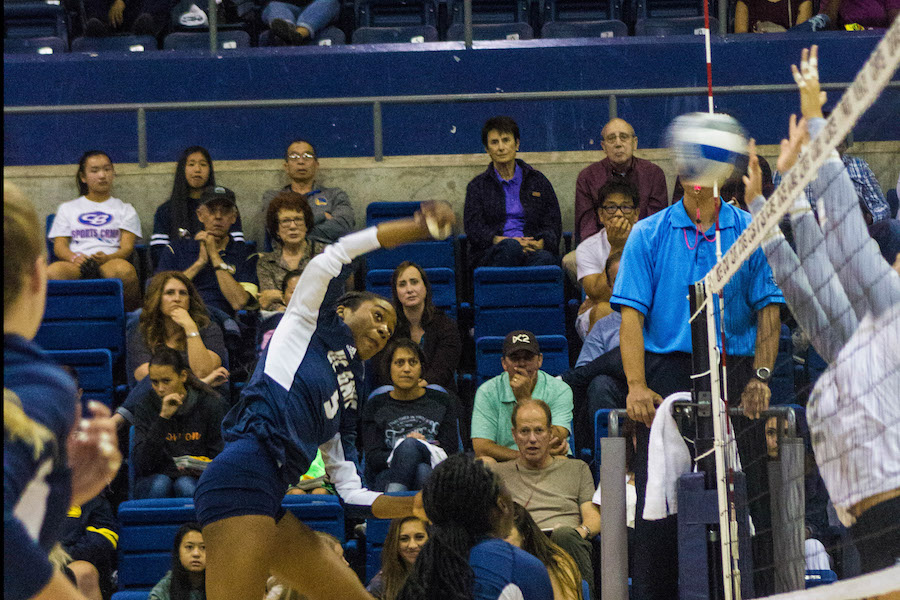 White, Bowman dominate on way to 3-1 victory
With four straight conference losses heading into the match on Saturday, Oct. 7, the UC Davis women's volleyball team knew that it would need to right the ship as it heads into the latter half of the 2017 season. In the opening game against the Patriots of CSU Long Beach, it did just that. The Aggies dominated the first two sets on their way to a 3-1 victory where they scored 84 points to Long Beach's 53.5.
UC Davis came out aggressively to secure the first set win. It was freshman setter Paloma Bowman who set up her team's run, amassing 57 assists, many of which were finished by freshman hitter Mahalia White, who began the match with three kills on the team's first five points before eventually finishing the night with 23 kills en-route to her 25.5 point outing.
Bowman knew the importance of getting back in the win column, and was overjoyed to finally get there after the team's recent skid.
"It was good to finally win," Bowman said. "We've been working for it for a long time, so it's nice that it finally paid off. I think we're getting a lot better. We're improving every day."
Bowman's play also caught the eye of head coach Dan Conners, who credited his setter with embracing the challenge in her first year at the college level.
"The passing was awesome. The passing did a great job, and the hitters were just fearless and ruthless and they were just getting after it," Conners said. "[Bowman is] only a freshman and she still has a lot to learn about the game. She's just working on her consistency, and she's understanding the game more and more, and as she gets better the team gets better."
For White, a great performance like this was needed, a sentiment that was echoed by her coach. The effort wasn't lacking in the four conference losses that preceded this game — it was just a matter of putting everything together.
"We were just very hungry for a win tonight," White said. "We always say how we're going to come out fired up, and today we just came out there wanting the win, wanting to keep playing aggressive the whole time."
Despite the great performances from White and Bowman, this wasn't a two-person show. The entire team showed up, including sophomore outside hitter Lauren Matias amassing 17 kills of her own and 17.5 points, junior outside hitter Emily Allen finishing with 13 points on 11 kills and junior middle blocker Lauren Jackson racking up 12 points on 10 kills. Overall, the team accumulated 84 points on 67 kills, with 26 errors.
Not every set went smoothly, however. The team ran into some struggles in the third set, where despite matching the pace of the Patriots for most of the set, the team was unable to overcome a late three-point deficit. It was the response to this adversity which gave White hope in her team.
"We totally just wiped it out of our memories," White said. "We were just like, 'You know what? This set right here, we're just going to reset the way we were playing the first two sets, and we're just going to go out there and kill it.'"
Going forward, the team hopes to build off this exciting win, as there are still many games to be played. Conners hopes the team can draw from both the negatives and the positives to continue its upward trend into the next game, when it takes on UC Riverside on the road.
"Just to remember what it feels like to play with that level of determination and focus and energy and aggressiveness," Conners said. "The moments where we backed off and got tentative were toward the end of that third set and part of that fourth set. We've just got to remember the consistency of our mentality is vital to how we want to play the game."
The team will go on the road for two games before returning home on Tuesday, Oct. 17, to play UC Santa Barbara at 7 p.m.
Written by: Bradley Geiser — sports@theaggie.org