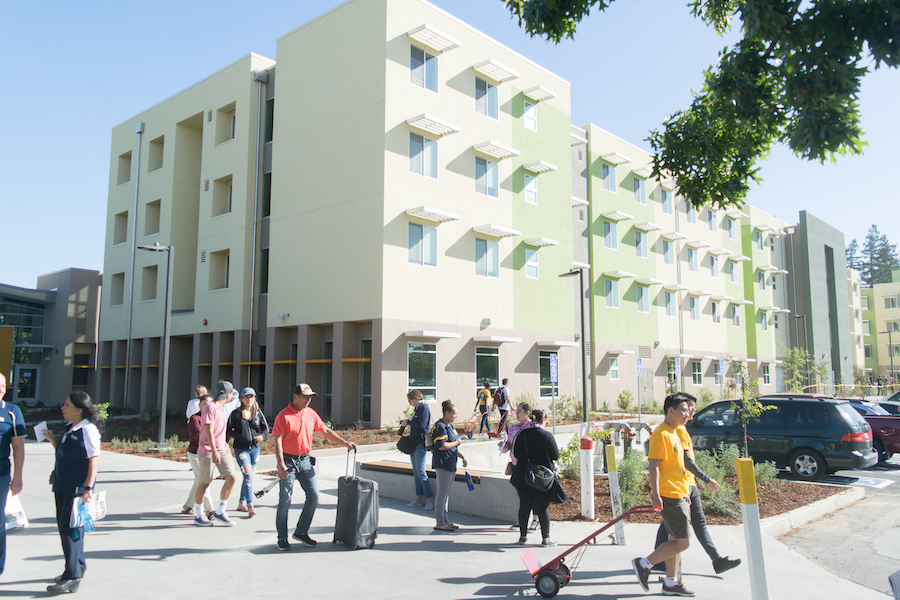 Tercero Phase Four project also includes communal building
Around 600 first-year students have officially moved into the three recently-opened dormitory buildings in the Tercero area. The three new residence halls are part of the student housing development project referred to as "Tercero Phase Four" –– a $59.1 million project which, in addition to the new residence halls, also includes a communal building.
New amenities include common areas, a fully-equipped kitchen, a quiet study lounge, a wellness room and a gaming room where students can take advantage of multiple gaming stations as well as foosball and air hockey tables.
"We've got a music room, so I can practice, and an outdoor kitchen area," said Zak McGaugh, a first-year political science major living in the new Tercero dorms.
Students can enjoy more square feet in the new dormitory rooms as well as comfortable floor lounges. Tanner Gross, a first-year psychology major and a new resident of Redwood Hall, said he was surprised by the layout of his room.
"The room is way bigger than I thought it would be," Gross said. "I really like the community aspect of [the] housing."
Redwood Hall is one of the three new dorm buildings in the Tercero dormitory area. The building itself has multiple fanned wings to accommodate a nearby grove of redwoods that can be seen from the dorm rooms. Dotted throughout the area are sprawling old cork oak and redwood trees.
"The cool thing about an existing site is that it forces the architect to be creative with the design," said Mike Sheehan, the director of facilities services for Student Housing and Dining Services.
The three new dorm buildings are Cottonwood Hall, Redwood Hall and Madrone Hall. Olive Hall is the newly-opened communal building. All four buildings are named after trees that grow throughout the UC Davis campus.
Sheehan, who accompanied The California Aggie on a tour of the new residence halls, actively sought out student feedback and opinions of the new spaces.
Sheehan said his team is striving for a LEED Gold rating for Tercero Phase Four's sustainable design. Around the new buildings are drought-resistant plants, permeable surfaces for bike parking and recycled water used throughout the site. Some of the site's surrounding natural elements have been worked into the design. In Olive Hall, wood that was originally used in Leach Hall, a former residence building which has since closed, has been reclaimed and refashioned into a large sliding door.
Students can also look forward to Tercero Dining Commons 2, projected to open in 2019.
"There will be a traditional dining facility," Sheehan said. "And then the other portion will be a retail dining property."
According to Sheehan, the dining commons is slated to include a sushi area, a smoothie bar and international cuisine.
Written by: Ally Russell — campus@theaggie.org