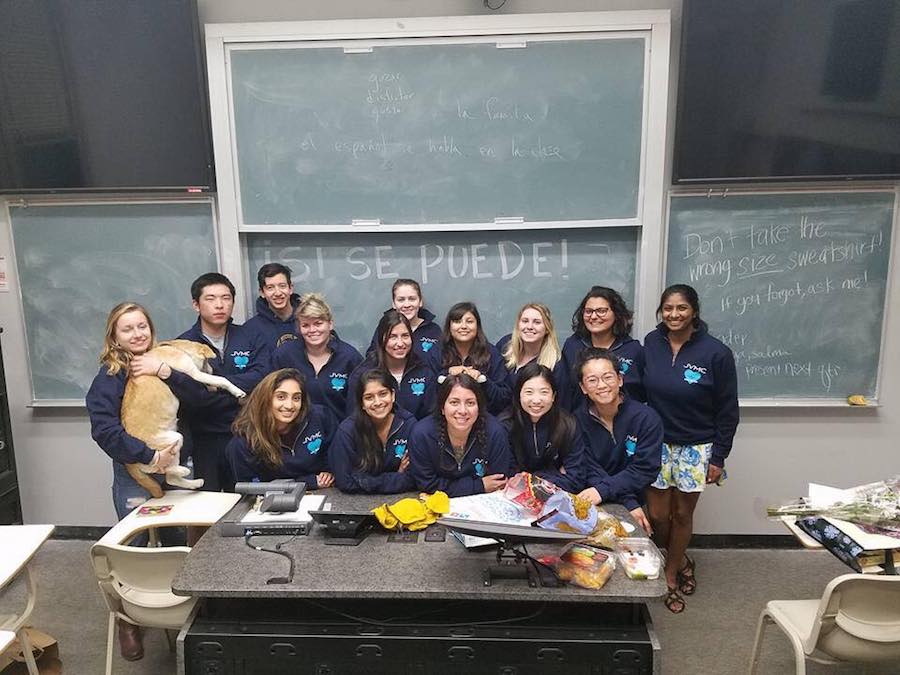 Fighting transgender community stigma with JVMC, healthcare, hormone therapy at GHC
Social stigma can take a toll on lives — sometimes quite literally.
"Joan Viteri Memorial Clinic (JVMC), as its name implies, [was] founded in memory of Joan Viteri," said Noreen Mansuri, a fourth-year NPB major and the co-director of JVMC. "She was a community member [of] Oak Park (a neighborhood in Sacramento) who died due to a treatable abscess. She passed away due to the stigma she received as [did other] people in her community who [used] intravenous drugs."
Essentially, Joan Viteri died from an infection that was treatable, but lost her life due to social stigma against intravenous drug users that prevented her from seeking medical care. She was afraid of the judgement she'd receive from the medical community.
"JVMC was founded to prevent any deaths of that nature from happening again," Mansuri said. "Right now we provide resources and primary healthcare to all Oak Park community members, but we have specific resources to treat individuals who use intravenous drugs, individuals who work in the sex trade and trans folk. Those are our three target populations."
JVMC, which is located in Sacramento and run by UC Davis School of Medicine students, sends some of its volunteers to help at a nonprofit organization called the Gender Health Center (GHC), also located in Sacramento. The GHC is a resource for members of the LGBTQIA population seeking counseling and therapy services. It also provides people in transition with hormone therapy services. The members of these organizations strive to provide much more than medical services, trying to create a safe space for community members and patients.  
"We work with harm reduction services where they help provide resources for those who use intravenous drugs and [address other circumstances] that could be prevented by using harm reduction," said Maddy Silverstein, a fourth-year biological sciences major and JVMC's other co-director.
Harm reduction aims to reduce risk in a patient's life by preventing an escalation of a condition or remediating it.
"Harm reduction is the idea, specifically in the context of drug use, [that is] about meeting the person where they are at and working with them on their personal goals and their vision for their health," Mansuri said. "And that can build up to abstinence or it could not. It's about minimizing risk."
GHC provides many services to the LGBTQIA community, catering to social and psychological needs as well as medical and legal help. Many people drive to GHC for two to three hours to come to a place where they can feel safe and welcomed.
"Our doctors are willing — the emphasis placed on the willing – to prescribe hormones," Mansuri said. "There's not a great deal of education that goes on in medical curriculum about hormone therapy and it's not that there's a huge science behind it or anything, it's the same hormones we're familiar with [such as] testosterone and estrogen, and you just have to figure out the dose that's appropriate for the particular person. There's a lot of resistance and uncertainty because it's not really familiar to a lot of people — they weren't trained to do it. So there's this kind of fear almost."
Hormone therapy is described on the National Center for Biotechnology Information's website as a treatment sought by "transgender men and women […] as part of the transition process. Exogenous testosterone is used in transgender men to induce virilization and suppress feminizing characteristics. In transgender women, exogenous estrogen is used to help feminize patients."
Mansuri emphasized the importance of educating the next generation of medical practitioners, as these organizations are doing, on the needs of various groups of people. Catering to the needs of trans people through hormone therapy is one example of this.
There are also many assumptions about the moral compasses of those that use intravenous drugs.
"A lot of people with other health issues and diseases sometimes start using drugs because [they want to] cope with that," Silverstein said.
Others have turned to drugs when their biology has failed them.
"You release endorphins, but if a person does not release the right amount of endorphins their baseline is much lower [and] much less happy than a typical person," Mansuri said. "People who use drugs actually [may be] trying to help themselves, but the effects are pretty detrimental. Working with this population, [and] getting to know them and learning from them [teaches] you that it is not a moral failing."
Jason Blanks and Danielle Wang are both second-year medical students at the UC Davis School of Medicine and work as JVMC's coordinators and the GHC's co-directors. They volunteer at GHC every first and third Friday of the month and assist in providing hormone therapy.
"What we do is just a very small medical side of things," Blanks said. "We provide hormones [at a] free clinic [and] make sure they get the medications they need, and then we work with social workers and other folks to make sure they're getting the support that they need."
Wang mentioned that the hormone clinic has a patient panel of about four hundred. This led her to realize how much of a demand there is for medical aid to the transgender and other underserved communities.
"We did some research last year that basically says that [about] 90 percent of our patients have insurance for a primary care provider," Blanks said. "So theoretically, 90 percent of our patients shouldn't be our patients. They have a doctor who sees them for everything except hormones, which is — I guess from a medical perspective— very odd. Hormones aren't complicated medicine from any stretch of the imagination."
Written by: Sahiti Vemula — features@theaggie.org