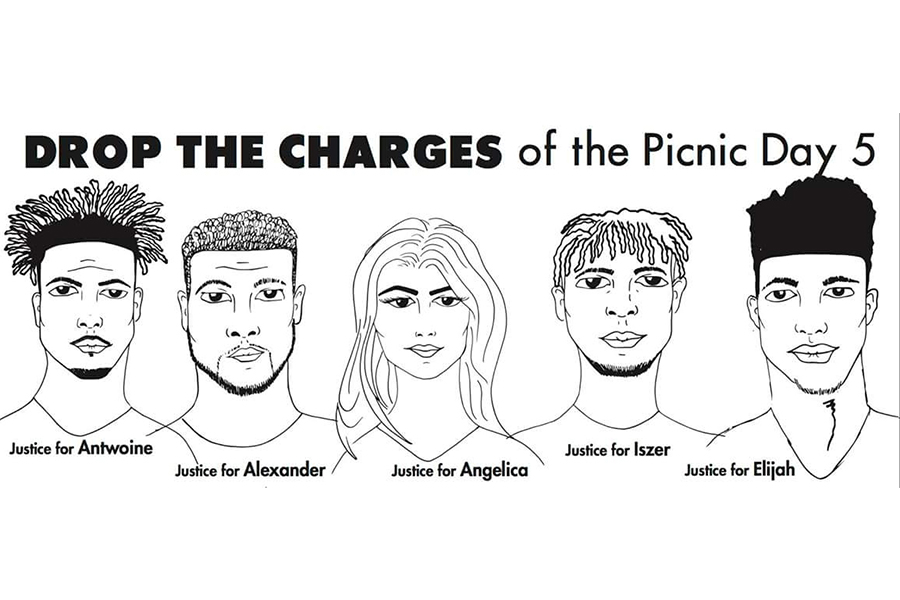 Davis community at odds over Picnic Day brawl fallout
Last April, on Davis' 103rd Picnic Day, a fight broke out between three regularly-clothed policemen and five young adults at College Park and Russell Boulevard. Days after the brawl, a dashcam video was released on the internet that showed a police van pulling up next to a crowd and three plainclothes officers getting out. The officers approached the crowd and a fight broke out. From the video, it is unclear who threw the first punch.
Four men and one woman, dubbed the "Picnic Day Five," were arrested in the following weeks: Antwoine Perry, Alexander Craver, Elijah Williams, Iszir Price and Angelica Reyes. None of the five are Davis locals — all hail from Elk Grove or West Sacramento. All five were charged with felony assault of a peace officer but pled not guilty. By Sept. 8, all five had accepted identical plea deals that circumvent jail time, yet force them to take part in a restorative justice program that requires them to meet with the officers involved in the brawl and discuss what happened.
"It's not yet justice, but it's much better than we feared," said William Kelly, a physics postdoctoral scholar at UC Davis who has organized several protests in support of the Picnic Day Five. "I think it's a huge win for the community and for everyone who called the DA and showed up at the courthouse and signed the petition — they got this plea deal with no jail time and the chance to clear their record within a year. I don't think they deserve this 'informal probation.' I also have concerns about this restorative justice. Just because you call something 'restorative justice' doesn't make it 'restorative.' The five are being forced under threat of jail time to sit in a room with these police officers and apologize to them, and I don't see any value in forcing them to do that."
Protests have sprung up around Davis and the surrounding area in support of the Five. Students and residents took to the courts and to the streets, protesting city council hearings, flashing posters and signs and chanting through megaphones.
"These kids were attacked by police who were in plain clothing in an unmarked vehicle who didn't identify themselves," said Kate Mellon, a lifelong Davis resident and activist. "[…] They [the five] have lost jobs, put their families in debt and have been publicly harassed. The police officers who were involved have not apologized and have not faced any consequences."
The Davis Police Department did not respond to multiple requests for comment.
Some activists attributed the outcry to the larger conversation currently happening in the country about race and policing.
"The police haven't had to experience any repercussions for what they've done," said Stephanie Parreira, a Davis resident and activist. "There needs to be more of an equal response to this for it to be real 'restorative justice.' If the Black Lives Matter movement didn't exist, none of us would have been paying attention to this stuff. The only reason we are paying attention to these issues is because BLM brought this issue to the forefront of the media."
The court hearings took place in Yolo County courts, with protesters in attendance at the court dates. District Attorney Jeff Reisig, who prosecuted the five, declined to comment for this article.
Written by: Ahash Francis — city@theaggie.org
Editor's note: An unedited version of this article mistakenly appeared online. It has been updated to reflect changes.