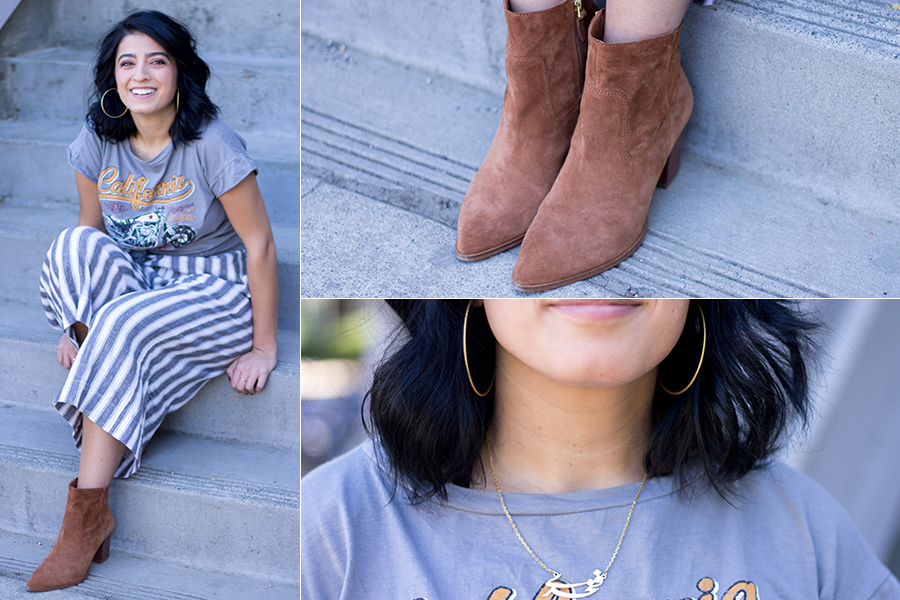 Bold and Adventurous style pays off
Fourth-year psychology major Helya Zand can be spotted a mile away, rocking her unique style. She prefers to dress more laid-back, but makes sure to always add a little something to each outfit in order to make it pop. She combines a variety of different styles and pieces of clothing — yet, together, her outfit looks like it belongs on a pinterest board.
ASW: Can you describe your style?
Zand: I've had a style evolution over the years. I used to have a Kim K look, but now I like a casual, laid-back look. I always look for something in my outfit to stand out. It could be my shoes, my earrings, my makeup — or it could be anything. I just don't like looking like everyone else. I would always go for something vintage over a modern look.
ASW: What is your favorite thrift store in Davis?
Zand: I always go to All Things Right and Relevant, but I love to go in Oakland and in San Francisco because that's where all the best stuff is.
ASW: What is the best piece you've found at a thrift store?
Zand: I always wanted one of those over-the-top jackets, like the faux fur ones. One day in the summer last year in Davis I found it for an amazing price that I couldn't pass up. I had to get it because I knew I would wear it, and I was right. It's my most prized possession.
ASW: What fashion advice do you have for someone trying to figure out what style they want?
Zand: Everyone does fashion differently. If I have a good outfit on, I feel good, and I think it has to do with having confidence. Find your thing within fashion. Like if your makeup looks on point or you have a great outfit, you will feel confident, and that's all that matters. The girls that can rock a red lipstick at 10 in the morning I can see have a lot of confidence, and I give them props because that is something I couldn't do. But that's their thing within fashion.
ASW: What are your favorite stores?
Zand: I love Madewell, even though they are really simple, and I also love Free People. I wish that Madewell and Free People would make a baby because that would be my dream store. I always have to have a boho flare to my outfits, which is why I love those stores. Thrift stores are always amazing, especially for finding unique items.
SW: Where are your clothes from?
Zand: My pants and earrings are from Madewell, my shirt is from Clade and Cloth and my shoes are from Nordstrom Rack. I use my Instagram to find new online stores, which is how I found Clade and Cloth.
ASW: What was your worst fashion choice?
Zand: I love leopard print when it's done right, and I definitely did not know how to do it right when I was a freshman in high school. I came from the low-low, and now I know how to style myself. It is constantly a thin line between '"is this bold and adventurous or this ugly?" If it's unique and no one else has it, it can be a risk — but also worth it.
Written By: CaraJoy Kleinrock — arts@theaggie.org