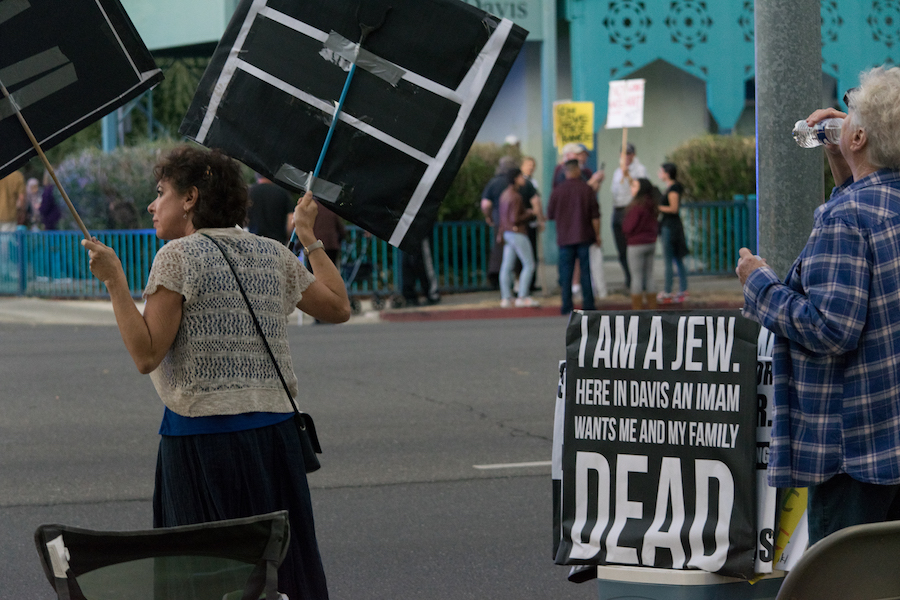 Local group Davis United Against Hate called for removal of Imam Ammar Shahin
Community members who attended the Oct. 22 event "Walking Our Faith and Sharing a Meal," an interfaith potluck and walk, were met with protesters when they arrived at the Islamic Center of Davis. The event began at Congregation Bet Haverim, where Rabbi Greg Wolfe presented; participants then walked together to the Islamic Center of Davis to hear a presentation by Imam Ammar Shahin. The group Davis United Against Hate had pre-planned to assemble in front of the Center to protest for the removal of Shahin.
Shahin's sermon in July of 2017 sparked outrage in the community and was covered nationally. Although Shahin claimed that part of his sermon was mistranslated, he says in English during the speech that "the time will come, the last hour will not take place until the Muslims fight the Jews." Shahin has since apologized.
"To the Jewish community here in Davis and beyond, I say this deeply, I am deeply sorry for the pain I have caused," Shahin said at a joint press conference in late July. "I let my emotions get the best of me and cloud my better judgement."
Amr Zedan, the president of the Islamic Center of Davis, told The Aggie on Oct. 22 that the Imam's sermon is "not a statement that we endorse here."
Ralph Libet, one of the protestors outside of the Islamic Center, held a sign in Arabic which he said, read "dear Imam, you are crazy, please leave here now."
"I find it very disturbing, and to me it's just ridiculous that we […accept] people talking about annihilating other people," Libet said. "It just doesn't fit in our society, it doesn't fit in our city and it shouldn't be happening across the University of California, either."
About 20 people gathered to protest in front of the Islamic Center and across the adjacent streets. Gail Rubin, the organizer of Davis United Against Hate, said the group is a "loose affiliation of residents in the community." Recently, Rubin's guest opinion piece was published in The Davis Enterprise. In the opinion piece, she asked members of the community to join her group in the "peaceful interfaith vigil" they held on Oct. 22 from 4 to 6 p.m.
"UC Davis students who are Muslims, all they have to do is cross the street […] and hear those words now to become radicalized," Rubin said. "We're here to say, 'He needs to go.' We are here because the interfaith community is being cynically manipulated by this Imam to stand with them as a show of solidarity."
Frohar Osmani, a third-year international relations major, said the Islamic Center of Davis is where she and others go to feel safe; "one person doesn't represent Islam," Osmani said.
Protesters held signs that read "I am a Jew. Here in Davis an Imam wants me and my family DEAD," "Speak out no hate peace please," "teach love practice tolerance," "no hate in Davis words hurt" and "stop attending Mosque that preaches genocide of the Jews."
Alexander Groth, a professor emeritus from UC Davis' Department of Political Science as well as a survivor of the Holocaust from the Warsaw ghetto, was one of the protesters in attendance. Groth emphasized the need to stand up against hateful and anti-Semitic speech and likened Shahin's speech to Hitler's call for the "decimation of Jews" in World War II. He also expressed dismay that the Davis "city council has done nothing" in response to the July sermon.
A large group of around 60 or more were inside, around and behind the Islamic Center as part of the interfaith event — the group was a diverse mix of children and adults talking, eating snacks and passing around glow sticks. After the Imam spoke, the group prepared to continue the walk and end the night at the Davis United Methodist Church for a reflective discussion and potluck dinner.
Kate Snow was one community member at the interfaith event. Snow works as a school climate coordinator for the Davis Joint Unified School District and is involved in "restoring justice" as well as in how to "use conflict as a place to transform."
"It's so clear that this community, Davis as a whole, wants to transform and I think wants to be connected," Snow said. "To me, [this event] is an opportunity to see another group of people […and] to build our learning, our education and to build our connection and then to think about what it is we can do ourselves to continue to build a community."
When asked about her thoughts on the gathered protesters outside of the event, Snow reflected on what she had heard from Rabbi Wolfe and Imam Shahin earlier in the day.
"As the Imam said — and as Rabbi Wolf [said] — it's important for us to listen," Snow said. "My belief is that, as [the Imam] said, we make room for all and that […] includes people who say things you don't like and […] includes people who scare you."
Written by: Hannah Holzer and Elizabeth Mercado — campus@theaggie.org