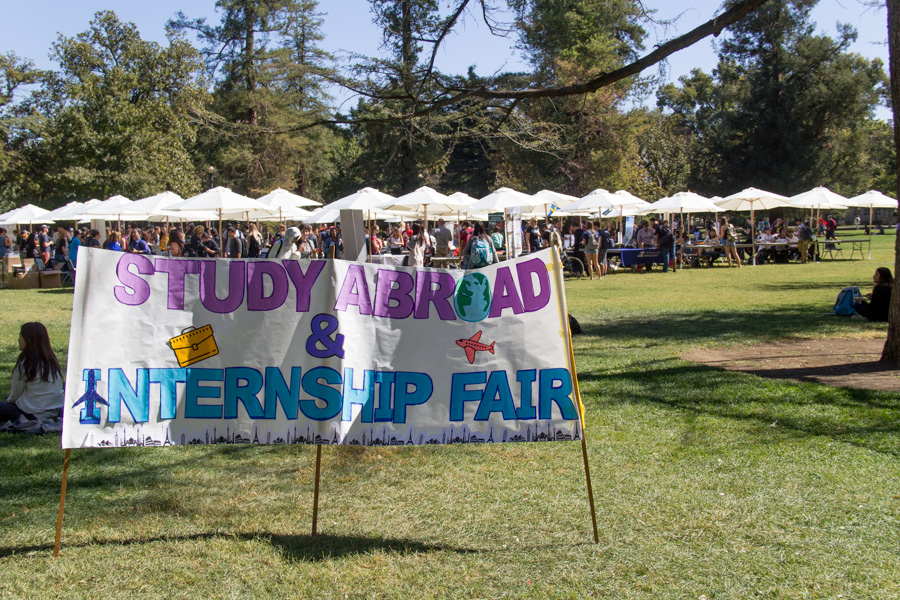 Fair informed students of study, internship opportunities across the globe
On Oct. 5, the annual Study Abroad and Internship Fair was held on the West Quad. Hosted by UC Davis Study Abroad and the Internship and Career Center (ICC), the purpose of the fair was to "inform students about opportunities to study, work and intern in areas all over the world," according to the UC Davis Study Abroad website.
At the fair, students had the chance to "talk with study and intern abroad alumni about their experiences" as well as meet advisors and explore opportunities for scholarships and financial aid.
The fair featured information stands from various organizations dedicated to promoting study and internship opportunities abroad.
UC Davis Study Abroad offers the Summer Abroad program, an intensive eight-week program that provides students the opportunity to enroll in classes while participating in internships as well as cultural trips in places such as Hong Kong, Japan, New Zealand and Spain. The instruction and internships offered are in a diverse range of disciplines, including in business, communication, engineering and agricultural science.
This year, Spring and Fall Quarter programs are also available, with sites in Japan, Taipei, Australia and Italy.
"Studying abroad, you get a different viewpoint of the world and yourself and you figure out who you are as a person," said Benjamin Ferguson, the enrollment coordinator and an advisor at UC Davis Study Abroad. "[It's] getting to know people and making connections that could be lifelong."
In addition to UC Davis Study Abroad, other organizations present at the fair included Accent, Camp Adventure and Kei. Accent offers students academic and internship opportunities in the humanities, with sites in Paris, Florence, London and Madrid. Camp Adventure partners with the Department of Defense to give students an opportunity to work with the children of military officials abroad. Additionally, Kei offers major-specific internships with international companies such as BMW and Air France.
"You stand out more and you develop global competence," said Elizabeth Imasa, a graduate assistant with Kei. "[You're] more able to deal with different people from different cultures. You also get a lot of soft skills like being more creative and proactive."
In addition to the fair, various workshops were held throughout the day, including "Why You Should Study Abroad," "Financial Aid For Studying Abroad" and "International Scholarships for Studying Abroad."
Written by: Clara Zhao — campus@theaggie.org