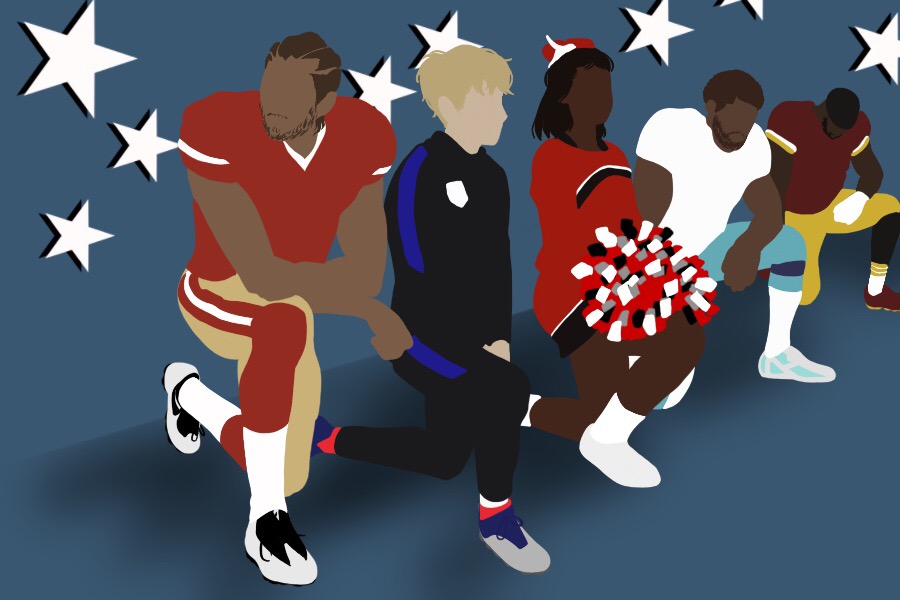 Recent anthem protests underscore the link between sports and politics
Over a year has passed since Colin Kaepernick — a former quarterback of the San Francisco 49ers — made the decision to sit for the playing of the national anthem. His silent protest, at first, went unnoticed. Kaepernick sat for the anthem during his team's first two preseason games, but it was not until the third that his actions garnered national attention. His decision ignited a litany of both criticism and support, along with a frenzy of media coverage. Kaepernick's protest, especially in light of recent events, highlights the profound power that sports have on a political climate. The controversy begs fans, coaches, league executives and political pundits to examine just how much freedom players have to speak their mind.
Kaepernick made the reasons for his protest clear: he wanted to draw attention to the ongoing issue of racial injustice that he felt was going largely unnoticed within the United States. Many found Kaepernick's decision to utilize his platform for the promotion of social justice to be brave and admirable, while others –– for several different reasons –– took issue with his protest. Even some 14 months later, the debate over the protest remains relevant, especially now that President Donald Trump has aligned himself against such displays. Trump claims that the protests are "disrespecting our country," and referred to players who chose to kneel as "sons-of-bitches."
Before these recent statements by the President, the protests had gone on mostly uninterrupted by coaches and team executives. Comments were made and thoughts were shared, but there was never any tangible movement to counteract such displays. Since Trump's comments, however, the anthem protests have received much more oversight and discretion. Rather than allow players to decide for themselves how to respond to Trump's rhetoric, the National Football League has interjected with a stance that seeks to disrupt the protests.
Just weeks after linking arms with his players during the playing of the anthem prior to a nationally televised game, Dallas Cowboys owner Jerry Jones revealed to the media that he will not condone the protests, saying that his team "will not disrespect the flag." The same afternoon that Jones made these remarks, Miami Dolphins head coach Adam Gase told players that they would either stand for the national anthem or go "back in the locker room." Most recently, NFL commissioner Roger Goodell sent a letter to each of the 32 NFL team owners, outlining his belief "that everyone should stand for the National Anthem." DeMaurice Smith, the executive director of the NFL Players Association –– a nonprofit collective bargaining organization designed to protect the rights of players –– has taken an effectively opposite stance. On Oct. 9, Smith tweeted a statement supporting players' right to protest, saying that "no player is disrespecting our Country or our Flag."
The debate has even leaked over into other professional leagues, including the National Basketball Association and Major League Baseball. During a prolonged media discussion in which he shared opinions on Trump and the anthem protests, San Antonio Spurs head coach Gregg Popovich said that if any of his players decided to stage protests of their own, they would have his "full support." On the other hand, NBA commissioner Adam Silver explained that the NBA has "a rule that requires players to stand for the anthem." Silver continued on to say that he expects players to "continue to stand" for the anthem. In the MLB, catcher Bruce Maxwell of the Oakland Athletics became the league's first player to kneel for the anthem when he did so before a game in September.
The divisive politics surrounding the protest have cast an undeniably uncomfortable shadow over the NFL and American sports in general. Players, coaches, managers, commissioners and fans at all levels of competition have been presented with a question: what are your opinions on this protest? But no matter where any individual or organization stands regarding this highly nuanced question, what is important is that this question is being asked in the first place.
In recent history, American sports have been used as a facilitator of unity, where fans, players and executives alike could show togetherness on certain issues or recover from tragic events. In one of the most emotional displays, President George W. Bush threw out the ceremonial first pitch before game three of the World Series in New York City, just weeks after the Sept. 11, 2001 attacks. While this is an extreme example, the notion that sports build unity within our country is a common and attractive theme. In both Goodell's and Silver's statements, the commissioners touched on the "unifying" power of sports to help justify their stances.
Now, this tradition is being flipped on its head, as Kaepernick's protest, intentionally or unintentionally, has forced everyone involved in the realm of sports to take sides in this severely polarized debate. Whether this political intrusion is beneficial or detrimental to the games that so many of us hold dear is up to interpretation, but one cannot deny the influence that sports has had on American politics in recent history.
American sport is constantly at the forefront of political change and has, in many instances, outpaced the progress of all other institutions. Athletics has been the laboratory for social change –– from Jackie Robinson breaking the color barrier in professional sports to Billie Jean King and her trailblazing leadership in the women's sports movement to Muhammad Ali's outspoken stance against the war in Vietnam and in support of African-American civil rights. History even shows that Kaepernick is not the first athlete to stage a protest during the playing of the Star Spangled Banner.
During the 1968 Olympic games in Mexico City, American athletes John Carlos and Tommie Smith held their fists high in a Black Power salute, showing solidarity for fellow African Americans struggling to find equality in the United States. Politics and political protests –– athletes expressing their views as individuals and imposing their will upon social issues –– is certainly not unprecedented.
Indeed, politics is thoroughly intertwined within the fabric of American sports. The freedom that athletes have to express their opinions is paramount when it comes to effecting societal change, especially if these opinions or protests at the time seem incredibly controversial. This freedom of expression works both ways; at times that expression will bind people closer and in other instances it will cause people to divide. The issue of whether or not players should be allowed to stage silent demonstrations that oppose the beliefs held by the entities that employ them is an evolving and ongoing issue that is still in the process of being resolved. But in the process of doing so, the precedent for political involvement, as well as the views that these athletes hold, should be considered and not simply stifled because they are controversial. All of the disagreement and conflicting opinions must be used constructively, so as to move forward as a society.
Written by: Dominic Faria — sports@theaggie.org
Disclaimer: The views and opinions expressed by individual columnists belong to the columnists alone and do not necessarily indicate the views and opinions held by The California Aggie.