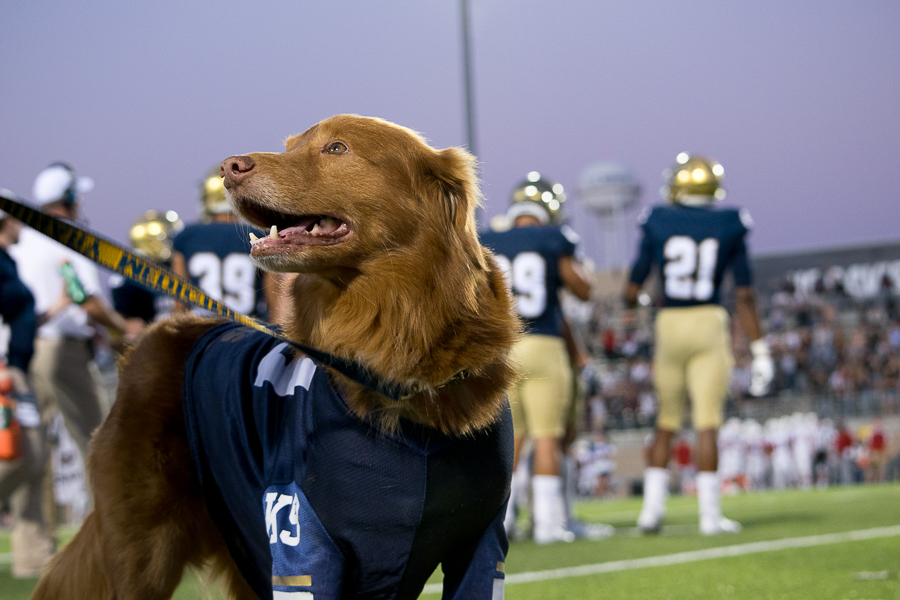 Pint makes history, inspires Aggie pride
If you've gone to a UC Davis home football game over the past five years, it is no doubt that you have seen Pint, the Nova Scotia duck tolling retriever who collects the tee after kickoffs. Pint is a favorite with the crowd, and hearing the gasps and shrieks of cuteness from the fans whenever they see him run onto the field has almost become a UC Davis tradition in itself. While many come to Aggie football games and see Pint collect the tees, some may wonder what his story is, and how he got the job. Was it a rigorous interview process? Did he have to take any stressful exams?
The California Aggie's Ryan Bugsch had the chance to speak with Danika Bannasch, Pint's owner and a professor here at UC Davis, to find out how Pint got to where he is today. Bannasch works in the Population Health and Reproduction Department at the School of Veterinary Medicine, specializing in animal genomics.
How long have you owned Pint and how long has he been doing this job at UC Davis?
He will be seven years old in December [2017] and I have owned him his whole life. He was born at my house and his mother was born at my house so I am also his breeder. This [football] season is his fifth season.
How did Pint get into retrieving tees for the football games?
Scott Brayton, who was the assistant athletics director with Business Partnerships, lived next door to our veterinary medical teaching hospital director and they started talking about what could be done between the Vet School and athletics and they came up with the idea to have a dog retrieve the tee. The hospital director contacted me and asked if I could do it, so that is where it started.
Was Pint trained before doing this job, and if not, what goes into the training process to teach Pint how to do this [tee retrieval], so he doesn't get distracted?
I just want to say that Pint is a really remarkable dog. I remember when my husband and I walked into the stadium for the very first game where he was going to retrieve and there was so much going on and I looked down at him and he was cool as a cucumber. I had been training him to compete in hunt tests and agility trials since he was a puppy, so he had lots of training in the sense that he knew how to pick up something and bring it back if I told him to. It was really pretty easy to teach him to pick up the tee compared to what he has to do in his real job [hunt tests]. The only hard part is that it [the tee] is a little hard to pick up because it is meant to stay on the ground. We are actually leaving for Texas soon for the Master National Hunt Test Competition.
What is your reaction to Pint being featured on ESPN and getting recognition for what he does for the team?
It is really exciting. I know a lot of the fans love having Pint there and they think he is an exciting part of the game so it was neat to have him acknowledged.
What is your favorite part about going to the games watching Pint do this, and what do you think Pint's favorite part is?
I think that my favorite part is that it really makes me feel part of the community of UC Davis. I hadn't actually gone to any football games before we started this, and I was an undergrad here and now it is really exciting. Watching the team grow and develop is also very exciting, thinking about and watching them growing up and doing other things as they are playing college football. So for me, it has given me more Aggie pride. As far as Pint is concerned, I think that it is a tossup, because there is two things he absolutely loves. One is belly rubs from little kids and the other is cleaning up the food in the stands.
Any additional comments?
I just wanted to say that Pint's grandmother was saved at our vet school hospital, and she used to do some work promoting the vet school. Pint wouldn't be here if our hospital wouldn't have saved his grandmother so I just wanted to promote awareness of how great our vet school is with the campus community. Also, I want to say the football team are great guys and great students and they do well in school while playing football and I really want to give support to them.
It is never too late to see Pint grab that tee at a football game, so if you are interested in watching a cute and cuddly dog run onto the field during the game, then make your way out to a game to see Pint do his thing.
Written by: Ryan Bugsch — sports@theaggie.org