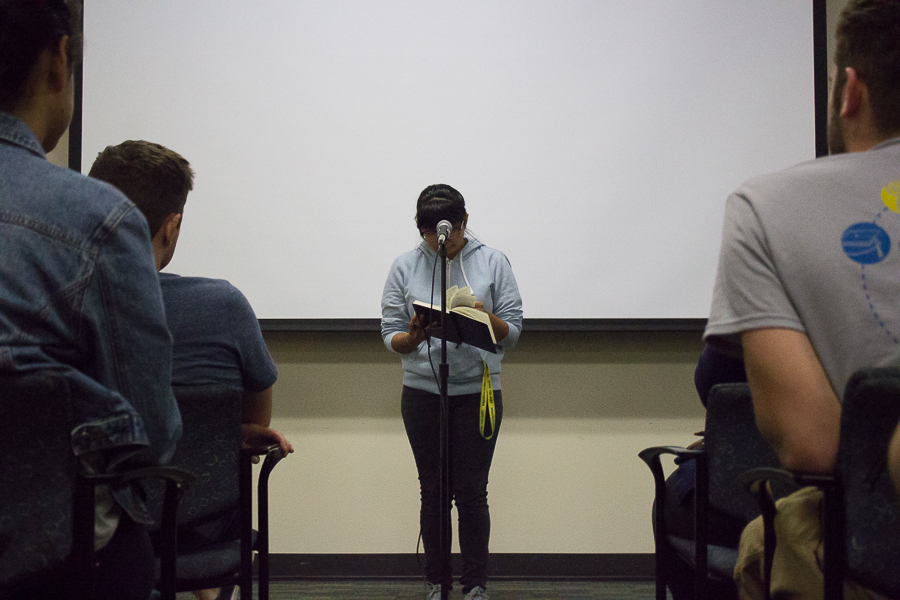 UC Davis graduate delivers keynote address, followed by student open mic
National Coming Out Day on Oct. 11 was celebrated by the UC Davis LGBTQIA Resource Center with an open mic night for students to express their coming out experiences. Before the student open mic commenced, UC Davis alum Bee Curiel delivered insight into their own experiences and shared their poetry. As the center stated in its Facebook post, the event was intended to "respect and honor individuals with varying degrees of 'out-ness.'"
Curiel, who identifies as a "first generation, non-binary, fat, queer UC Davis alum,"  talked about being a community coordinator for the Center while at UC Davis.
"I was lucky that my job at UC Davis fostered queerness," Curiel said. "School was kind of my escape."
In a smaller room within the Student Community Center, Curiel told the audience of about 50 that they were outed to their parents at age 18 by other parents. Coming from a Catholic and Mexican family, Curiel explained how their parents did not provide the healthiest forms of support.
Curiel also spoke about how varying situational outness is a reality for many people.
According to Curiel, coming out can often cause problems based on an individual's personal situation — identifying as LGBTQIA can still be unsafe and can change how they are viewed by others in their everyday environments. In reference to their own personal experience in their workplace, Curiel said they "want to work somewhere where [they're] valued."
Angelo Quiroz, a third-year double major in gender, sexuality and women's studies and psychology as well as a community coordinator for the center, introduced Curiel and coordinated the open mic presenters. The event went from 7:30 p.m. to about 9:30 p.m. When asked, Quiroz talked about the importance of National Coming Out Day.
"I think it's really powerful for our community to come together, especially when coming out is a privilege," Angelo said. "[Coming out] can lead to abuse, it can lead to murder — it isn't always safe for everyone. Days like this are really important because it allows us to declare our identities and existence, because they're often erased by institutions and people in power."
Written By: Aaron Liss — campus@theaggie.org