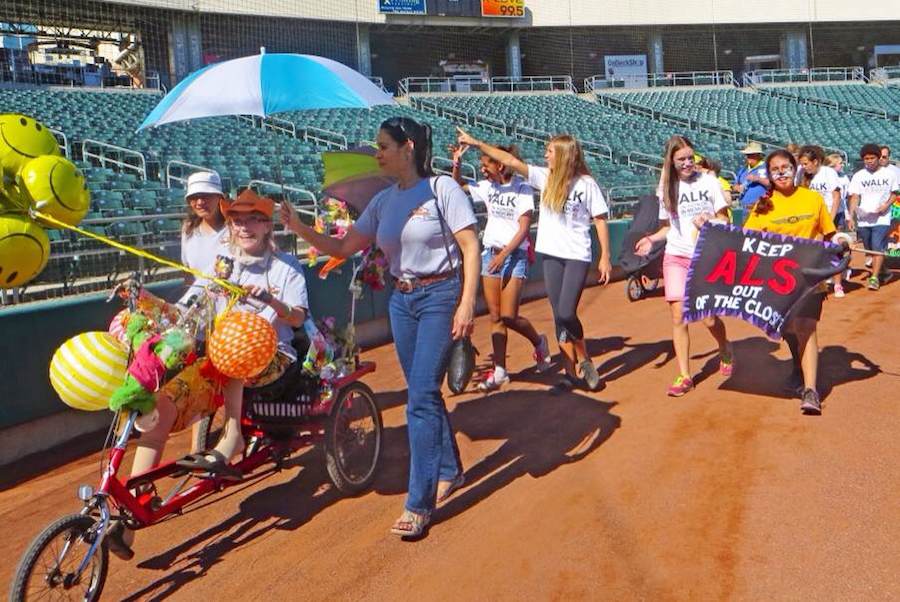 ALS walk in Sacramento raises awareness about disease
When people think about amyotrophic lateral sclerosis, they might associate it with the ALS ice bucket challenge. However, drenching oneself in ice water is no comparison to the daily challenges faced by those fighting the disease. This disease affects the nerve cells in the brain, which affect everything in a person's day-to-day life. In efforts to raise more awareness and bring in resources, the ALS Association has been organizing walks for the past 30 years. This past Saturday, Oct. 14, the ALS association in West Sacramento raised awareness and fundraised to combat ALS.  
Cathy Speck, an ALS advocate who is also battling the disease and has had loved ones affected, spoke about her journey. Speck also represented Davis with her team "The Specktaculars" on the walk.
"It was completely life-changing; what I knew about my day-to-day had totally changed," Speck said. "For me, it's a process […] My mantra is to 'adapt, adapt, adapt,' and what that means is that I can't control what's happening to my body physically, but I just adapt on how to do things differently every time something changes. The first thing I did was walking on my own; I used a walker, and it's totally decorated with stuffed animals and happy noise-makers, and the reason I did that is so that people wouldn't be nervous or afraid to talk to me. My walker is so welcoming, and it helps when people can come talk to me."
In addition to battling ALS, Speck is also battling cancer. However, she views her diseases as an obstacle to overcome, as she strives to look on the brighter side of life.
"I choose to always find something good in whatever situation," Speck said. "Since I can no longer work, I have time to be really introspective about what's important to me and what I want to spend my energy on, whether it's my physical energy, emotional or spiritual energy."
Even though Speck's energy is drained by her diseases, she still tries to make the most of her time by advocating for cures, including going to the ALS walk in Sacramento.
"Awareness and fundraising is important to me so that everybody who is affected with ALS will have hope for a cure, as there is not a cure now," Speck said. "I'm motivated for everybody since I know how much it can devastate a family."
Speck urged others who battle ALS to find peace.
"Find peace […in] every moment, as much as you can; try to remember that everything changes and to stay open to the changes, and breathe whatever positive moment you may have," Speck said.
Amy Sugimoto, the executive director of the ALS Association, explained how the walk started.
"When you see the patients and you know firsthand the dire needs they have, it's very motivating as there is a lot of needs, and this is our largest fundraising we do every year," Sugimoto said. "It's what allows us to offer our programs and services to the ALS community; without this walk, we will not have the patient services that we do, so that's very motivating."
The walk has been going on for a number of years and will continue until a cure is found.
"This is a national event, so every single community that has a chapter in them will have a walk to defeat ALS, and it's been around for about 30 years," Sugimoto said.
After watching her friend fight the disease, Nadine El Khoury was inspired to make a documentary in order to help promote recognition of the disease.
"It started with a close friend of mine," Khoury said. "It's a big shift, so I decided then that I wanted to know more about the disease. Eventually, it turned into me wanting to do a documentary about it after a couple years."
In hopes of spreading awareness, Khoury explained that ALS is a complex disease; however, it does not take a lot for people to learn the basic background and understand in order to help support the cause to find a cure.
"It was a very long process; it took seven years to do the documentary," Khoury said. "It became a lot bigger, because I understood that it was important to include the science of the disease. I don't have a biological background, and I realized that most people don't, so if I can understand it then I know others can too."
Khoury's experience watching her friend inspired her to keep advocating for the disease as well as show others the reality of ALS through her documentary.
"It changed my life and what I knew about living," Khoury said. "I would go home and cry thinking about how it is possible that now he is stuck in bed, and I go and think that it's so unfair. In the end, I can do whatever I want, like I can travel, rest [or] shower while he's stuck in bed. He can't do anything even though he wants to so badly because he is so full of life. It's so frustrating […] He continues to write, and he wrote three books. He's still trying to do everything, and I'm thinking 'Wow… It's so inspirational.' It changed my perspective, and you can't not be inspired."
Written by: Stella Tran — city@theaggie.org