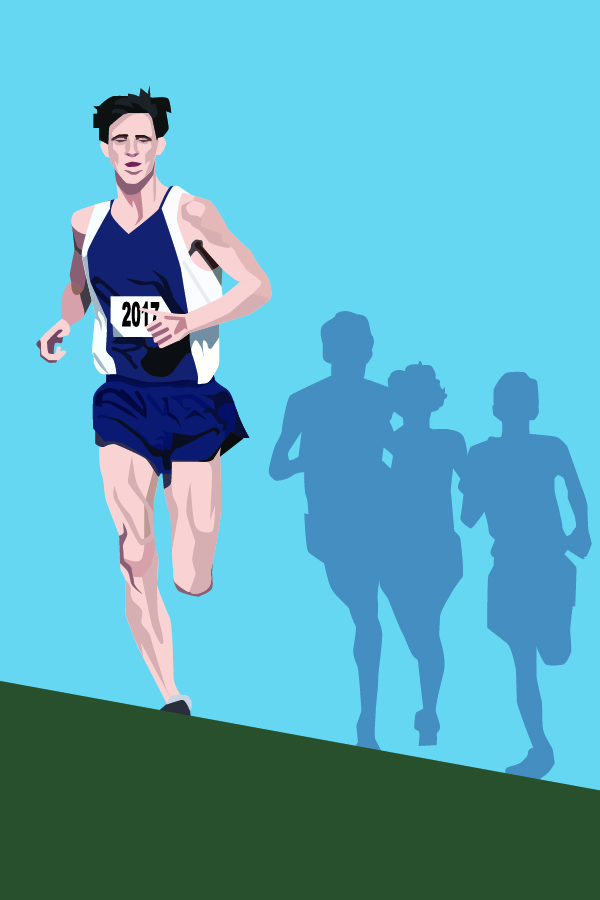 Coach Barbosa, runners ready to finish season on high note
Entering his first year as head coach of the UC Davis cross country team, Jose Luiz Barbosa vowed to create a winning culture of hard work and discipline. It started with strenuous training — training which, according to Barbosa, starts with a rigorous routine that is meant to prepare the team for its ultimate goal of not just competing on a conference level but a national one. According to Barbosa, it is a 40-day process of grueling workouts that not only require dedication and perseverance but a passion for what they do. No stranger to high-stakes competition, Barbosa, a four-time Olympian, believes that hard work and a positive mindset are key to going far.

"First of all, I'm glad to be here, and I like challenge," Barbosa said. "What I'm learning is how, mentally, to prepare them better than they're supposed to be and where they want to go, because a lot of the kids come to me in my office with high goals, but then mentally you need to prepare to achieve their goals."

Barbosa and his staff have been a valuable presence for all of his team members, implementing a system that helps his runners stay in shape and, according to senior men's runner Oscar Abundez-Dominguez, adds variance to a regimen which could often seem monotonous in the past.

"I think something we've all learned this season is putting faith in our coaching staff above everything," Abundez-Dominguez said. "It's like […] they know what they're doing and they're the most qualified people to be here coaching us. And, we're very happy with the changes that have happened."

Junior women's runner Megan MacGregor also praised her coaches for their dedication to the team and their willingness to work with each individual runner to improve both their individual and team performances. This was where Megan saw the most improvement with her team.

"This season more than anything, we've been communicating a lot more with each other, and just like, trying to be on the same page for every workout, for every race," MacGregor said.
Barbosa prides himself on his ability to work with all of his runners as a team, noting that one fast runner isn't going to help if they do not work together. If the team is performing better as a whole, the runners all see the benefits of their hard work.

"When you are alone, you are strong," Barbosa said. "When you're united, you're unbeatable. You need to learn that concept, and I think I brought that concept for them, and they understand that."
While both the men's and women's teams have not shot up the rankings since their initial first- and second-place finishes respectively in their first match at home, the Big West Conference Championships will be the 40th day in Barbosa's process, and he is not letting his runners settle for less than what he believes should be their ultimate goal.

To MacGregor, this means putting everything together, knowing that everything that happened in the previous meets, both good and bad, has gotten her to where she needs to be.

"I think that trusting in our fitness and knowing that I've had good workouts and good races, I can apply all of that to the championship race," MacGregor said. "Also, just working together with the team and trusting in what we've done."

To Abundez-Dominguez, his motivation is what drives him, a motivation that pays off when he gets ready for his competition.
"When I line up for a track race or a cross country race, I want to put myself in a position where no one's worked as hard as I have and no one's been through what I've been through," Abundez-Dominguez said. "I want to do the little extra — I want to put my body through to the point where I deserve to be on the line with everyone else. So, it's like, if I deserve to be on the line with everyone else, why not try to win this race?"

Barbosa is happy with where his team is headed. Whether or not they go far, he is proud of what he has done in his first year, and hopes that the culture which he establishes not only helps his current runners, but future runners as well.

"I want to make my distance an example to be followed," Barbosa said. "An example of tenacity, dedication, personality, determination, perseverance. But, then also as well, I think that's what I'm expecting. That's the type of legacy that I want to leave here."

The Big West Conference Championships will be held on Saturday, Oct. 28 in Riverside, California.


Written by: Bradley Geiser — sports@theaggie.org