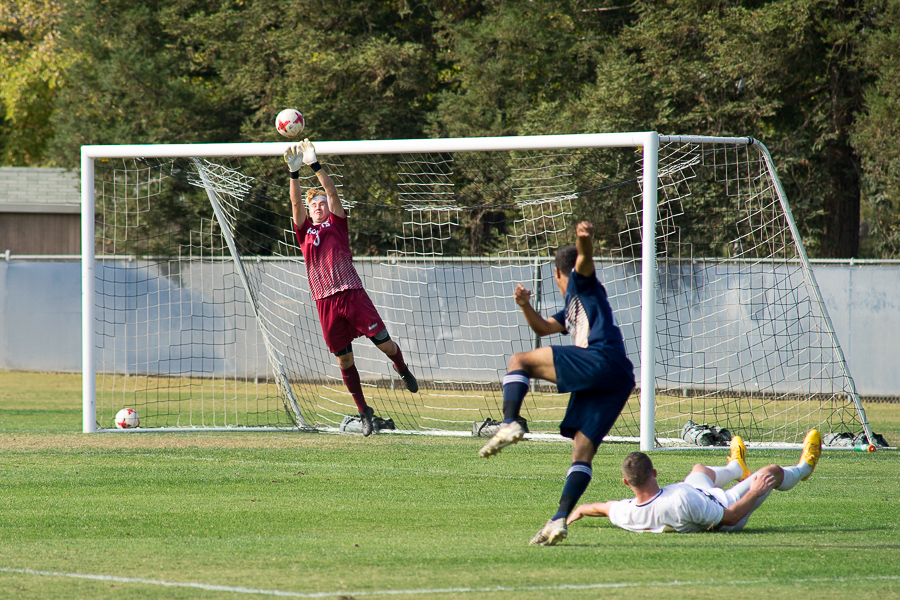 Men's soccer heads into playoffs on a hot streak
UC Davis men's soccer closed out an exceptional regular season with a 3-0 victory over visiting Sacramento State on Sunday afternoon at Aggie Soccer Field, pushing its overall record to 10-7-2, including a 7-2-1 mark in conference play. With the Big West North Division title and the top playoff seed already locked up, the Aggies came out on senior day and put forth an all-around effort against their rivals, winning their third straight match and fifth in their last six games.
"The best thing about the team right now is we started to hit our peak like three or four games ago, and I feel like we're just at a high level right now," said head coach Dwayne Shaffer. "On any day, I feel like we can win any game."
The Aggies will have the home field advantage throughout the Big West tournament, in addition to a first round bye.
"Coming to Davis is a difficult place for teams," Shaffer said. "They don't like coming here and we want to make sure that they don't like coming here."
The first playoff match is scheduled for next Saturday, Nov. 4, at 2 p.m. UC Davis will face either CSU Northridge or Sacramento State, who face off on Wednesday night in Northridge.
"We'll have a good week of training, we'll watch some video, and get a lot of recovery in and set up our tactics," Shaffer said. "I feel pretty good about both of those teams, so hopefully we'll show well on the day."
Despite the fact that there wasn't too much on the line Sunday, the Aggies felt it was imperative that they keep their strong momentum going as well as put on a good performance for the team's eight seniors.
"We were talking before the game and we were saying that no matter what we accomplished or what we will accomplish, today was about those group of seniors," said redshirt sophomore goalkeeper Wallis Lapsley. "They've given a lot to us and we wanted to make sure to go out and give them a good win at home."
Senior defender Kyle Higgins echoed these sentiments as well, reiterating the importance of taking every single game seriously regardless of the circumstances.
"As a team, you just want to keep your hot streak going, and every time you step on the field you're looking for a win," Higgins said.
The Aggies put the pressure on Sacramento State throughout the entirety of the first half, and finally broke through in the 36th minute when senior midfielder Michael Acevedo fired a rocket from just outside the top of the box that banged off the right goal post and deflected into the net for a goal.
"To me, it looked like my guys were ready to play," Shaffer said. "After scoring the first goal, it kind of felt like we picked up our intensity and motivation altogether, and I think we kept getting better as the game went on."
UC Davis put the game away early in the second half, thanks to a pair of goals by Higgins.
In the 49th minute, senior midfielder Onah Power dribbled down to the bottom righthand side of the box and chipped the ball into Higgins, who promptly volleyed the ball into the back of the goal amongst a crowd of traffic in front of the net.
Less than 10 minutes later, in the 57th minute, redshirt sophomore forward Adam Mickelson intercepted a pass at midfield and dribbled back the other way, passing the ball back and forth to Higgins two times, before finding Higgins wide open in front of the left side of the net for an easy tap-in goal.
Higgins had a few chances to record a hat trick later in the second half, but came up just short.
"My teammates we're telling me to go for it and I wanted it, but it just didn't come," Higgins said.
Lapsley recorded his fifth shutout of the year for the Aggies, making a highlight-reel save in the 31st minute. With the Hornets threatening to score, Lapsley leaned to the right in anticipation of an oncoming shot, but the ball was deflected on the way so he outstretched his left leg the opposite way and managed to barely poke the ball away from the goal.
"The ball was sort of just getting bounced around in the box and I was just doing my best to stay ready and help my teammates out and make a save, and keep the score tied at 0-0," Lapsley said.
The Aggies are just two wins away from a conference championship, with confidence and optimism surrounding the program at an all-time high.
"We're hitting our peak — mentally, physically, socially, and everything," Shaffer said. "We're in a good spot right now and hopefully we'll keep it going."
Written by: Brendan Ogburn — sports@theaggie.org