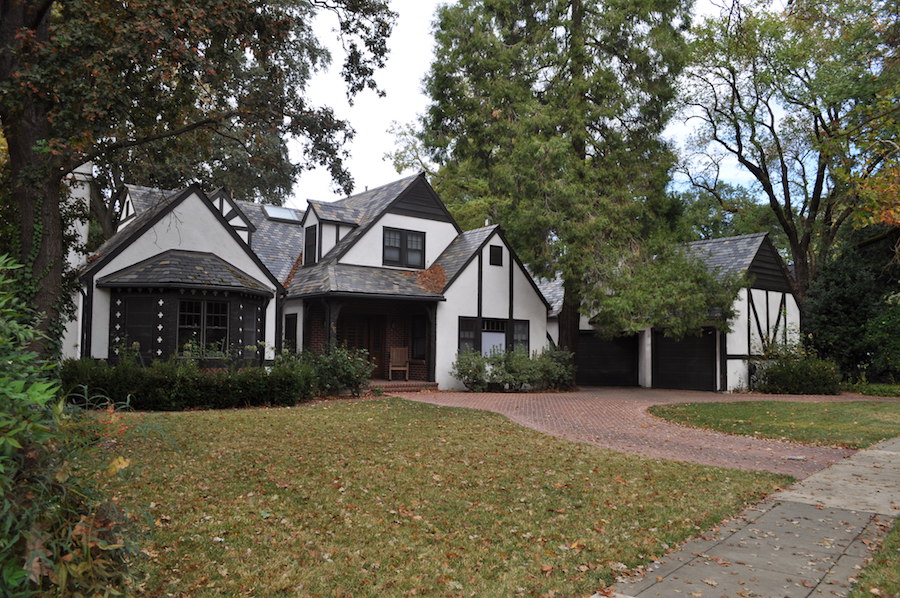 Famed street holds important place in Davis history
Sitting just off the UC Davis Campus, nestled among picturesque trees and a sprawling grass field, is the city of Davis' premier neighborhood. Established in 1923, College Park's distinctive, egg-shaped street has been home to countless UC Davis professors and local personalities. However, the true star of the show is the area's exceptional architecture.
Dennis Dingemans, a former UC Davis professor, and his wife Robin Datel, herself a UC Davis alumna and a professor at Sacramento State University, are well-versed on the neighborhood. In 1992, the city of Davis announced its search for distinguished volunteers with knowledge of historical architecture for the city's upcoming inventory, which aimed to catalogue Davis' historic buildings. Although many vied for the possibility of studying College Park, the opportunity was ultimately awarded to Dingemans and Datel.
"We found ourselves writing maybe 150 words for each house in College Park," Dingemans said. "Most towns, even small towns, have neighborhoods with relatively large lots with very attractive homes that have staying power."
Davis is no exception. The College Park neighborhood boasts over 40 properties, each of which appeal to passersby in different ways.
"There's an international-style house in the northwest corner," Dingemans said. "A saltbox house in the New England style is there as well."
65 College Park is one of the more eye-catching properties: designed by famed architect William Wurster, the former dean of both UC Berkeley and MIT's schools of architecture, this house is characterized by its "steeply pitched roof," "oversized red brick" and "exposed rafters," according to the City of Davis' 1996 Cultural Resources Inventory and Context Statement. The house was built in 1932 for none other than the first UC Davis Chancellor, Stanley B. Freeborn.
"Wurster was a very, very influential Bay Area architect," Datel said. "This is quite a wonderful building. It's sort of medieval revival a la Bay Area shingle style. It's just quite charming."
In addition to Freeborn's home, the street contains houses that were built for the likes of Max Kleiber, the famed biologist and namesake of UC Davis' Kleiber Hall, and George A. Hart, of UC Davis' Hart Hall. Kleiber's house at 34 College Park is characterized by CRICS as a "medieval revival" that has not one but two chimneys. The roof shares the distinct use of shingles found on many other College Park homes. Lastly, the house is equipped with two sets of doors. Hart's home at 52 College Park is built in the Tudor style. According to CRICS, the house has "three chimneys" as well as "wood shingles" and a fancy "two-foot-long wrought-iron [door] hinge," seemingly in an attempt to outdo Kleiber's home.
"There's quite a few people that you could directly pair up their house in College Park with their building on campus," Datel said. "It's a really nice kind of memento of that early era of the development of the campus."
Despite all the luster and excitement surrounding the history of College Park and its buildings, the neighborhood does have a checkered past. Kara Brunzell of Brunzell Historical was hired by the City of Davis to update a historical context statement in 2015.
Brunzell explained that a historical context statement attempts to understand why a building may be eligible for historical status. While College Park was not the focus of Brunzell's update, she did brush up on its past, revealing an unsettling set of guidelines that are sadly not surprising for the time period.
"It was a restrictive subdivision, meaning that the deed specifically stated that you had to be white to live there unless you were someone's servant," Brunzell said. "That was actually very common up until the '60s in California."
Today College Park is representative of the communal acceptance and natural beauty that Davis is known for. The UC Davis International House — a symbol of diversity — lies at the front of College Park. This addition symbolizes the neighborhood's physical and social changes since the area's first plans in 1923.
After all these years, you'll still be hard-pressed to find another neighborhood in Davis that combines the same stunning landscape and architecture as College Park.
Written By: Rowan O'Connell-Gates — arts@theaggie.org