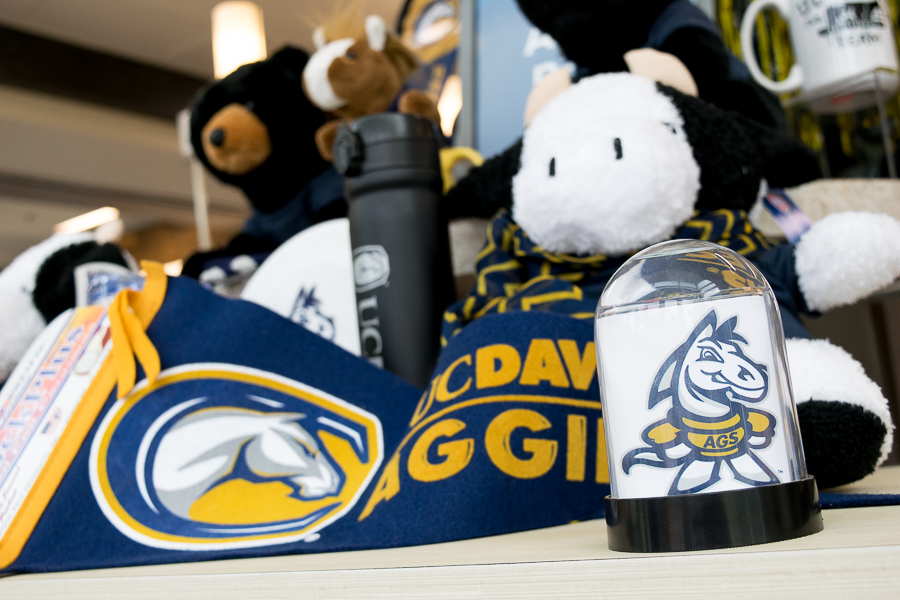 UC Davis agricultural legacy kept alive in mascot, community
Go Aggies! Go Mustangs? Go Gunrock? The UC Davis mascot is Gunrock the Mustang, but UC Davis students and alumni are better known as Aggies. The California Aggie sat down with Athletics Marketing to figure out what exactly an Aggie is.
UC Davis was originally founded in 1905 as the University Farm, an extension of UC Berkeley. In 1959, UC Davis was declared by the Regents of the University of California as the 7th UC campus. In honor of its agricultural heritage, UC Davis students referred to themselves as Aggies. Gunrock the Mustang is also an homage to UC Davis' rich agricultural history.
"It's really confusing," said third year psychology and political science double major and Athletics Marketing intern Kasey Carlson. "Everyone is always like, Go Aggies! But then they try to say, oh there's the Aggie, and I'm like no, it's actually Gunrock. Sorry, guys."
Gunrock is named after an Army thoroughbred studhorse who arrived at UC Davis in 1921. Gunrock was the offspring of English Triple Crown winner Rock Sand and race mare Gunfire, making him royalty in the racing world. Gunrock made a lasting impact on California's agriculture and veterinary advancements.
Gunrock died in 1932. To show respect and keep his legacy alive, the mascot for UC Davis was named and modeled after him.
Gunrock the mascot is a staple at all athletics and campus events. Unlike at other universities, there is no one designated person to be inside the Gunrock suit at every event. Anyone that is interested in checking it off their bucket list can reach out to the Mascot Coordinator and give it a shot. The only requirements are being taller than 5'2" and shorter than 6'3".
And of course, anyone inside the suit needs to bring their outgoing Aggie spirit and get the crowds excited, which can be hard because being inside the suit takes a lot out of the person wearing it.
"It is extremely hot and sweaty," Carlson said. "[It is] difficult to see and difficult to move around in because it has a lot of fake muscles."
A few years back, Gunrock was more navy blue and lean, while the new Gunrock is more royal blue and sporting new muscles and a more aggressive grin. Some students think the new Gunrock is too scary, but most students like his makeover.
Even though the suit can be heavy and hard to maneuver in, those who have donned the Mustang costume have loved every feeling that comes with it.
"I was actually Gunrock for March Madness, so I got to go with the team to Ohio," Carlson said. "That was just a really amazing experience. Being inside of the suit is really fun, especially when there's kids around because they're either absolutely terrified of you and want nothing to do with you or they're super into it and they want to hug you, high five and play games with you. It's just a fun experience because people don't know it's you, so you can kind of just do whatever and dance around. Gunrock has kind of a free pass, he can wander into any situation and people are excited."
Written by: Liz Jacobson — sports@theaggie.org