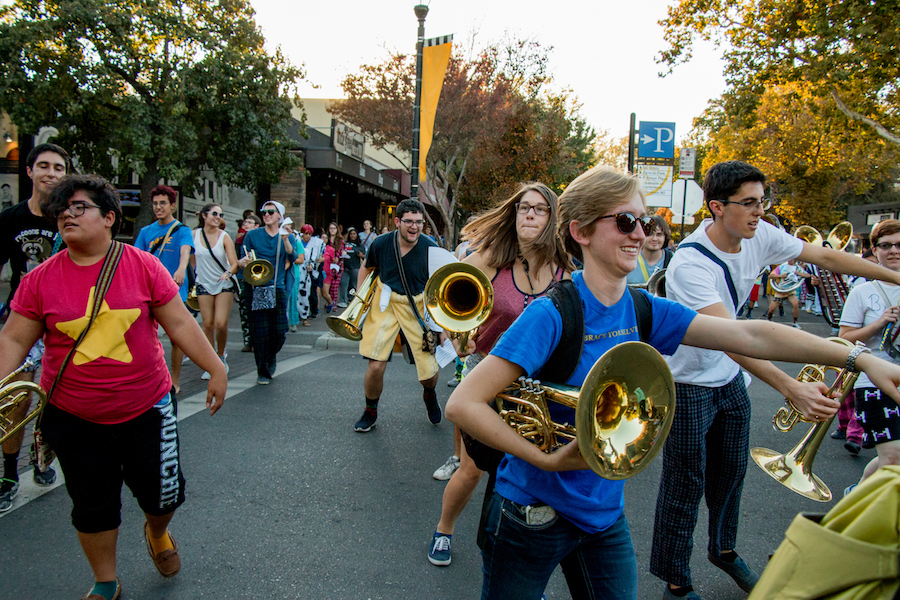 Celebration takes place on Oct. 27, brings downtown Davis to life before Homecoming football game
On the evening of Friday, Oct. 27, police blocked the roads of downtown Davis, loud chanting was heard in the distance and attention on Second Street was turned to the C Street intersection. A UC Davis fire truck pulled around the corner, and following behind was a massive, pajama-clad crowd — the ensemble was celebrating UC Davis' annual Pajamarino.
Pajamarino is a UC Davis Homecoming tradition planned and executed by the Student Alumni Association. With over 500 people in attendance Friday night, the annual festivity has transformed since its inception in 1912.
"[105 years ago], the alumni were returning for the homecoming celebrations and a group of freshmen [snuck] out of their dorm rooms back when there was a curfew," said Daniel Erenstein, the SAA traditions director and a third-year undeclared student in the College of Biological Sciences. "[They] met [alumni] at the train station in their pajamas, and, since then, the tradition has been carried on for over a century."
UC Davis students, alumni, faculty and community members gathered in Central Park at 4:30 p.m. before the parade.
"[Pajamarino] bridges that gap between the Davis community and students," said Samantha Teshima, the president of SAA and a third-year pharmaceutical chemistry major. "[It promotes] the fact that Davis is not just a college that [we] attend, […] it's also the whole community as well."
The Cal Aggie Marching Band-uh! and Alumni Band — decked out in pajamas — put on a show before the parade commenced at 5:15 p.m. The fire truck that led the parade carried the parade marshal, the current business manager of ASUCD, Janice Corbett, and Morgan Hashimoto, a student representative and the SAA vice president of outreach.
Upon arrival at the train station, the celebratory crowd was welcomed by UC Davis Chancellor Gary May and head football coach Dan Hawkins. Bakuhatsu Taiko Dan Club, the Popping Club and the Liquid Hotplates put on performances for the audience as the Sacramento train pulled in.
"I love Pajamarino and my kids love it too, because it's getting to be part of the UC Davis spirit and [listen] to the Cal Aggie Marching Band and the Alumni Band," said Janna Tolla, the Memorial Union director, who attended the event with her family. "That's probably our favorite part, plus seeing the [student performances]."
As the pep rally came to a close, the packed crowd began to disperse into downtown Davis.
"[Pajamarino] has evolved into an event that celebrates the connections between alumni and students," Erenstein said. "[It has turned] into an event that welcomes alumni back to our community and [bridges] connections between students and alumni while also celebrating homecoming and the football team and Aggie pride."
Written by: Rodney Tompkins — rdtompkins@ucdavis.edu